Sadly, the war in Ukraine is still on. Although Russia declared a limited ceasefire in Mariupol to allow the civilians in that region to evacuate safely, but more than one week after the first invasion, the war is still on and people are still dying every day. Recall that civilians were enlisted in the Ukrainian army to boost the country's defense. People including football and sports stars are sadly even they are dying now.
It was really heart-wrenching to hear that Shakhtar Donetsk youth team coach was killed while defending his country. Two Ukrainian footballers Vitaly Sapilo and Dimitri Martinenko who joined the Ukrainian army due to recent developments have also been reported dead. Basically, it's all really crazy and we hope that the crisis comes to a quick end and that things don't escalate beyond the point they currently are.
But with how bad things have apparently gotten and with people from different parts of the world lending their voices, it is pretty unusual that many Russian players have been quiet. So it's not so out of place to ask why the Russian players have not been vocal about the situation in Ukraine. Right before our very eyes, the sport these players love so much and their source of livelihood for that matter is being taken away from them.
Russian teams have been evicted from European competitions. EA Sports has taken Russian teams off the FIFA video game and chief of all, the Russian national team has been banned by FIFA. That means that the Russian players won't even get a chance to fight for a place at the world cup later this year. But amidst all of this, the Russian players have remained silent. Hardly a word from them about the crisis, hardly a word about FIFA's and UEFA's punishments and that silence has been really deafening for the Ukrainian players.
Vitalii Mykolenko, the Ukrainian defender who plays for Everton called out the Russian captain Artem Dzyuba as well as other Russian players over their silence and the 22-year-old was not even trying to be diplomatic about his criticism of the Russians. He went on Instagram and told Dzyuba: "whilst you remain a silent…along with your football teammates, peaceful civilians are being killed in Ukraine."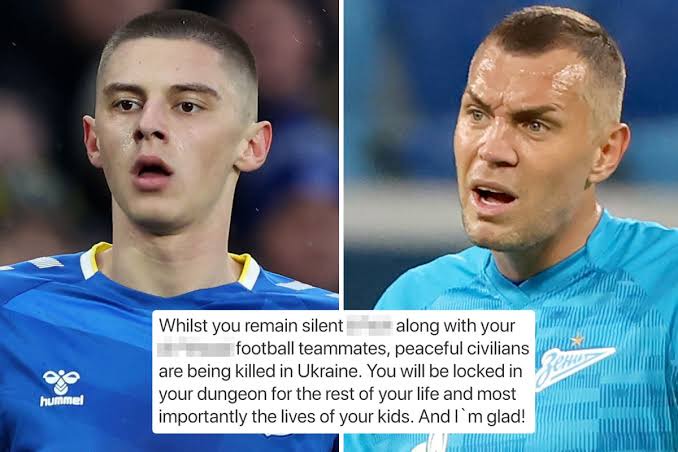 But Mykolenko was not alone in his public criticism of the silence of the Russian players. West Ham's Andriy Yarmolenko also went on Instagram and took a hit at Dzyuba, but his was a little less direct. He said, "I know some of you like to show your balls on camera but now times come to show your balls in real life." The Ukrainian was taking a hit at Dzyuba and alluding to the Russian sex tape which leaked back in 2020. But wait a minute, is there actually a reason why the Russians have been quiet? Could it be because they are scared of the Russian authorities and particularly the president?
How Russia and Ukraine war is affecting the football world (READ).
If that's the case, then can we really blame them because honestly there are many reasons to be scared of Putin, and the invasion of a neighboring country may just even be the smallest of them. The man is brutal even to his own citizens. He allegedly oversees a torture conveyor belt in Russia where gang members are allegedly hired to assault, rape, brutalise, violate and blackmail inmates.
But here's a bigger reason the Russian players may be scared to speak up against their president: Putin recently signed a legislation into law which will see people face jail time for spreading fake news about the ongoing war. Fake news according to them is any statement that contradicts what Russian officials have put out and by the way, it is not just a couple of days or weeks behind bars. People who er could face up to 15 years in prison! So again, can you really blame them?
Anyway, in spite of all these scary reasons to stay quiet, some brave Russian footballers and athletes have come out to say what they think about the war. Russian goalkeeper Kritsyuk is one of such players. He went on Instagram to voice out his thoughts on the ongoing crisis. He said, "staying quiet because sport is separate from politics would just be you deceiving yourself." He said he had been restless in his soul these past few days and he's against anyone suffering or dying. Russian striker Fedor Smolov left it rather short and simple when he went on his Instagram and just wrote: "No war."
Visit Newsblenda.com for more updates.
But perhaps, the most interesting comment from a Russian player is the long statement by the Russian national team captain Artem Dzyuba. The Zenit St. Petersburg striker had a lot to say on Instagram a few days ago. Apparently, he didn't want to speak on the happenings in Ukraine not because he was scared but because according to him he's not a politics expert and thus tries to stay out of it completely. But he then went on to say that he is against war, human aggression and hatred.
However, at the same time, he also said he's not ashamed to be Russian and he doesn't understand why Russian athletes have to suffer now. Essentially, while he is not in support of the war, he's also not in support of the treatment and punishment that the Russian football teams and players have been receiving from the rest of the footballing world so far and the captain didn't end his statement without sending a word to the players who attacked him on social media.
He said: "And to some colleagues who sit on their ass in mansions in England and say nasty things, this cannot offend us. We understand everything. Peace and goodness to all." That was very likely directed to Yarmolenko and Mykolenko who both play in the Premier League and have things to say about Dzyuba. Anyway, we just think we should all be kinder to each other especially during this period.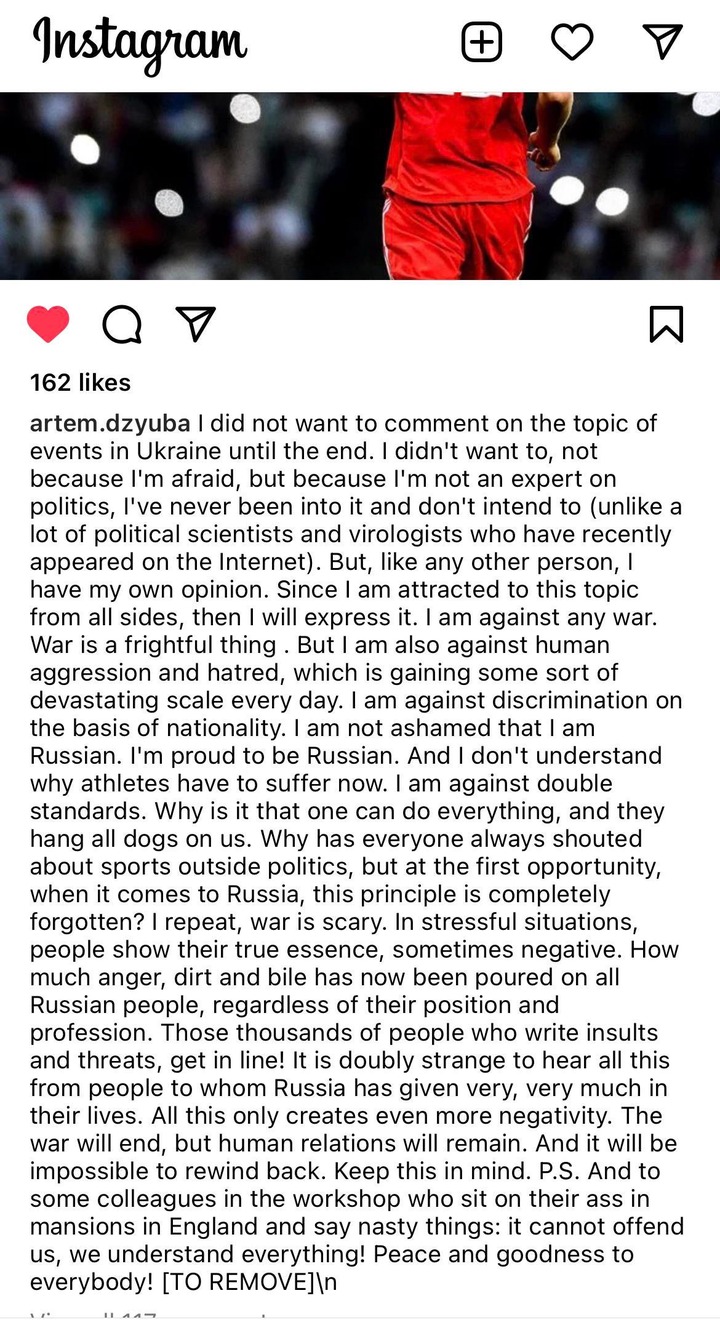 It's difficult to truly understand why people make the decisions they make when you are not in their shoes. But a little bit of kindness and understanding will go far especially now when the world seems to be turning on its head. But if you can lend your voice and raise awareness for the crisis currently going on in Ukraine, show support for the victims of this ongoing war. They need you, the world needs you.