Ninety-seven people have been confirmed dead on and two survived when a passenger plane crashed into homes in Pakistan's southern city of Karachi after an apparent engine failure during landing, health officials said Saturday.
Plumes of smoke and flames were sent into the air as the plane came down, its wings slicing through rooftops before crashing onto a street on Friday night.
Unlookers were the first to rushed to the scene to search through debris for possible survivors.
So far, the bodies of all the passengers and crew had been recovered, the Sindh Health Ministry said, adding that 19 had been identified.
Mohammad Zubair one of the two survivors of  the plane crash, at a hospital in Karachi.
The officials at Pakistan International Airlines (PIA) while confirming the unfortunate incident says that the passenger  plane had made multiple approaches to land at Karachi airport on Friday when it came down among houses, sparking a rescue operation that lasted into the night.
Earlier this week, the nation lifted the temporary ban placed on airlines due to the current coronavirus pandemic and resumed domestic flights in other to enable the Muslim passengers to fly home to celebrate Eid al Fitr ahead of Eid al Fitr, which marks the end of the holy month of Ramadan.
More Photos Below: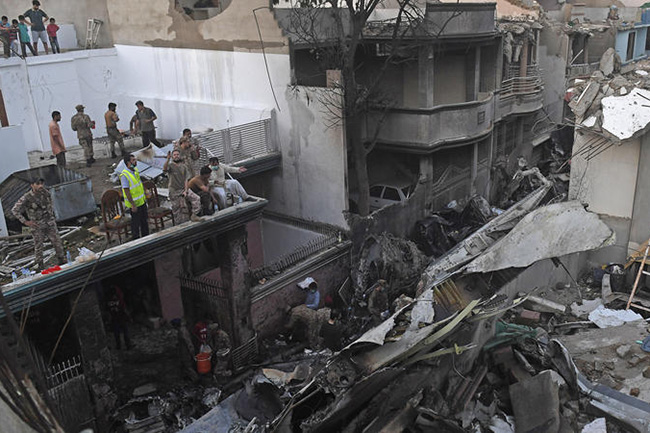 Author's Profile
Wisdom Iwu can be found writing, designing and developing all sorts of great content. A freelance writer, thinker and lifelong learner with an ongoing curiosity to learn new things. Check out his social media accounts below: