With nearly 85 million followers and an estimated net worth of at least $5 million, Addison Rae is one of the most successful TikTok stars ever. Everyone knows her name and she is something like the epitome of the rich, pretty Tiktok superstar.
But despite her fame and fortune, the life of the young American is not as beautiful as one might think, in fact, Addison is suffering from some aspects of her success. That's why we want to take a look behind the facade of one of the most successful female TikToker and tell you the truth about Addison Rae and her success. To get to know the person behind the tiktok star Addison Rae better, let's first take a look at how Addison actually became who she is today.
Addison was born under the name Addison Rae Easterling on October 6, 2000 in Lafayette in the US state of Louisiana and is therefore 21 years old today. She was the first child of her parents Monty Lopez and Sheri Easterling and later had two younger brothers – Enzo and Lucas. Even as a 6-year-old girl, Addison trained dancing at a high level and even took part in dance competitions all over the country.
Little Addison did not have a truly stable family life. Her parents had an on and off relationship and kept separating only to get back together later. Once they even got divorced, but when Addison was 16, her parents got married again. After high school, Addison began studying sports and journalism at Louisiana State University, a university in her home state. Along the way, she began uploading videos on TikTok of herself dancing to current songs.
Although Addison didn't even start TikTok until July 2019, by December 2019 she was already a founding member of the Hype House, a group of aspiring TikTok influencers who lived together in a house and pushed each other. The decision to join the Hype House group would change Addison Rae's life forever. After just a few months, she managed to generate over a million followers on TikTok. At that moment, something hit Addison: the girl from the small town understood that she could become a real star if she really put her mind to it. So Addison decided to drop out of college and move to Los Angeles for good to further her career.
Having competed in many dance competitions since she was a little girl, Addison knew that she would have to work hard to make it big. So she also signed up for YouTube and started posting very actively on Instagram to increase her reach. Addison succeeded in this and the very next month i.e January 2020. She signed a contract with the talent agency WME, which organized many deals for her. So Addison Rae's racy rise continued even faster.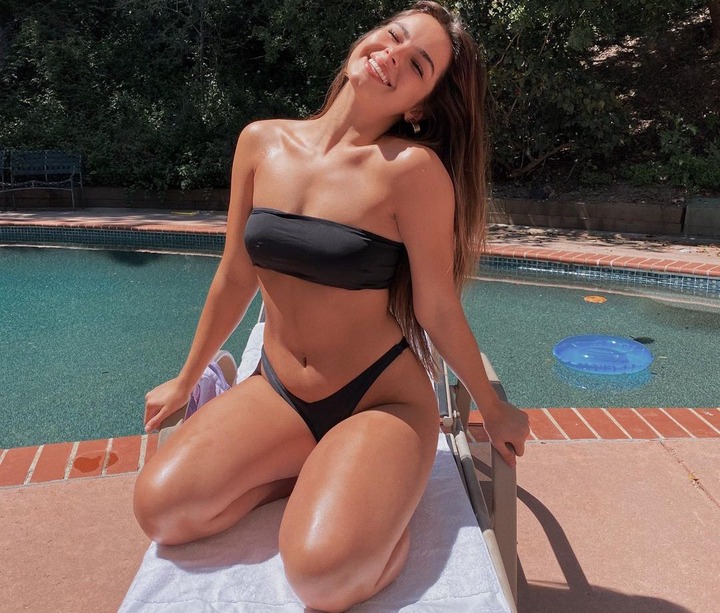 Among other things, she started a podcast called "Mama knows best" together with her mother on Spotify, launched her own cosmetics line, established close contacts with the Kardashian family and did advertising for well-known brands like Hollister, Reebok or L'Oreal. She additionally started selling merchandise and finally even made her acting debut in the remake of the romantic comedy "One Like None." She played the female lead – an influencer who turns an outsider at her school into a popular boy.
In addition, Addison Rae appeared in music videos and released her first single as a singer with "Obsessed" last year. Within a very short time, the former student became not only one of the most successful social media stars worldwide, but also an entrepreneur, podcaster, actress and singer. But although Addison Rae is said to have earned $5 million in 2020 alone, according to Forbes Magazine, and is the best-earning female TikToker in the world, her life also has its downsides.
She herself feels constantly under the enormous pressure to be permanently observed and always have to be perfect. Things that would hardly be noticed by a normal teenager cause a stir in the whole world for a star like Addison. For example, she was heavily criticized when she stood up at an event to greet former US President Donald Trump and shake his hand. Many of her followers were appalled that she was apparently a supporter of the controversial politician and therefore the website
Buzzfeed even investigated further and found an old like of her under a tweet of Trump from 2016, in which he called for the tweet to be liked if you support him. Addison Rae's manager later said that this and similar likes were allegedly just a technical error. Whether this is true can be doubted, but it shows how much Addison Rae's life is permanently scrutinized and that even Likes she gave out as a 16-year-old girl can still bring her trouble today.
Addison feels the daily expectation of her almost 85 million followers to be perfect. She really hates the fact that everyone only sees her as a TikTok star with the perfect life and not as a person who is allowed to make mistakes. According to her own statement, Addison has the feeling of living under a microscope and being watched in every moment of her life. She even had to sell her car because paparazzi always recognized it immediately and immediately besieged her. Even the entrance to her private home was blocked by fans for months, until she hired security personnel to protect her family and herself.
For these reasons, the influencer is now also very careful about the people she surrounds herself with. She has reduced her circle of friends to a few people she can really trust, saying that "at the end of the day, it's about finding people who love you and understand you and can also bring out the best in you." In the meantime, in order to be able to process her sudden fame and the feeling of constantly being watched and having to be perfect, Addison visits a therapist several times a week to talk to her about her life.
According to Addison, it helps her tremendously to discuss the many new events that are happening to her with a professional, outside person who can show her a different perspective. But it's not just constant observation that's taking its toll on Addison Rae's mental health. In fact, the TikToker also has to deal with hate on a daily basis. Because Addison Rae may be very popular on a certain part of TikTok, but away from that circle, it's almost normal to hate Addison Rae. Addison is attacked in these comments for everything imaginable.
Read: 7 interesting secrets of Jennifer Lopez's skin care routine.
For example, her looks are criticized, while others criticize her for allegedly being a bad role model for other young girls and the unrealistic beauty ideals she represents. All of her content and hard work is also constantly maligned, because many haters think that Addison has no talent and doesn't really work, but only earns her money thanks to her looks. Even though hatred on the internet is nothing unusual, the hate against Addison seems quite extreme and also makes the young girl herself very difficult.
Addison tried to be strong and not let it show how much the hate is affecting her. But in an Instagram Live, she finally broke down and explained to the viewers crying that she just does not understand what is happening. When she sits at home and reads through mean comments, these do not pass her by without a trace, instead she often starts to doubt herself. By the way, Addison Rae made public that her life is not always perfect and that she really suffers from the hate for a certain reason.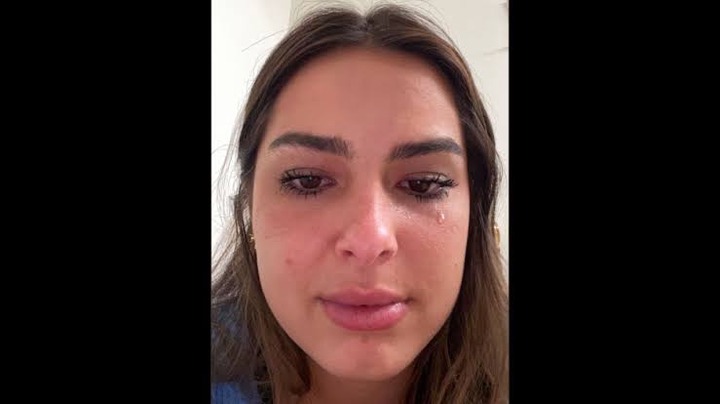 She wants to show the anonymous hate comment writers that on the other side of the screen sits a completely normal person. A young woman and not an insensitive robot. Addison hopes that the haters will think about what they are actually doing. The paradox is that on TikTok and other social media, Addison always pretends to live a perfect life – but her life is not perfect at all. As she explained in an interview, it is even very exhausting for her to always pretend that her life is dreamlike and problem-free.
What is even more paradoxical is that the hatred and envy towards her is only caused by this perfect, flawless image – which in itself does not correspond to reality at all. But even though Addison is taking it all in stride and her life is far from perfect, she doesn't want to stop with TikTok. "As long as TikTok is popular, she says, I will be there. So the TikTok girl doesn't give in to the haters, but will continue to do her thing.
Addison Rae is the perfect example of how you shouldn't judge someone just by their appearance – because everyone is more than what we think about them. Everyone has a deeper, more vulnerable side.