There are many interesting Jennifer Lopez skin secret, but we are going to keep it at the top seven. These secrets recently came out as a result of her tours to promote her new beauty products earlier this year. We present to you the top seven most interesting Jennifer Lopez skin secrets.
Practices beauty fundamentals
We are tired of celebrities attributing their beauty to good food and water, but JLo says that is her big secret. She said that she eats many fresh foods that are primarily fruits and vegetables. Lopez believes that her diet consisting of these can be the reason for her glow and healthy appearance.
While she was dating Alex Rodriguez, he confirmed that she was a clean living person. Jennifer enjoys her 8 to 10 hours of sleep and does not drink or smoke. These things are the fundamental elements to quality skin, general well-being and beauty. We sometimes take them for granted and the result is why we look the way we do.
Mindfulness
Most people think that beauty is a function of the products you put on your body. While that could be one way to define it, there are other ways to look at at. JLo is one of the firm believers of the philosophy that beauty is a state of mind. She believes that she stays beautiful by having her mind in synchronism. She meditates to ground herself in happiness and love. She also believes in affirmations.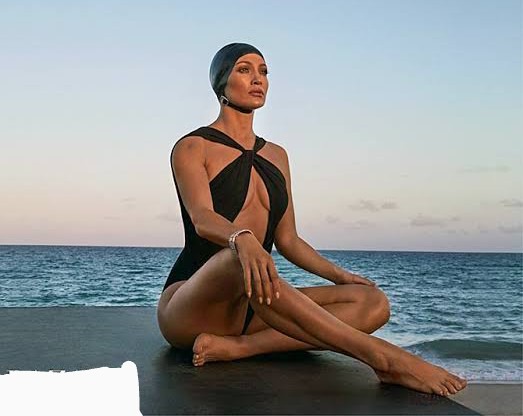 JLo tells herself each morning that she is youthful and timeless. She told Harper's Bazaar that age is all in your mind. In addition, she referenced Jane Fonda as an example of how age is a mindset and not dependent on birthdays. For Jennifer Lopez, meditation and affirmations are great secrets to her youthful beauty and energy.
Less makeup ritual
Most celebrities regularly wear heavy make-ups for work, which is a small price to pay for the fame and money. However, the beauty influencer has shared that she often wears her clothes with little or no makeup. She told In Style Publication that she takes her days off without makeup. She also never goes to bed without cleaning her makeup. JLo also stated that she uses night cream to keep her skin hydrated throughout the night.
Related: 10 workout routine that helped Jennifer Lopez achieve her ageless figure.
Finally, she doesn't forget to wash her face after a workout or dance session. These little beauty rituals have kept JLo's skin in good shape and constantly dehydrated. This is a great way to clear her pores and manage the pressure off her skin.
Sheet masks are her favourite
Jennifer Lopez loves a good time in her mask. When she was with her ex-fiance Alex Rodriguez, he spent all his time putting it on her. If you follow JLo's social media, you will be informed that she always puts on a mask before a significant appearance. She likes to think of it as a pampering process. It makes your face to be smooth and fresh.
JLo however admitted that the sheets were never sitting right on her face. They were constantly slipping off her face or not lying down properly. That is why she created her own face mask sheets as part of her beauty brand. She also added ear loops to ensure they stayed on people's faces and did not fall off. For Jennifer Lopez, she compares wearing the sheet to getting a mini facelift.
Supplements for the skin
When it comes to taking beauty seriously, Jlo gets it. She treats beauty as a part of her health. That is why her glow is unmatched and we are all here trying to learn from her. In JLo's opinion, the trick to a flawless skin and hair is to have a healthy body.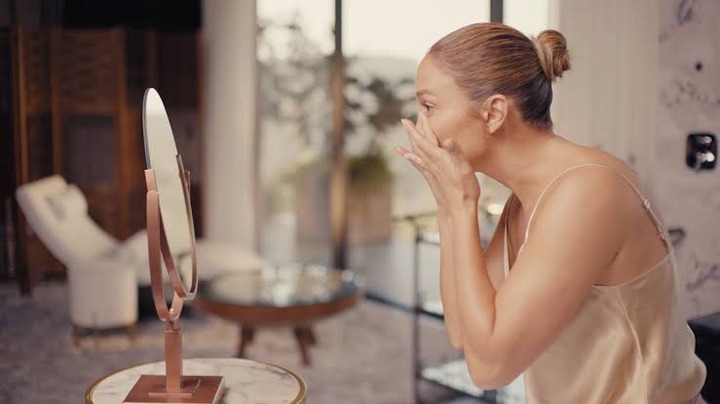 Internal and external supplements for the skin are a daily beauty routine for her. She includes supplements and vitamins in her skincare routine. For JLo, you need to push the beauty from within onto the outside. She said that her philosophy as a beauty brand is attacking beauty from the inside.
Olive oil is her family beauty ingredient
Olive oil is a natural beauty ingredient that does not get enough credit because of the smell it offers. However, that is the secret ingredient for the healthy glow of JLo's family. They add a touch of olive oil to each of their beauty products. JLo also combines olive leaf, extract of virgin olive oil and fermented olive to get the glow.
Sunscreen everyday
We all use sunscreen, so why are our skins not responding to sunscreen like JLo? Well, JLo had been applying sunscreen daily long before she was Jenny from the block. She started using sunscreen when she was 18 years old. She confessed that at 18, a dermatologist suggested bonox while another also gave her the sunscreen tip. She then decided to go with the latter.
The sunscreen tip does not sound like anything spectacular, but it helps the skin in several ways. Each day, our skin is exposed to environmental damage and sun damage. So protecting yourself from the sun and these other environmental hazards are excellent for your overall well-being. The sunscreen tip should not be taken lightly.
Try these seven tips and see if they will enhance your skin.