Selena Gomez is known to express herself through her music, but over the years she has tacked on some much more permanent forms of expression to her body. So right now, we are breaking down all 16 of Sel's tattoos and the meaning behind them.
Just like many celebs, Selena Gomez has a growing tattoo collection, some of which she even got to match with some of her high-profile friends. In fact, some new photos of her latest piece of work was previously teased in December.
Not only did fans get a close-up glimpse of Selena's dripping watercolor rose located on the top of her back, but McCurdy also shared the exact same ink on Sel's good friend Cara Delevingne's ribcage. Although the meaning of the design is still unclear, it seems these two just solidified their friendship for life.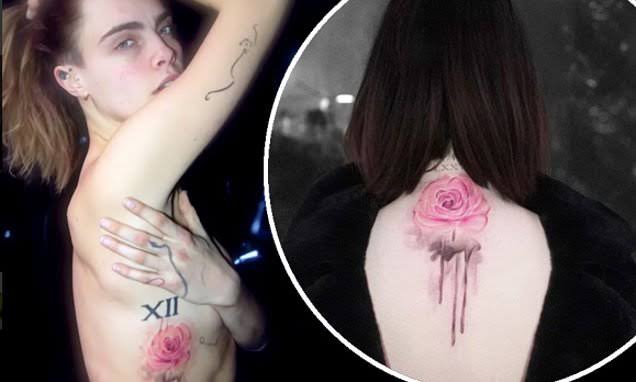 Speaking of friendship tattoos, Sel and her good friend and musical collaborator Julia Michaels got small arrows tattooed on their hands, when at the time, Sel took to her Instagram stories to share with fans that: "My arrow points to you forever."
Selena's very first tattoo, however, was much more simple as she opted for a tiny music note on her wrist back in 2012. While many fans originally thought it to be a heart, she set the record straight during an interview with Access Hollywood, saying, "Music is a big influence in my life," which of course it is. She was even named 'Selena' after the late legendary musician Selena Quintanilla.
On the opposite wrist, Sel got a simple semicolon inked in unity with the cast of Netflix's 13 Reasons Why, along with Tommy Dorfman and Alisha Boe back in 2017. As an executive producer for the show, suicide prevention falls near and dear to Sel's heart, and the group of actors got this punctuation mark in honour of Project Semicolon, which states that while a period represents the end of a sentence, a semicolon signifies that "your story isn't over."
It's no question family is one of, if not the most important aspect in Selena's life, which explains why she has dedicated many of her tattoos to family. The cursive 'G' on her neck honours her younger half-sister Gracie Teefey, and the word 'sunshine' located on her outer foot appears to honour her grandmother, in which she referred to as 'Sunshine' in a 2016 tweet. Another tattoo, located on the back of Sel's neck reads the Roman numerals LXXVI, which translates to '76,' her mom's birth year (1976).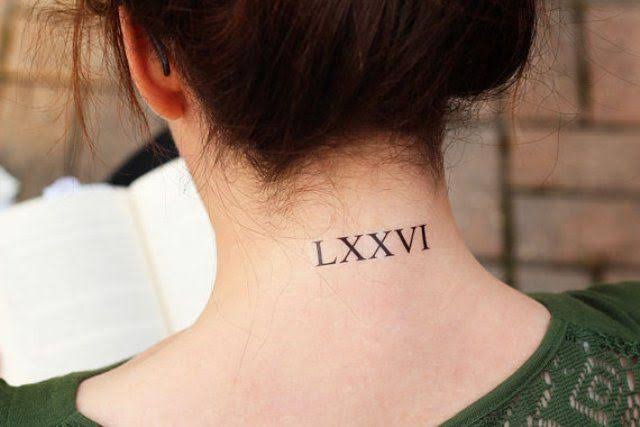 Selena's tattoo artist previously confirmed to the DailyMail that the the numbers are a tribute to a family member who [Gomez] said means a lot to her, adding that Selena, "held her best friend's hand the whole time" while getting this tattoo, as she was afraid it would be painful.
Related: The true story of the girl who lost her kidney to save Selena Gomez's life.
Friends are also a huge part of Selena's life, as she has multiple sets of ink with her besties, including the numbers '4' and '1.' She debuted the numbers on her 26th birthday back in 2018, along with her three closest friends. She told her IG followers, "4, because you are my 4 for the rest of my life," and for the number 1, she wrote: "My actual #1 @courtneyjbarry, you are an incredible woman."
While it's unclear when exactly Selena met Courtney, her '31' tattoo might give away the day these two hit it off. During a vacation back in 2015, Sel was photographed with the small symbol on her hip, but a year later, she confirmed that the tattoo represents the date she met one of her best friends.
Fans also know that Selena is extremely open about her faith, and many of her tattoos are dedicated to her spirituality. She got a delicate cross on her collarbone back in April, to which she explained to Vogue prior to her new art, "I'm very, very spiritual. I love being able to have my faith, and believe in what I believe in, and that truly is what gets me through."
The tattoo on her upper leg, however, turned heads after she returned to the stage during the 2019 American Music Awards, and later debuted a set of praying hands and a rosary. And on her opposite hip lies a vertical Bible verse, "God strengthens me," inspired by Philippians 4:13, which happens to be one of her favourites. After a decent amount of time without being noticed, Selena praised herself during a chat with Ryan Seacrest back in 2013, saying, "I've done a pretty good job at hiding it."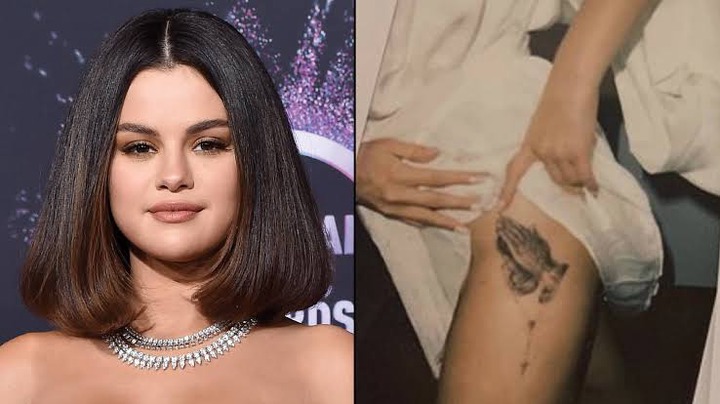 Other tattoos of Selena Gomez are in reference to her music, like the word 'Rare' located on her neck just under her ear, which as many fans know, is an ode to her third studio album. She also got a scripture in Arabic that means "love yourself first" back in 2014, and although Selena would release her single 'Lose You To Love Me' six years later, these two appear to preach a very similar and important message. This tattoo, as well as many others of Selena's, was also available to purchase as a temporary ink set during her Revival tour.
Finally, to commemorate one of the most important, and at some points, even life threatening times of her life, Selena got the date of her kidney transplant tattooed on her tricep. During a 2019 interview with CapitalFM, Sel confirmed that the series of numbers on the back of her arm signified the date she and her friend and donor Francia Raisa underwent the surgery, in which she debuted during the music video for 'Rare.'
Selena and Francia also share the same tattoo of the significant date, which is one defining moment in their lives neither will ever forget.