The true story of the girl who lost her kidney to save Selena Gomez's life
After donating a kidney, Francia Raisa was so weak she couldn't even bear to walk her own dog. But she says it was all worth it to save the life of her best friend Selena Gomez.
Francia loved living with her bestie until the fateful day she received a terrified text from Selena who said she was scared her life was coming to an end. Selena had been struggling with an autoimmune disease called lupus for quite some time and had been doing her best to be treated.
The disease attacked her kidneys, but even after going through intense chemotherapy, Selena was still suffering and since Francia was her roommate, she had a front row seat to Selena's health problems. One day, her arthritis was so bad that she broke down crying in frustration.
There was no way around it, Selena needed a new kidney and for Francia, she would do anything to help her best friend. Francia and Selena had met almost 10 years earlier and they hit it off immediately.
At the time, Selena was working with Disney on shows like Hannah Montana and Wizards of Waverly Place and Francia was portraying Adrian Lee on the ABC drama The Secret Life of the American teenager. Both Disney and ABC decided to send some of their young stars on various volunteer opportunities and Francia was quick to sign up.
She ended up volunteering at the Children's Hospital and found herself in the same group as Selena. The two just clicked, according to Francia and they found themselves becoming best friends and then roommates. Selena's mother even says she considers Francia to be like another daughter to her.
So, when her bff Selena was afraid for her life, Francia had absolutely zero hesitation when she volunteered her own kidney. Of course they had to get tested first and determine if Francie was a match for Selena. But Francia says she doesn't believe in coincidences and thinks it was fate that made them a perfect match.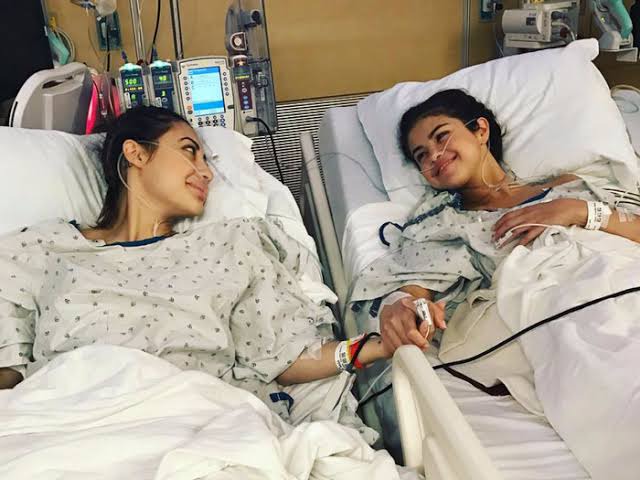 Selena admitted that she would have never wanted to ask anyone for a kidney and was stunned when Francia volunteered. The physical and psychological evaluations required to donate usually dragged on for months, but Francia went through an expedited process in a single day. But just because she was barreling through the pre-op checkups doesn't mean Francie wasn't terrified.
She admitted that she was worried about how the process would affect her own health and so was her family. The transplant was a huge success, but recovery wasn't easy for Francia. She said she was unprepared for how weak and helpless she would be in the weeks following the procedure.
"I couldn't pick up my dog, he's 16 pounds. That was rough. I couldn't walk him." Not only was there a huge physical toll on Francia, but she said there was an enormous mental one as well. She and Selena both experienced depression in the aftermath of the surgeries and in some ways, Francia had additional struggles.
Selena had gotten an organ she desperately needed while Francia had lost one of her own. As if this situation wasn't tough enough, rumors started swirling that Francia and Selena had a falling out after the procedure and were no longer friends.
The rumor was that Selena wasn't taking her post-surgery health seriously by drinking and partying. This caused Francia to become resentful and Selena was eager to enjoy her new health without feeling like she owed Francia a huge debt.
Related: 13 things you are probably yet to know about Selena Gomez.
The truth is that Selena did go to rehab twice following the transplant, but it was for mental health issues. She has always been open about her struggles with her health and the way it affects her mentally. Dealing with post-surgery depression is definitely a thing and doesn't mean Selena and Francie are no longer friends.
According to Francia, the two still love having girls nights and staying up late eating Mexican food. When Selena's fans questioned their friendship, Francia stated that just because their every move isn't documented on Instagram doesn't mean they aren't pals.
There are also people who claim Selena is the only reason Francia is famous and that definitely strikes a chord with this star who was born Francia Raisa Almendarez.
Her father Renan Renan Almedarez Coello was a radio personality and she often found living in his shadow overwhelming. She hoped not sharing a name would cause people to respect her based on her own merit and not just because of her famous father.
Growing up in Los Angeles, Francia had to deal with people trying to be her friend just to get closer to her famous father. It was a painful lesson and one that didn't help with her own insecurities.
According to Francia, she grew up feeling self-conscious about her looks, particularly her nose. It didn't help that her relationship with her father was complicated by his fame and she couldn't seem to stop fighting with her mother.
Although Francia said they are close now, she admitted that she and her mother fought continuously when she was a teenager. She often felt self-conscious on the inside but on the outside, she was a confident cheerleader who started acting and modeling in her junior year of high school.
She was a senior in high school and she got her big break as one of the lead roles in the movie 'Bring It On: All Or Nothing.' Then she landed the role that would lead her to meeting Selena Gomez 'The Secret Life of the American teenager.'
In fact, Francia is the first to admit that meeting Selena has been a boost to her career. She says it really helped to have Selena as a sounding board as she tried to navigate the ins and outs of the industry. But that is not why Francia befriended Selena. In fact, the two women frequently bonded over their frustrations with finding work as older characters.
Thanks to their youthful appearances, both Selena and Francia have always felt that they had to work twice as hard to be taken seriously because of how they look. But Francia managed to turn that negative into a positive by landing the role of teenager on 'Grown-ish' when she was really 29 years old.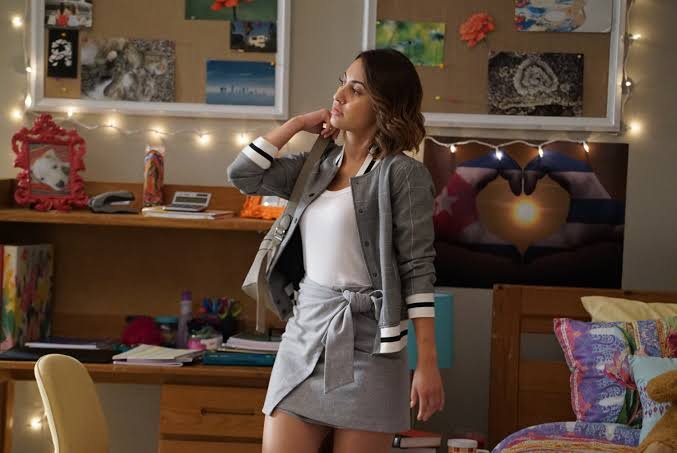 Looking back at her story, it's remarkable how much of her life has been shaped by her giving and generosity. If she wasn't dedicated to volunteering, she might have never met Selena in the first place. It was her dedication to her friend and her generous spirit that made her donate her kidney and to this day Francia is still trying to do what she can to help others.
She supports the charity organisation 'Unlikely Heroes' which helps educate people on the dangers of human trafficking and provide support for people who have been touched by the tragedy. Francia also believes in using her voice to speak up for a cause close to her heart.
Since Francia has some roles under her bell and a certain amount of Fame, she feels compelled to speak up against injustice and defy stereotypes. She supports the development relief and education for Alien Minors Act also known as the DREAM Act.
Francie acknowledges that she hopes to inspire other people to stand up for what they believe in.
Latest posts by Law Blessing
(see all)