Bella has now managed to become one of the biggest TikTokers in the world and with her first own song, she has already broken several records. But even though her life seems perfect now and she has reached the top, Bella has had to go through many terrible things in her life. What her life was like before Tiktok, what she experienced and how she still managed to become so successful – we'll show you here.
Let's start with Bella's birth. Although many media reports say that she was born in 2001, Bella was actually born on February 8, 1997 and is currently 25 years old. Her birthplace is in the province of Pangasinan, which is located in the Philippines – more precisely on the Philippine island of Luzon. Therefore, the TikTok star is a native Filipina. She also grew up in the Southeast Asian country for the first thirteen years of her life.
Her life was far from a carefree childhood. She never met her biological parents and grew up in poverty with her grandmother in a slum. She spent her first years in the world in a corrugated iron hut, which had no stable electricity supply and not even clean drinking water. For this reason, she was released for adoption abroad at an early age, as her grandmother hoped to give Bella a better life.
At the age of three she was finally adopted by a couple. With her adoptive parents, about whom she speaks only reluctantly, she had a real roof over her head – but she was treated very badly and was beaten. She still has scars on her body from this time, which she later covered with tattoos. In addition, she had to get up at 4 a.m. and do chores like cleaning before school. If she didn't do these tasks well enough, she didn't get breakfast and was beaten.
When Bella was 14 years old, she moved with her adoptive parents from the Philippines to the United States because her adoptive father had to undergo a medical procedure that was not possible in the Philippines. There, the family lived first in Texas and later in Hawaii. But even in the USA she did not have a good life. She was bullied at school and nicknamed "Ling Ling" because of her Asian appearance. Later, Bella even became the victim of a racist attack that was so bad that she still can't talk about the details. Since this attack, she has suffered from depression and anxiety.
Bella therefore still attends therapy sessions today and recommends this to all other people struggling with mental health problems. The only thing that gave Bella joy during this time was music. She showed talent for singing and also learned to play the ukulele. According to her, this helped her cope better with her anxiety and depression. Although her adoptive father forbade her to sing at home and yelled at her to "shut up" and even forbade her to participate in music competitions at school, Bella did this anyway.
Visit Newsblenda.com for more updates.
However, at first it didn't look like Bella would really make it as a singer later on. At the age of 17 – after graduating from high school – she started to work in the US military, more precisely in the navy, because she wanted to be free and independent. So she escaped her old life and through her comrades she had the feeling for the first time in her life to have a real family that loves her. Nevertheless, the time in the Navy was not easy for the 1.55 meter small Bella. She later said that she cried because she had to carry equipment that was as heavy as herself.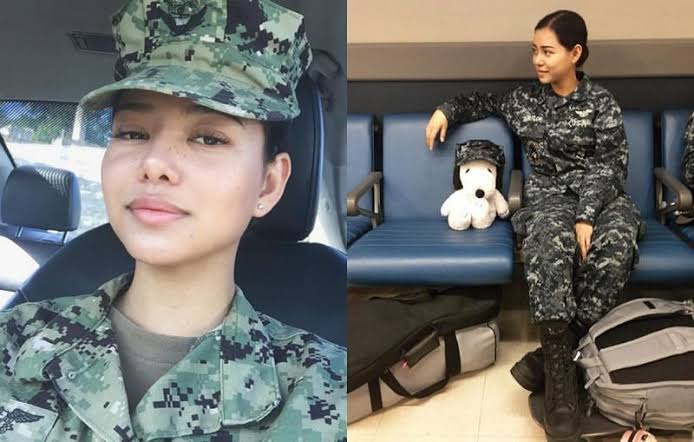 In addition, the later TikTok star again collected scars on her body during her military service. Not because she had to go into combat, but because a drunken soldier whirled her through the air in a bar for fun. Bella didn't like that at all and so she hit him so hard that she hurt her own hand badly. Fortunately for her, this counted as self-defense and so she received no punishment. After Bella was also stationed in Japan during her military service and also fell in love with Japanese culture there, she left the Navy after three years.
Bella later said that during this time she learned how important patience, discipline and a good family are for life. After she left the Navy and got bored during the pandemic, her friends recommended that she should try out TikTok. Bella hadn't heard of the app until that point, but was then convinced it could be a hit. In April 2020, Bella, who was now living in Los Angeles, launched her tiktok account.
Related: The sad truth about the life of best-earning female TikToker, Addison Rae.
For her first video, she recorded herself singing the song "Raindrops" by Ariana Grande. But since it only received about 100 views, she deleted the video again in disappointment and recorded a few comedy videos instead. Also with moderate success. But just a few months later – in August – her account really exploded. She posted this Lip Sync video online in which she moves her face, lips and head to the song "M to the B" by Millie B. The video became the most successful TikTok video ever and made Bella famous literally overnight.
It reached over 500 million views and more than 50 million likes, something no video on TikTok had ever achieved before. Bella's account grew enormously and she gained up to two million followers per day. From this point on, Bella Poarch's life changed abruptly. She quickly joined the league of the most successful female TikTokers like Addison Rae or Charlie D'Amelio and at the time of recording this video already has over 88 million followers, overtaking numerous stars in record time and is currently the 4th most subscribed TikTok account worldwide.
Bella has already recorded dance videos with the famous American YouTuber and make-up artist James Charles or lipsynced with the rapper Tyga in his villa to his greatest hits. Of course, because of these collaborations, rumors kept coming up that Bella had a boyfriend. However, according to her own statement, the tiktok star is officially single.
After recording a joint video with YouTuber and influencer Bretman Rock, who has been known since 2015 and has over 17 million followers on Instagram, in which the two dye clothes, it surprisingly turned out for her fans that Bretman is Bella's cousin. So, in fact, the two already know each other from the Philippines. By the way, Bella used her huge TikTok hype to devote herself to her passion, the music again. The once shy girl, who used to sing only to feel better, now had a huge audience and she immediately wowed them with her first song.
After posting a snippet on Instagram on April 30 last year, her debut single "Build a bitch" was released on May 14. Within just one week, the song reached 75 million views on YouTube, so Bella already set another record. According to Warner Music, no artist's debut single has ever reached these numbers before. On Spotify, the song reached number 27 in the worldwide rankings after one week. By the way, the song not only reached a high popularity on the Internet, but also achieved remarkable placements in the official music charts.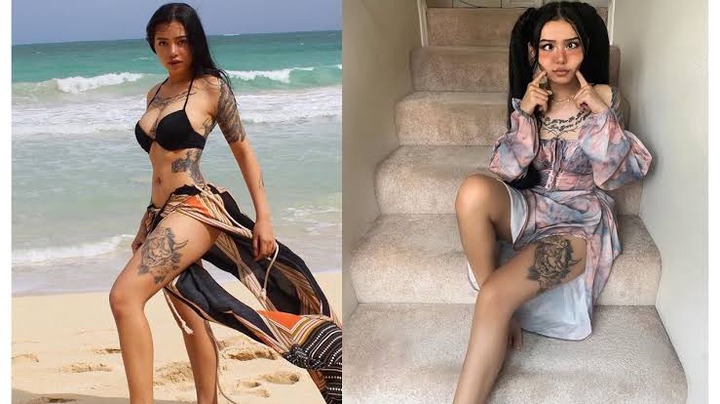 By the way, it is not known how much money her success has earned Bella Poarch in the meantime. Estimates circulating on the Internet say that the 25-year-old currently has a fortune of between $1 and $1.5 million. Other sources assume considerably less. However, since all these estimates are based on automatic tools, it is impossible to judge how accurate these figures really are. The only thing that is certain is that she will certainly be very rich one day if she manages to maintain her success and make it as a singer.
Meet 9-year-old Ryan Kaji, the most financially successful YouTuber in the world.
She has already been able to win over many large companies as partners and, in addition to placements for beauty companies, she has already advertised for the dating app Tinder or the video game "Torchlight 3". But no matter how rich Bella Poarch is today, the abused and bullied girl from the past has managed to start a completely new life thanks to TikTok. She uses this freedom to dedicate herself to her passion, which is singing, but she has also never forgotten where she comes from: Bella also uses her fame to draw attention to anti-Asian hate crimes and to campaign against racism.