The Athletics Federation Of Nigeria (AFN) has pledged support for her sprinter Blessing Okagbare who was recently suspended from Tokyo 2020 Olympics.
The 32-year-old top Nigerian athlete allegedly tested positive for a human growth hormone substance which is among the list of prohibited substances.
However, AFN expressed disbelief about the result of the test in a statement signed by it's President, Honourable Ibrahim Shehu-Gusau.
Read: Osimhen inspires Napoli with a quick fire brace against Bayern Munich in Alianz Arena.
AFN stated categorically clear that Blessing Okagbare is an athlete that has maintained a clean record since she began her career as a teenager.
They also disclosed that Blessing Okagbare was subjected to doping test over 12 times before she came for the Olympics, hence there could be mix up.
Finally AFN promised to support and encourage Okagbare during her trying moment.
Read the full statement below: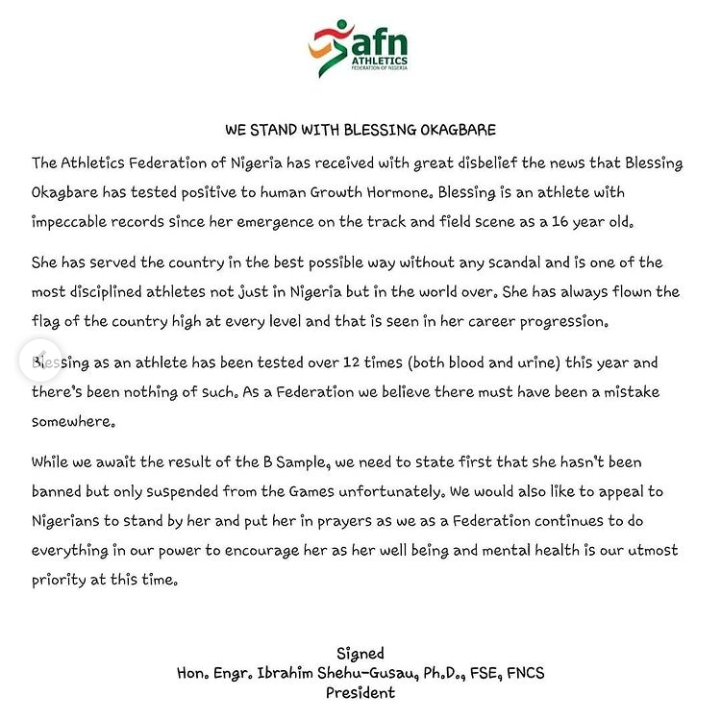 Nigerian top athlete, Blessing Okagbare, has been "provisionally" suspended for doping on Saturday.
The Athletics Integrity Unit made this known in a press statement, saying that the
The ant-doping body said Okagbare tested positive for the prohibited substance in an out-of-competition test on July 19 – four days before the Olympics opened.