Easy Steps To Save WhatsApp, Facebook, Instagram And Twitter Videos From Your Phone And Without Downloading Any App
Everyone watches videos on social media, be it Facebook, Instagram, Twitter, or WhatsApp. And sometimes, we want to download or save these videos on our phones, maybe to reshare them on our own social media pages, or just to keep them to be rewatched later.
But it's a sad thing that apart from TikTok, none of these other social media platforms provides you with an easy way to download or save these said videos, and in a bid to do that, you end up having to download and install separate video downloader apps on your phones for separate social media platforms, such as; Instagram video downloader, WhatsApp status saver, Facebook video downloader, and so on.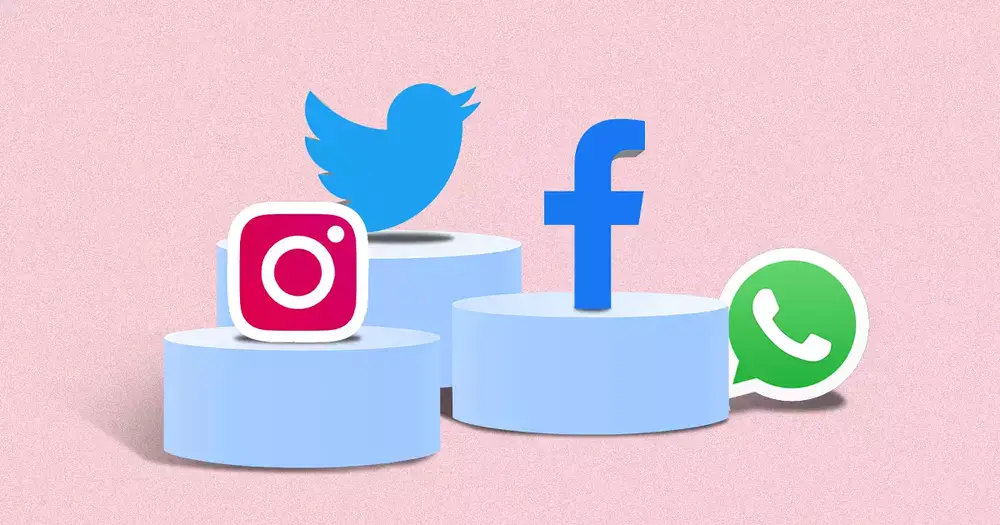 But, what if I tell you that there is an all-in-one social media video downloader that you can use to download and save your favorite videos from your favorite social media apps like the ones mentioned before, and to even blow your mind, it has been sitting right there on your phone all these while, doing nothing, without you realizing it?
Well, to cut the long story short, it's the Xender app installed on your phone.
Yes, aside from just using this app to send and receive files across different devices, it also has recently included this nifty good feature that a lot of people haven't realized yet, an all-in-one video downloader that lets you easily download any video from Facebook, Instagram, Twitter, and even save WhatsApp statuses, without having to download separate apps for each one.
The New Fake N1000 Naira Notes And How To Recognize It (READ)
Sounds cool right?
Sure, it does;
And today, I'll be teaching you exactly how you can find and utilize this feature, so you can start downloading videos with ease from your various and most favorite social media platforms.
Visit: newsblenda.com for more trending updates
So, you're ready?
Sure, then let's begin. #enjoy.
How to download Facebook, Twitter, and Instagram videos on your phone using the Xender app all-in-one video dowloader
Follow the steps below to learn how to download Facebook, Twitter, Instagram videos on your phones using your Xender app.
Make sure that you have "Xender" downloaded and installed on your phone.
For those who don't have it installed, you can simply download it on the app store.
Open the app on your phone, and from the row of options shown at the bottom of your phone's screen, you should see the one labeled "SOCIAL".

That's the one we'll be making use of.
So, kindly open any of your social media apps (Facebook, Instagram, or Twitter), and locate a video.
Copy the link of the video.
Come back to the Xender app, and go to "SOCIAL" like I showed you not long ago.
You will see a place where you can paste the video link you copied, simply tap on the "Paste & Download" button.

Once you do so, the Xender app will analyze the link, and once it's done, the video will start downloading on your phone.
Easy right?
But wait, there's a slight issue.
Recently I noticed that the app could no longer download Instagram videos anymore, personally, I don't know if this is just from my end, or if it's a general issue, but if you're getting a prompt saying "This link is private or invalid, Download failed" when trying to download Instagram videos, here's what to do instead.
Ways to identify a scam and how to avoid being scammed. (READ)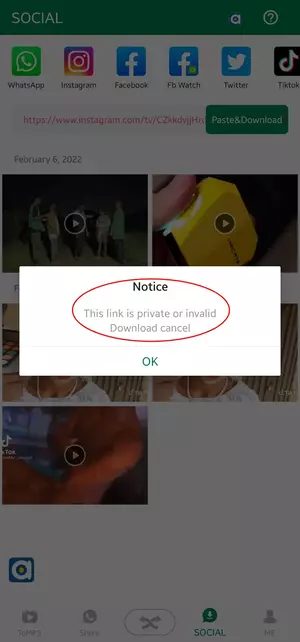 Instead of copying the Instagram video links, you'll have to login to your Instagram account from the Xender app itself.
So, go ahead and open the Xender app once again, and go to "SOCIAL" like we did before.

And at the top of the page, you should see various social media app icons, simply tap on the one that represents Instagram.

You'll be asked if you want to "Get the Instagram App" or simply "Log In" to your account.
Tap on "Log in", and provide your login details, username/email and password, and you'll be logged in straight away.

Now when you come across any video or picture on your Instagram page, you will see a red download button on them.

Simply tap on this button, and the video or picture will be downloaded to your mobile phone.
Smooth…
So, that's about downloading and saving videos from Facebook, Twitter, and Instagram, but what about saving pictures and videos from our WhatsApp statuses?
Well, that's easy too.
How to download and save WhatsApp status using the Xender app on your phone
For the last time, open the Xender app on your phone, and tap on "SOCIAL" from the row of options displayed at the bottom of your phone's screen.

From there, tap on "WhatsApp" from the row of icons located at the top of your screen.

You'll get a prompt saying "Connect", simply tap on it, and you'll taken to your WhatsApp application.

After that, what happens is, whatever status you view on your WhatsApp application, whether a picture or video, you can simply come back to the Xender app to save it to your phone.

That was easy, right?
So, that wraps it up for today on how you can easily download or save Facebook, Instagram, Twitter, and even WhatsApp statutes and videos to your phone with ease, and without having to download multiple video downloader apps for them.
Please share this article to those of your contacts that loves disturbing you to send them your WhatsApp status video eàch time you post.
Source: Newsblenda.com