Since explosions were first heard in Ukraine some days ago, things seem to have quickly escalated. People living in Ukraine have been looking for the nearest border through which to leave the country and as of now, the number of people who have left Ukraine since the crisis began is at about fifty thousand. The president of Ukraine however has promised that they will not surrender and that they will keep fighting and defending the country.
Recently, it was reported that street fighting broke out in Kiev – Ukraine's capital. A lot is happening and it seems like a lot more will continue to happen in the coming days. But the question now is, how is this crisis currently affecting the world of football? Well, for starters, the 2022 Champions League final which was supposed to be played in the Gazprom Arena in Saint Petersburg Russia has been moved amidst recent developments. Hosting rights have been stripped from Russia and France's national stadium.
The Stade De France will now be hosting the final come may but that's not all for Gazprom. Gazprom, which is majority-owned by the Russian government, has been the sponsor of Schalke 04 since 2007 and so the club has always had the Russian company's name printed across the front of their jerseys. But with everything happening, the German club recently decided to take off the name from their shirt. Instead, it will be replaced by lettering reading 'Schalke 04'.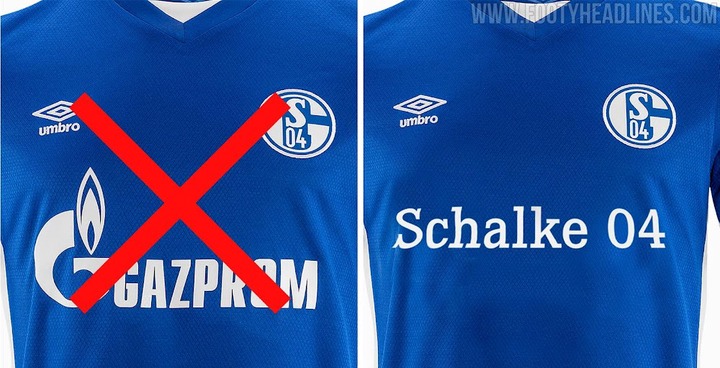 Schalke are not the only ones doing something about their Russian sponsors, Manchester United are too. The English giants very recently withdrew from their partnership with their Russian sponsors Aeroflot, abandoning a sponsorship deal which was worth £40 million. The club said in light of events in Ukraine, "We have withdrawn Aeroflot sponsorship rights. We share the concerns of our fans around the world and extend our sympathies to those affected." That withdrawal meant that the Man United team had to cancel their already arranged flight with Aeroflot to Madrid for their champions league game against Atletico.
Why does Barcelona, a Catalan club have the England cross in their crest? (READ)
But it is not only Russian sponsors the rest of the footballing world are staying away from, they're also staying away from the Russian national team. Czech Republic, Poland and Sweden are three national teams which have said that they won't be playing against the Russian national team. Poland are scheduled to face off against Russia in March in a world cup qualifier playoff and if Russia go through, they will face either Czech Republic or Sweden in the next stage. But as far as the world of football is concerned, you could say that this crisis has affected Ukrainian teams more than anybody else.
Visit Newsblenda.com for more updates.
The Ukrainian Premier League was supposed to resume on Friday the 25th of February after their winter break, but it has now been put on hold for at least 30 days amidst invasion from Russia. It has been deemed not very safe for football to continue being played in the country and frankly, Ukrainian citizens are currently living in fear. Surely, they are more bothered about staying alive than playing football at the moment. Even the Ukrainian players playing in other parts of Europe are deeply affected by what is currently going on in their home country.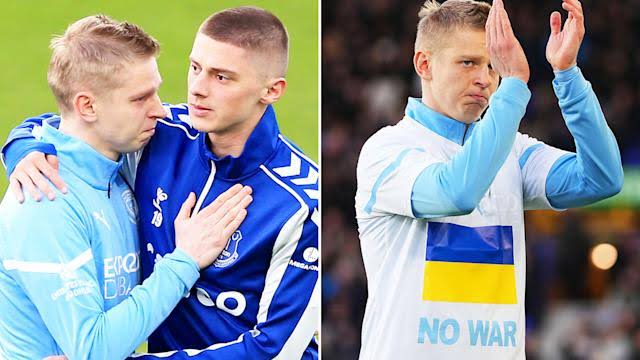 A very emotional Zinchenko went on Instagram and posted a photo of Putin with a caption that said, "He hoped the Russian president dies the most painful suffering death." He has since deleted it, but that post only shows a little of how very affected Ukrainian nationals are by everything that's been going on. Malinowski too is another Ukrainian international who has been really vocal since the invasion of his country. After scoring for Atalanta in the Europa league, Malinowski lifted his shirt to show the words "No war in Ukraine." He has also been very vocal on social media, calling for attention and support for Ukraine from the rest of the world.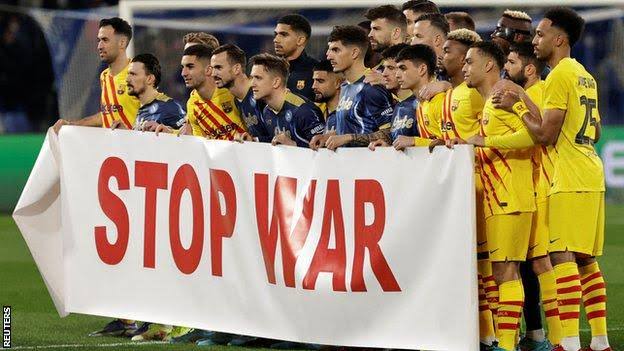 The Ukrainians are not alone. In the Europa League knockout match between Napoli and Barcelona, both sets of players came together before kickoff and held up a banner which boldly said "Stop War." Basically, this ongoing crisis has affected the world of football in more ways than we can imagine and our hope is just that the solution is found quickly and not just because of football, but for the sake of the people who are being killed, displaced and affected in any way.
We also urge you guys to lend your support to the people being affected by this crisis, talk about it on social media, sign relevant petitions, donate if you can. Let's all just do our own bit to help these people who need us right now.