Tonto Dikeh reveals the 'right' way to pray to God
Nollywood actress Tonto Charity Dikeh has shared her opinion about prayer with her followers on social media.
According to the 35-year-old mother of one, it is not the person's tears that moves God to action, rather the Word (probably referring to the Bible).
She also said in a picture message on Instagram that faith as much as a grain is needed for prayers to be answered.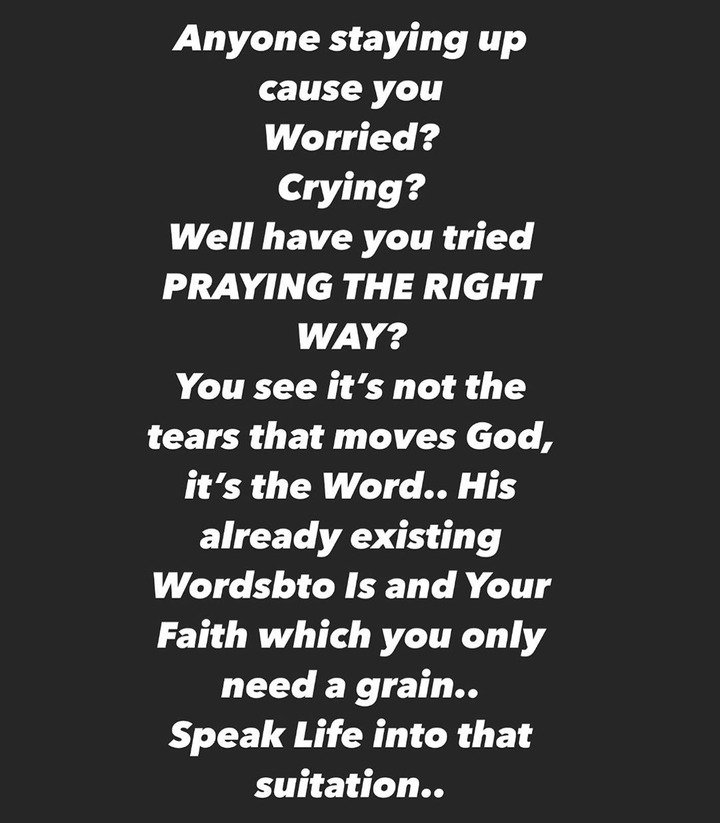 What if you have been crying from, week to week month to month or year to year and yet nothing is happening. The beautiful actress thinks action is needed more than crying for a change to occur.
She stated this in a post accompanying the message:
"Until you are spiritual vexed about your Level or problems in life and take action nothing will Change," she wrote.

"You have cried from January, Sis we in September still no change..WHY DONT YOU TRY IT MY WAY #PRAY

"And Oo yes there is a WRONG AND RIGHT WAY TO PRAY.."
Do you think Tonto Dikeh is right? Kindly share your opinion in the comment section below:
Author's Profile
Law Blessing is a skilled writer with loads of experience in the field. Although a freelance Author, he's passionately involved in articles related to sports and entertainment.