Ghanaian Court Grants Bail To 2 Nigerians Who Abducted 39 People.
Paul Okafor And Duru Favour Has Been Granted Bail By Ghana District Court.
Ghana District Magistrate's Court, headed by Mr Isaac Oheneba Kufuor, has granted bail in the sum of 5,000 Ghana Cedis with one surety each to two Nigerians who was Apprehended for kidnapping 39 other Nigerians.
On Sunday July 12, the Winneba District Police command, acting on information, arrested two Nigerians identified as  Duru Favour, 26, an artist and Paul Okafor, 29, a businessman for kidnapping 39 other Nigerians and trafficked them into the country and kept them at Gomoa Pomadze, Ghanaweb reports.
According to the police, the suspects Paul Okafor and Duru Favour, are said to be engaged in kidnapping and trafficking of young Nigerians to perpetrate cyber-crime activities in the country.
The officer in charge if the case Samuel Okanta said that the suspects were arrested after receiving complaints from one Charles Ikorohk who is also a Nigerian.
According to the statement obtained from the complainant Charles Ikorohk,
Charles Ikorohk told the team on their arrival during an interview that he arrived into the country from Nigeria on 22 January 2020 to visit a friend but could not trace him and later got stranded.
According to him, he met one Uzo at the Kwame Nkrumah interchange area in Accra who later introduced him to Arisuezo also a Nigerian. He said Arisuezo transported him to Winneba and kept him in a walled house together with other young men who were all Nigerians.
He indicated that they were locked up in the room, prevented from leaving the compound and subjected to other inhumane treatment as their captives use them to perpetuate Cyber-crime activities.
Charles Ikorohk said he managed to escape on Sunday 12th July 2020 about 0800 hrs when he had been asked to weed the compound of the house while their supervisors had gone out with one of the victims to a Mobile money vendor to withdraw cash fraudulently received.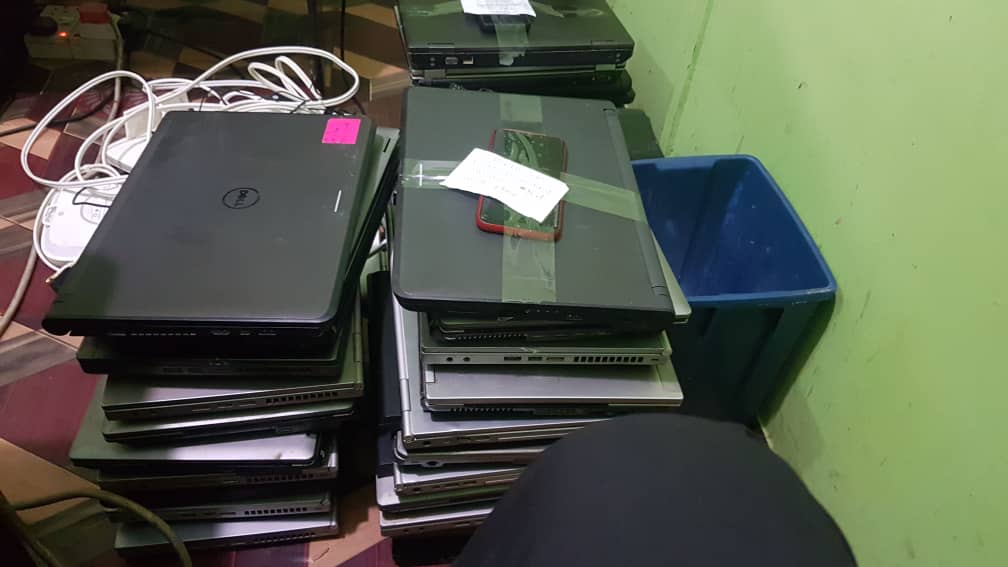 The District Command was informed and immediately led the team to a house also located at Pomadze where all 39 victims all Nigerians in their twenties were rescued.
According to a police report, 36 laptops were also retrieved from the house. Two suspects namely Paul Okafor and Duru Favour all Nigerians have been arrested and detained to assist with  Police investigations.
Okanta said the police were doing everything possible to arrest Arisuezo.
During their first court appearance, two suspects l pleaded not guilty to the charges of kidnapping and use of trafficked persons. They are to re-appear before the court on July 23, 2020.
READ ALSO: The Heartbreaken Photos Of Nigerian Soldiers Killed By Armed Bandits In Kastina
Wisdom Iwu can be found writing, designing and developing all sorts of great content. A freelance writer, thinker and lifelong learner with an ongoing curiosity to learn new things.
Related