Daddy freeze question the motives of Nigerians engaging in #BlackLivesMatter protest
Popular Nigerian broadcaster and radio talk show host, Ifedayo Olarinde, popularly known as Daddy Freeze, has taken to social media to question the motives behind the engagement of most Nigerians in the #BlackLivesMatter protest.
Well, if you must know, the #BlackLivesMatter protest was staged in the US, against racism and police brutality in the region. It began after the brutal killing of George Floyd by four Minneapolis Officers.
Although the protest seems to be a good call to stand against racism of all sorts especially against 'black lives', Freeze is however of the opinion that it shouldn't be for Nigerians who although are blacks, still discriminate amongst themselves.
He wrote in one of his recent posts on Instagram:
"I question the understanding and motives of most Nigerians going out to protest black lives matter home and abroad… Although it makes sense to stand in solidarity with blacks in the US and against racism, but actually going out to protest is preposterous.

"Do Americans protest the herdsmen killings going on here daily, SARS nko? Dem dey follow una carry placard??

"If you must protest protest your own discriminations. Here are some suggestions;

"You be Igbo but no fit marry OSU, #OsuLivesMatter, you be ijesha but you no fit marry ijebu #IjebuLivesMatter, you be Edo but you no fit marry Ishan etc!"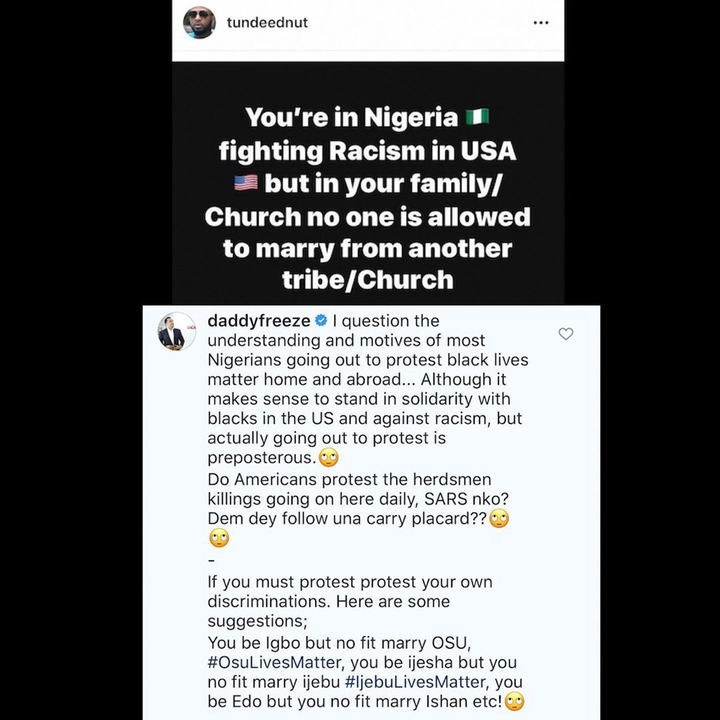 Freeze may be right, it doesn't make sense for Nigerians to engage in a protests abroad when there are greater forms on racism within the country.
Law Blessing is a skilled writer with loads of experience in the field. Although a freelance Author, he's passionately involved in articles related to sports and entertainment.
Related