For two weeks now, Ukraine has not exactly been the safest place to be for anyone since the Russians first invaded on the 24th of February.
Ukrainians have had to be on guard and extra watchful for saboteurs and spies. This understandable lack of trust of the Ukrainians in addition to the sheer brutality of the Russians have put the safety of journalists covering the war in Ukraine at huge risk. Reporters are getting hit and injured and they've been crying out for both parties to respect and protect journalists out in the field.
Guillaume Briquet a Swiss reporter currently out in Ukraine is one of the many victims of the brutality on journalists. He described how he was shot and robbed by a Russian group in spite of the fact that his vest and car had the word "Press" boldly written across. He felt like the Russians wanted him dead because they clearly shot to kill. Brooke who has a lot of experience reporting from war fronts said he had never seen anything like it and he also expressed deep concern for those reporters traveling around Ukraine without much experience in war zones.
This brings us to the story of two South American reporters also covering the horrid events in Ukraine who just like Briquet were also almost killed, but at a very critical time, their lives were saved by Lionel Messi and the late Diego Maradona. Now here's the story as recounted by the Chilean journalist Daniel Matamala on Instagram. Apparently a couple of days ago, he and his Argentinian partner Guillermo Panitsa along with their Cameraman Juan Zamudio was stopped by Ukrainian police at one of the many checkpoints.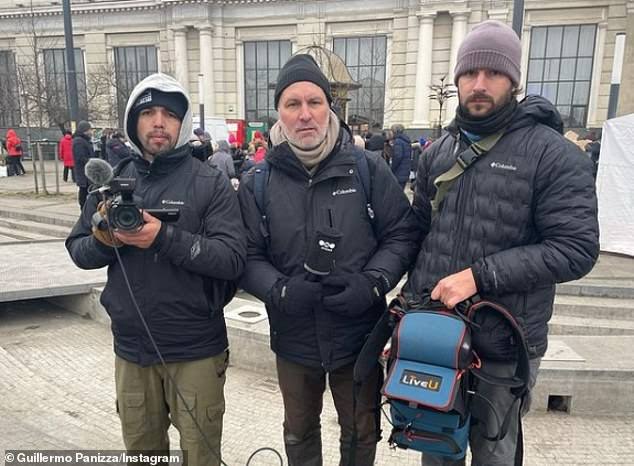 Visit Newsblenda.com for more updates.
Their phones, documents, cameras and everything were seized and they were taken into the police station. From the very tense interrogation, they could tell that the police suspected that they were spies or saboteurs. So they immediately knew that they had to tread carefully. But the language barrier made the situation very difficult to de-escalate because the journalists didn't even really understand what was being said by the police. But then, there seemed to be a little respite when the police asked for Panitsa's passport. They saw that he was Argentinian and even though the journalists still could not hear much of what was being said by the police, they were able to pick out the words Messi and Maradona.
So they quickly took advantage of that. That right there was a saving moment for them and the cameraman Zemudio was the first to jump at it. He immediately showed the police officers the tattoo he has on his calf and guess what, it is a tattoo of the great Maradona. That obviously old tattoo was enough to finally defuse the entire situation and then Lionel Messi from nowhere appeared and put it all to bed just like he has done countless times on the football pitch.
Why Russian footballers are not talking against Ukraine invasion… READ MORE.
Messi didn't actually show up in Ukraine, but it was the picture he granted one of the journalists many years ago that finally got them off the hook and pretty much saved their lives. While the Ukrainian police were going through the journalists things to ensure they weren't spies, they stumbled on the picture on Panitsa's phone. It was a very old photo, but it was enough to do the trick. Panitsa posed beside a 20 year old Leo Messi just before the Copa America tournament back in 2007. Who knew that a picture from 15 years ago could come back around to save one's life!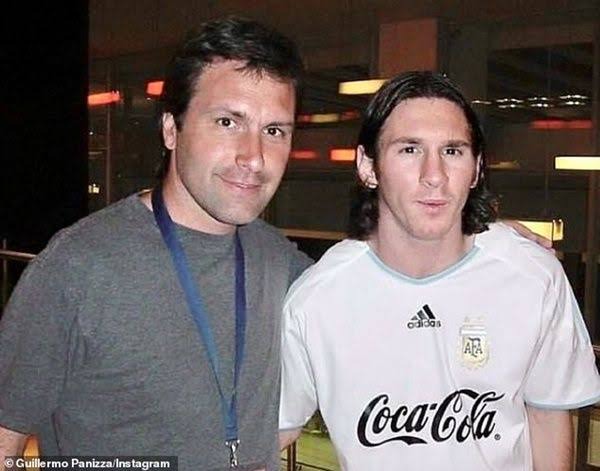 Well, if that picture was with the greatest football player ever, then surely anything can come out of it and you know what's even crazier, Panitsa didn't really want to take that picture with Messi on that day in 2007. Sure, Messi was a fast rising youngster, but Panitsa was actually more interested in an established superstar a player who just the previous year made the world cup all-star team – Roberto Ayala, a former Milan and Valencia defender.
Anyway, Panitsa settled for a picture with Messi and little did he know that 15 years later that picture would be what would save his life. All respect to the legend Ayala, but I don't really think that the Ukrainian police finding a picture of the journalists with Roberto Ayala would have had this same effect. After the tattoo of Maradona and the picture with Messi combined to save the reporters from what could have been death, Guillermo Panitsa immediately went on Instagram to say "thank you" to the seven-time ballon d'Or winner. His appreciation was a simple, short and sweet "thank you for this photo and for being Argentine."
Do you have a photo with a celebrity that could possibly save your life? Who is it with? Let us know in the comments.