For sure, at a point or two, you have seen two celebrities and was like, these guys look alike. But in this article, we're not just giving you a footballer and their celebrity look-alike, we're giving you footballers and their footballer look-alike.
Yes, there are more than 10 pairs of famous footballers who are each other's dopplegangers, and we believe that by the time you get to the end of this article, your jaw would have dropped to the floor. By the way, none of these players are related to each other in any way that we know of. Let's just dive right to it.
Nacho Monreal & Peter Crouch
You may have probably switched their faces the first time you show their pictures. i.e. Monreal's face on Crouch's body and vice versa. The former Arsenal defender and former Liverpool striker could very much pass for brothers. Almost everything about their faces are similar. They have pretty much the same shape of face, their hairs grow in just about the same pattern, and they even both have blue eyes.
If we did a photoshop edit and put Monreal's face on Crouch's body, I'm sure you wouldn't notice at all. Perhaps the only place these two do not share any resemblance is in the height department. While Crouch is very famous for his 6 feet 7 frame, Monreal is almost a foot shorter at 5 feet 10 and half inches.
Kingsley Coman & David Alaba
Now, these two don't have the any form of connection, but the faces are enough to have you asking questions. But don't worry, keep your questions. Coman was born in France and has French origins, while Alaba was born in Austria and has Nigerian origins. But they look so alike that commentators and fans very often confused them for each other when they were playing together at Bayern Munich. It was a lot worse that period when they were both carrying very similar haircuts. But just in case you're looking for more similarities, well, they are both really fast and are both 5 feet 11 inches tall.
Ousmane Dembele & Inaki Williams
These two have gone head-to-head a couple of times in the past few seasons, and if you have watched a second of their games, you'll know that they're very pacy forwards. If you then take a minute to take a look at both their faces, you'll see that they both look alike. And there may be something here because they both have African origins. Inaki was born to Ghanaian parents while Dembele was born to Malian and Mauritanian-Senegalese parents.

But you know where they have absolutely no resemblance? In their levels of fitness. While one is known to struggle with injuries every now and then, the other just can't seem to get injured and that has seen him feature in over 200 consecutive La Liga games, a record in the Spanish league. Now, let's throw it back a little for the old-timers on the channel.
Ruud Gullit & Cafu
These names would sound alien to you if you didn't watch football in the 80s, 90s, and early 2000s. Both these guys played for AC Milan at some point in their careers, and while Gullit started his professional career in 1979, Cafu began his career exactly 10 years later. Cafu is Brazilian, while Gullit is Dutch, but if we told you they were brothers, you, for sure, would have believed instantly.
Salah, Son and other football stars who have served in the military (READ MORE).
Anyway, quick quiz. Can you tell us in the comments which of these players won the World Cup and which one won a Ballon d'Or? Let's see how much you know your football legends.
David Luiz & Matteo Guendozi
The Brazilian defender and French midfielder are pretty much the same person born in different generations. If you remember when they were both at Arsenal together, a lot of people very often confused one for the other. And can you really blame them? The hair they both carry didn't even help the confusion one bit.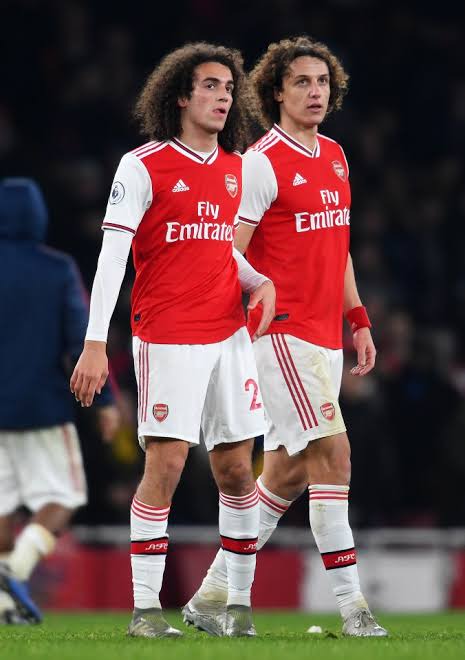 Oh, and they are both about the same height, with similar skin colour and body structure, so you were bound to be confused each time these two were on the pitch for Arsenal together. Anyway, they have both now left Arsenal permanently, so at least, you can stop wondering how come David Luiz is still on the pitch when Arteta just took him off.
Kenny McEvoy & Gareth Bale
Kenny McEvoy had his chance at Spurs, just like Gareth Bale, but unfortunately, he hasn't been able to achieve anything close to what the Welshman has done so far in his career. So now, the only thing these two have in common is a facial resemblance. That is a big similarity, cos boy do they look alike! The face structure is the exact same. If Bale wants to go play some golf while Madrid has a game, he could easily call Kenny to help take his place on the bench. The coach won't be bringing him on anyway, so why not?
Visit Newsblenda.com for more updates.
Roy Makaay & Luis Suarez
These two prolific goalscorers look alike, don't they? By the way, in case you don't know who Roy Makaay is, he is the scorer of the fastest goal in the history of the UEFA Champions League. Pretty uncanny that these two guys who look alike have similar styles of play, are deadly in front of goal, and enjoyed good spells in the Netherlands, isn't it?
Dida & Mbappe
These two guys have more than a World Cup gold medal in common, they actually look like brothers or probably more like father and son. Dida is more than twice Mbappe's age so no way they could actually look like brothers. Anyway, will Mbappe go on to add a UEFA Champions League winners' medal to his World Cup medal just like his look-alike did? We will just have to wait to find out. By the way, tie a ribbon around both these guys' eyes, and you know what you get, right? Don't make us say it.
Lionel Messi & Sacha Kljestan
It's okay if you don't know Sacha Kljestan. He has played virtually all of his career in the MLS. But of course, you know Lionel Messi, and if you look past the height difference, you will see that these two actually look alike. Now, because of how very familiar you are with the 7-time Ballon d'Or winner's face, you may never confuse it for Sacha's, but there's surely a resemblance there.
Luca Modric & Johan Cruyff
We will be rounding off with 2 absolute legends of the game. Cruyff, when he was much younger, looked a lot like Modric now. The hair, the nose, these two guys who each have a connection to opposite sides of the El Clasico rivalry could pass for father and child. And the fact that they are both skillful midfield maestros doesn't help our suspicion that they may somehow be related. And it gets pretty uncanny with these two, because their achievements look pretty alike, too.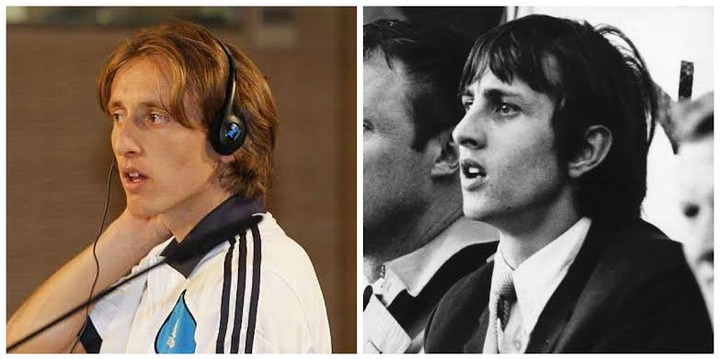 They are both Ballon d'Or winners, they both did the three-peat in the Champions League or European Cup as it was called in Cruyff's days. They both got to the final of the World Cup but never won it, and then each of them was awarded the World Cup Golden Ball award in the tournament where they came second. Truth is, if you believe in superstitions or in the supernatural, it's easy to believe that some of these pairings in this list are more than just dopplegangers, and we won't blame you at all.
In fact, you know what? If you have any conspiracy theories about look-alikes, let us know in the comments. This is a safe space.