What do Kim and Pete really think about Kanye? There is no doubt in anyone's mind that Kim and Kanye's divorce has been less than ideal. Kim put up with so much during her marriage to Ye, like him announcing that he was moving back to Chicago to an audience before telling her. His countless numbers of emotional outbursts and even going as low as to once again tell the entire audience that he and Kim almost terminated the pregnancy with North. Now that's what I call airing out dirty laundry.
So, it has come as no surprise that their divorce process has been just as difficult. According to sources, Kim is very upset with how Kanye has been handling the breakup. Though Kim has kept pretty quiet about the details, she did make a serious dig at Kanye during her SNL monologue. "So when I divorced him, you have to know it came down to just one thing – his personality," she said.
Kim has been clear since the day she made up her mind that she is not going back to Ye. Fans however did get kind of confused when Kim wore her wedding down to Kanye's Donda concert and when they were spotted together numerous times after the split. It led people to believe that the two could possibly be reconciling, but that didn't last long. Kim was single and thriving. Kim's priority has always and will always be her children. So, if that means trying to be amicable with the man who made you go through emotional rollercoasters, then that is what she'll do.
If it were up to her, they would have had a peaceful relationship and where they could easily co-parent their four children without any drama, but of course that isn't the case. On multiple occasions, Kanye has gone on public record trying to win her back – From saying he never saw any divorce papers to claiming that God wanted him and Kim to get back together. To his fans, that divorce is against the will of the Lord.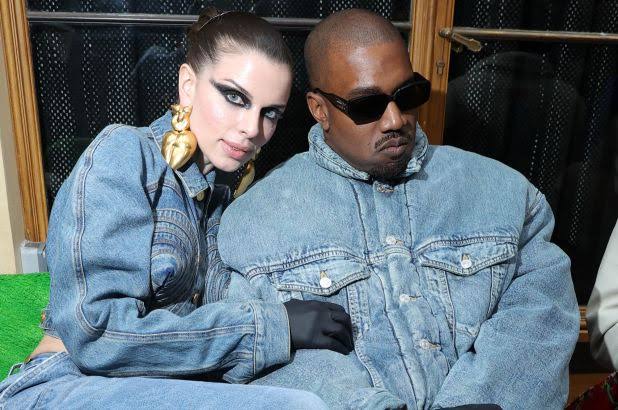 (Photo credit: Page Six)
Though now it seems Ye has a new girl and he's not afraid to parade her around, Kim has somehow managed to stay silent through all of this. But apparently behind closed doors, she is not happy. But she's getting some comeuppance by letting North run that TickTock account without Ye's permission. Kanye even recently took to Instagram to say that he wasn't invited to his daughter, Chicago's fourth birthday party when he and Kim already discussed throwing her two separate parties.
The icing on the cake is that Kanye still ended up attending the party. On top of that, Kanye is furious about Kim's new relationship with Pete Davidson. Though Kim and Pete have kept very low key to be respectful, Kanye still thinks it's way too much. Kim has never posted Pete on her social media and on top of that, he has never even been inside her house to be respectful of her family.
Read: 10 celebrities who surprised fans with their pregnancy news.
Kanye is still writing song lyrics that talk about beating Pete up. Kanye also made a scene over the fact that he thought that Pete had been to the house when clearly he hadn't. That being said, if Kim wants Pete over at the house, it's not Kanye's business anymore. The only way it would be is if it involved his children. Kim obviously isn't impressed but Pete thinks the whole thing is pretty funny. He feels solid in his relationship with Kim. The two even recently went on a vacation together.
Adding on to that, Pete has never been afraid to roast Kanye back. In a previous SNL skit, Pete talked about the fact that Kanye was off his meds and saying, "I'm off the meds." He also roasted Kanye on his political beliefs. Though pete might be finding the situation either a little more funny or a little less funny when he finds out that Kanye is now spreading rumors that Pete is gay and has an STI. But apparently, all the drama is making Pete quite sympathetic towards Kim and it's really just bringing them closer.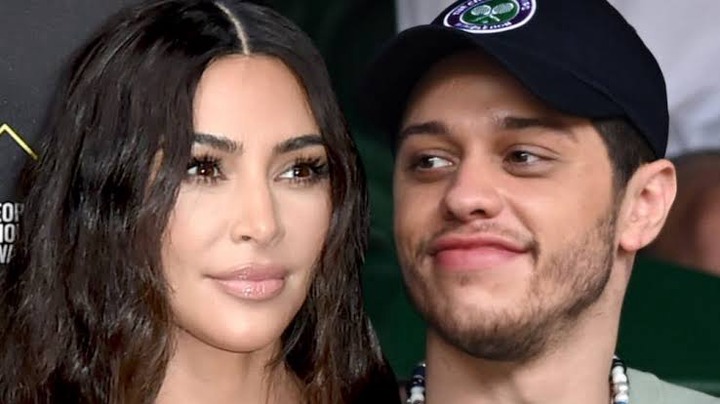 She appears to be happier than she has been in a really long time. One fan even posted in support of Pete saying that he had dated his sister and he was a great guy. It seems like Pete has a great influence on Kim and is able to take a lot of the stress off of her shoulders. Let's be real, she deserves someone who can do that. It might just take Ye a while to realize that there is someone for Kim other than himself.