While literally begging for Kim Kardashian to save their marriage, Kanye West went public with a new girlfriend. Is Julia Fox and Kanye West's relationship the real deal or are they just using each other to gain exposure? There is so much to unpack in Kanye West and Julia Fox's relationship and they haven't even been dating for a month.
Kanye and the Uncut Gems actress met at a new year's eve party in Miami and have been inseparable ever since. Not even a week after meeting, some awkward pictures of the two were published by interview magazine. Even though sources close to Kanye said that he isn't taking his new relationship seriously, Julia seems to think the opposite. Since, they have been attending multiple fashion shows at Paris fashion week and were spotted with other celebs like Pharrell and Kendall Jenner's bestie Tyler The Creator.
Even though they are always together, the relationship seems a bit off. Kanye is still in love with Kim. After Kim filed for divorce from the rapper in February 2021, he has been on a mission to win her back. For instance, when he performed his hit song 'Runaway' in December 2021, he changed the lyrics of the song to dedicate to Kim, "I need you to run right back to me baby. More specifically, Kimberly." But since she's dating SNL star Pete Davidson, Kanye went to embrace the single life.
A source close to both Kanye and Kim told People Magazine that Kanye is still telling people that he wants Kim back even though he's dating Julia. He is willing to make the appropriate changes to do so. But we all know that dating another woman isn't an appropriate change to win Kim back.
Kanye wants attention for his upcoming Netflix documentary. Netflix is coming out with a Kanye West documentary titled 'Genius' that is set to release on February 16th 2022. Until recently, not a lot of buzz has been swirling about the documentary even by kanye himself. However, on January 21st, Kanye posted an eerie photo with a caption asking Netflix to let him get the final edit of the documentary before it's released. "Open the edit room immediately so I can be in charge of my own image," he wrote.
Since there hasn't been too many promos for his documentary, could he be dating Julia to stay honed in on the spotlight or to get more viewership?
On January 15th, Kim and Kylie threw their daughters Stormi and Chicago a joint birthday party. Kanye sent videos into Hollywood Unlocked claiming that he wasn't invited to the birthday party and wasn't allowed to know where the party was. Kanye claimed games were being played by Kim. Does he think she's upset because he moved on to Julia Fox?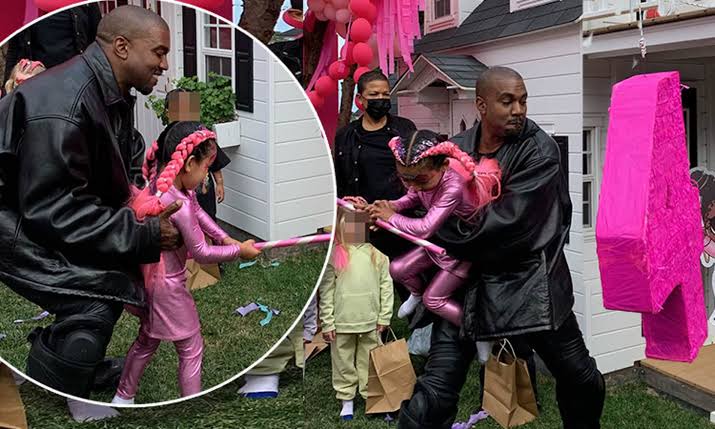 Julia co-hosted a podcast called Forbidden Fruits and during an episode just two weeks before she started dating Kanye, she revealed her obsession for the Kardashians. The actress went as far as to call herself a fan of Keeping Up With The Kardashians and admitted that she wanted them to be her family. "I wanted them to be my family. You feel like you know them," she said. Kim and Kanye's relationship was included in the show from the beginning.
Related: 10 reasons why Kanye can't seem to let go of Kim.
Meanwhile Kanye threw major shade at Kim in the lyrics of his new song. Kanye rapped that Kim spoiled their four children by giving them everything they want. Kanye told the Hollywood Unlocked podcast that he had Kim know that he didn't want North wearing makeup on TickTock after he saw North wearing some. Apparently shortly after, another TickTock was posted of North wearing makeup and he claimed Kim is antagonizing him. It seems like he's making Kim look like a bad mom to get the negative attention off of him and Julia's suspicious relationship.
Ever since Julia started dating Kim Kardashian's ex-husband, she seemed to be wearing her old clothes too. Before going on her first date with Kanye West on January 2nd, Julia wore a dress that looked a little too familiar. She wore the memorable striped illusion gown that Kim Kardashian wore to the 2018 People's Choice Awards. Maybe the first time was a coincidence, but a second time is just a little weird.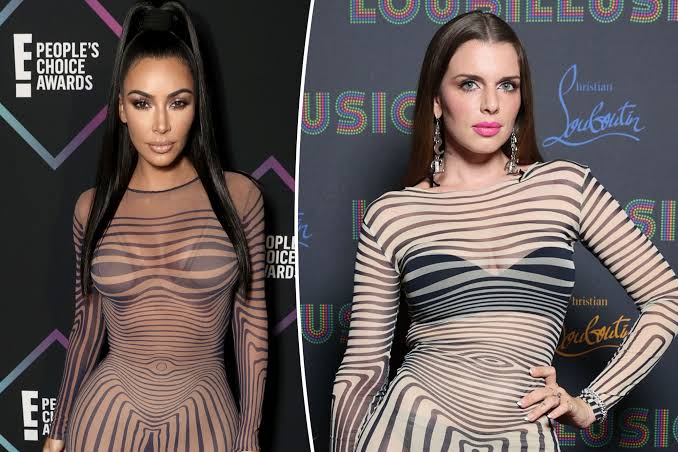 On January 23rd, Julia was pictured wearing the same metallic Balenciaga boots that kim used to strut around in back in 2016. Dating Kanye is a career boost for Julia. We didn't really know who Julia Fox was until she started dating Kanye. But even though our eyes are on the actress more than ever before, she claims her relationship with Kanye is real in an episode on her Forbidden Fruits podcast.