Grammy winning singer Ayodeji Ibrahim Balogun professionally known as Wizkid took to social media two weeks ago to announce that he ran out of tickets, after it took just 12 minutes for tickets to his November "Made In Lagos" concert at the 02 Arena to sell out.
Although it's not the first time Wizkid's tickets for a concert sold out in 12 minutes, he also achieved it with his "Starboy Fest" in October of 2019. But the 02 feat is particularly exciting and historic, as no African has achieved it before. That of course reaffirmed Wizkid as a monumental superstar, being one of the forerunners of the afro-bits to the world movement.
He has over the years come to assume the position of probably the most revered artist in Africa.
However, the fact that Wizkid's 02 record has not yet been broken in Africa doesn't mean other renowned acts in the world are yet to do so. Below is a roundup of popular artists that have sold out the 02 arena in less than 15 minutes.
Beyoncé in 2004 (12 minutes)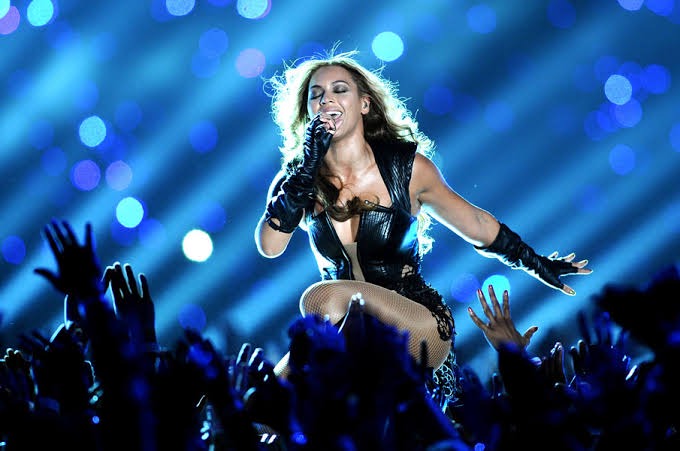 Beyoncé is an American songwriter, record producer, singer and actress. Queen B made the 02 arena her most visited venue of any single 12th when she performed there 12 times during her insanely good "Carter Show World Tour" in 2014.
Rihanna in 2011 (10 minutes)
Rihanna is a Barbadian actress, singer businesswoman and fashion designer discovered by Evans Rogers, an American record producer. The Umbrella star sold out her 2011 "Loud Tour" 02 Arena tickets within 10 minute.
The Rolling Stones in 2012 (7 minutes)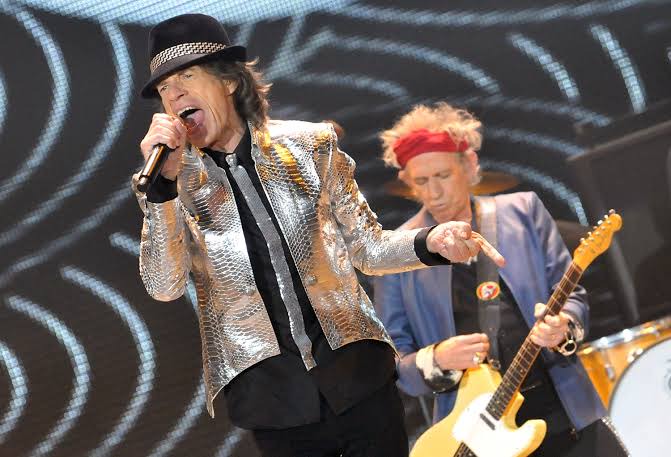 The Rolling Stones are an English rock band formed in London in 1962. In 2012, fans flocked to see the legendary rockers play their incredible 50th anniversary show "50 & Counting", a concert which it's tickets sold out in just 7 minutes.
Gary Barlow in 2014 (6 minutes)
Barlow, an English songwriter, singer, actor, producer and TV personality happens to be United Kingdom's most successful songwriters with 14 number-one singles and 24 top-ten hits. His 02 record came in 2014 when tickets for his "Back for Good" tour sold out in just 6 minutes.
Monty Python in 2014 (43 seconds)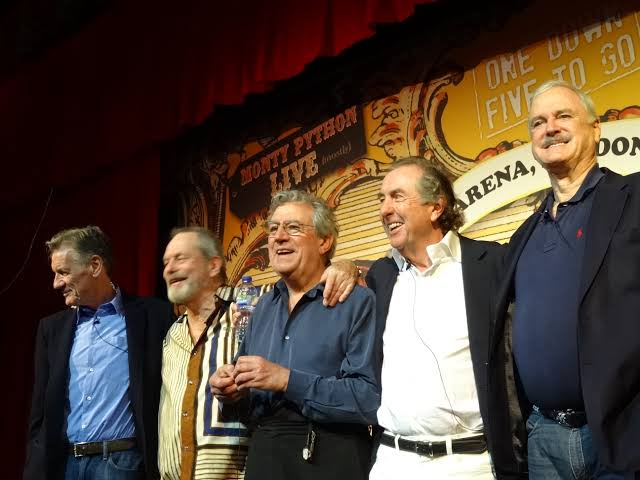 Monty Python concert in 2014 sold out in 43 seconds. It was a live concert film of the British comedy troupe who created the sketch "comedy television". Notable members of the group includes John Cleese, Terry Gilliam, Michael Palin, Eric Idle and Terry Jones.
Read: 5 amazing facts about Akon City in Senegal.
Spice Girls in 2007 (38 seconds)
Spice Girls is a british pop girl group formed in 1994. The group comprises of personalities like Melanie Brown, Melanie Chiselm, Emma Bunton, Geri Halliwell and Victoria Beckham. 90s kids everywhere had a bit of panic attack when one of the favourite feisty girl bands finally announced their reunion concert after many years. Demand for tickets was so high that it sold out in just 38 seconds.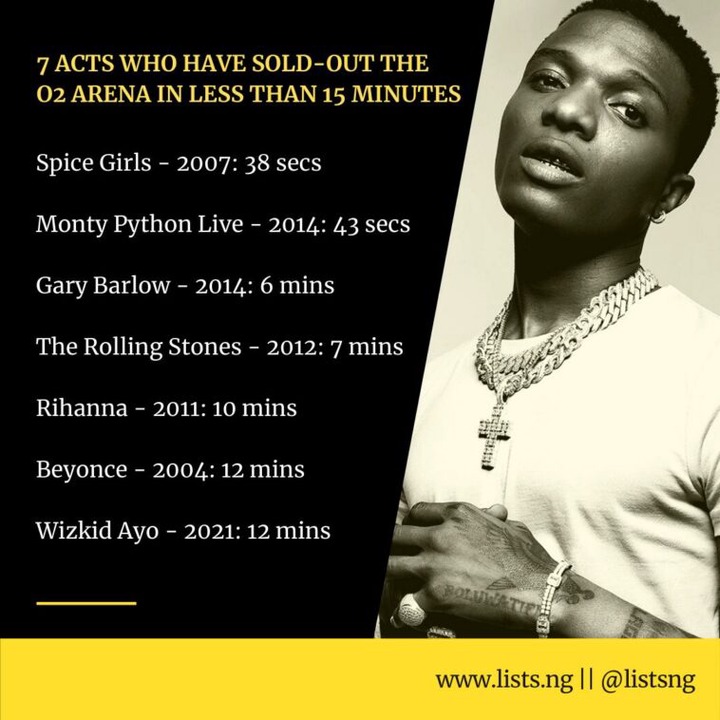 Meanwhile, "Made In Lagos" is Wizkid's 4th studio album. It featured fellow Grammy Award winner Burna Boy, Tems and other artists. The hit track of the Album is "Essence" featuring Tems and most recently, Justin Bieber.