Akon's family left Senegal for the US where he pursued music. He later went on to become one of the biggest and most recognized African-American businessman who also happens to be a singer and a producer. Every track Akon featured on was a hit.
Today, Akon is building his own futuristic city in Senegal called Akon City. According to Akon, one of the major reason why he is building this city is that system in America was never built for black people.
Here are some amazing facts you need to know about Akon City in Dakar Senegal.
Private Currency
As shocking as this might seem Akon indeed has plans set in motion to have a currency that could be used only in his city called the Akoin.
His plan obviously got many asking the question, how about the CFA that's already been used in senegal? Akon said no, his city would never use CFA because it's owned by the French. According to Akon, he wants nothing to do with the currency that has been controlled by the French and besides Akoin is a cryptocurrency.

Africa has over 40 plus currencies across 54 countries it's struggling with a level of inflation and instability while also creating massive roadblocks for entrepreneurs who want to learn, earn, spend and save.
Through Akoin, one currency powers a digital suit of business building tools and services to unite the people of Africa. Akon indeed has a big dream for africa and unlike a politician, he is working the top.
Akon has previously said he hopes the city in Senegal will be the first of many that use cryptocurrency in Africa: "With Akoin, we are building cities the first one being in Senegal. We will scale it out to all other countries in Africa, so all the cities are connected."
Sounds like a grand plan if you ask me, but wait until you hear the next one.
Security
When completed, Akon City will be the safest spot in Africa. Aside the state-of-the-art technology that would be keeping the residence and tourists, the city would have an independent Police Force and an independent fire department and maybe a military if given the chance.
Related: Sacrifices Beyoncé made to get to the top.
According to Akon, though the city remains autonomous, the city's Police Force would work in conjunction with the Senegalese government. Cutting a ride to your favourite tourist spot is a hazel and that's a problem Akon has solved.
Akon City will have its own airport right in the heart of Senegal. This means visiting Akon City when completed is only a ticket away. Those wanting to visit the city would be able to fly there directly without a need to call a taxi or whatever people use these days to go places.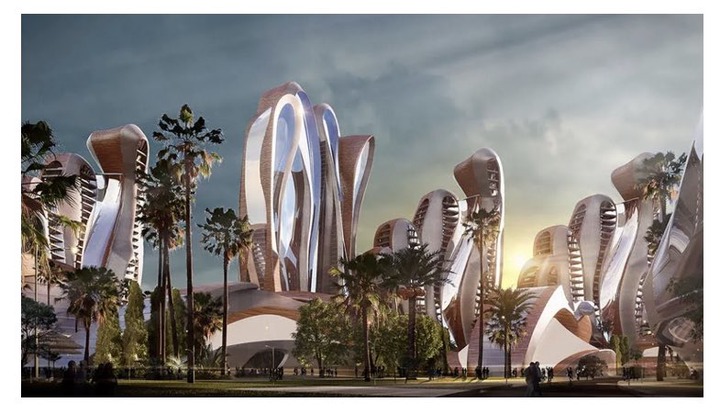 Everything you can imagine can be found in Akon City: shops, theme parks, homes, obviously universities and even a stadium. We might just be witnessing the Akon team playing in the FIFA World Cups pretty soon.
A Green City
Akon City when completed will run solely on solar energy. This would be easy for Akon to pull off as he has a team of experts who provide solar energy to some African countries. Going green for Akon City is environmentally friendly, but most importantly, won't rely on Senegal's electricity grade that couldn't be trusted to say the least.
No Taxes
We don't know how Akon plans on pulling this one off, but Akon City would be tax-free. This to him would attract a lot of foreign investors who fear nothing more than depreciation taxes and the likes.
Size of Akon City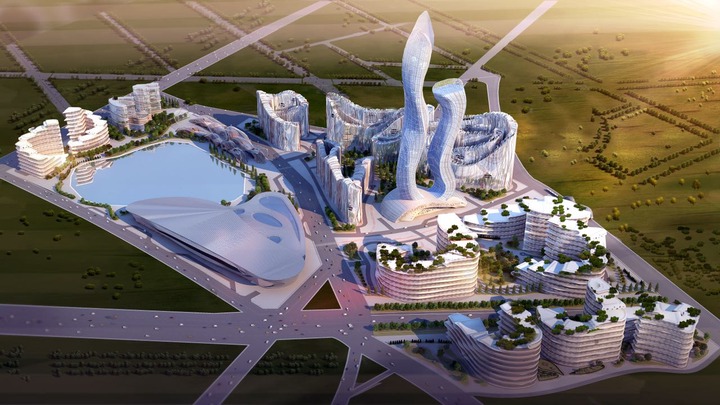 (Photo credit: The Architect's Newspaper).
The size of Akon City is estimated to be about 2000 square acres of land. Contrary to the popular belief that the land was gifted Akon free of charge, he actually did buy the land with his own money. The only thing he's gained from the Senegalese government is the foundation for the project and support from the government.
The big question everyone have been asking is when is Akon City going to be open to the public?
The opening date of Akon City is estimated to be in 2026.