Kanye West is adding more fuel to the fire after his new track not only drags Pete Davidson, but also Kim Kardashian's parenting style.
It's not exactly a secret that Kanye West isn't too enamored by his ex newest flame, Pete Davidson. It has been roughly a year since Kim filed for divorce from Ye, but it seems like Kanye is still having a hard time accepting the split, and has seemingly targeted Kim's current love interest as a result. In case you missed it, Kanye came for Pete in a new track titled 'My Life Was Never Eazy,' featuring The Game.
In the song, Ye didn't hold back when he laid into Pete, rapping, "God saved me from the crash, just so I can beat Pete Davidson." And if that wasn't enough, Kanye slammed Kim, knocking their messy split and very public divorce. He claims to be "having the best divorce ever," in one of his rap. Kanye even dared Kim to go to court if she so wishes: "If we go to court, we'll go to court together. Matter of fact, pick up your sis, we'll go to court together."
He then went straight for the jugular when he dissed Kim for her parenting style, rapping, "I got love for the nannies, but real family is better. The cameras watch the kids, y'all stop takin' the credit."
Talk about a not so subtle jab! Kanye also went on to refer to his and Kim's four children as "rich and spoiled kids." He called them out for being unruly and not doing chores, according to TMZ. Also claiming, when you give them everything they only want more.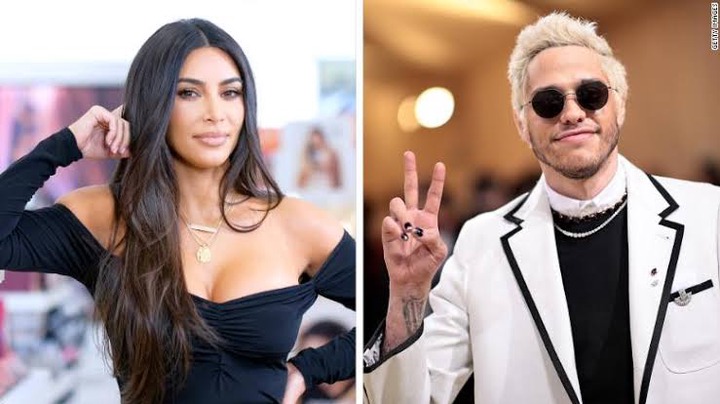 It looks like Pete is not messing around when it comes to his girlfriend's ex. Pete has allegedly hired extra security after Kanye pretty much threatened to beat him up in his new track! Pete's decision to hire extra security particularly makes sense following Kanye's alleged altercation with a fan. The whole thing went down last week, when Ye reportedly knocked a fan to the ground after they asked for his autograph. Although according to Kanye's sit down with Jason Lee of Hollywood Unlocked, there is more to the story.
Related: Inside Kylie Jenner's private baby shower.
The LAPD named Ye suspect in the alleged battery case, and he is currently under investigation for his actions. So, let's just say that his latest single might not be exactly helping his case. For now, we can't help but wonder how Pete and Kim are feeling about Kanye's high key threats towards Pete as this truly messy situation continues to unfold. As always, we'll be sure to keep a close eye on Kim, Kanye, and Pete's social media accounts, and will be eagerly awaiting any sort of public comment in regards to Ye's latest song.