Amid the intense social media activity going down between Kanye West and his ex, Kim Kardashian, it looks like Ye's former relationship isn't the only one taking a hit. Julia and Kanye are officially over, according to a representative for Julia, who confirmed the news to Fox News Digital, saying, "Julia and Kanye remain good friends and collaborators but they are no longer together."
Julia Fox sparked rumours of a split after she deleted pics of her and Ye together off social media, leaving fans to highly speculate that the two have split. It wouldn't come as a complete surprise that Julia is choosing to take a backseat in her relationship with Kanye, considering all of his explosive social media outbursts against Kim in recent weeks, which have been pretty dramatic. Following this and his other posts slamming Kim's man Pete Davidson, Julia appears to have taken a pause from her relationship with Ye.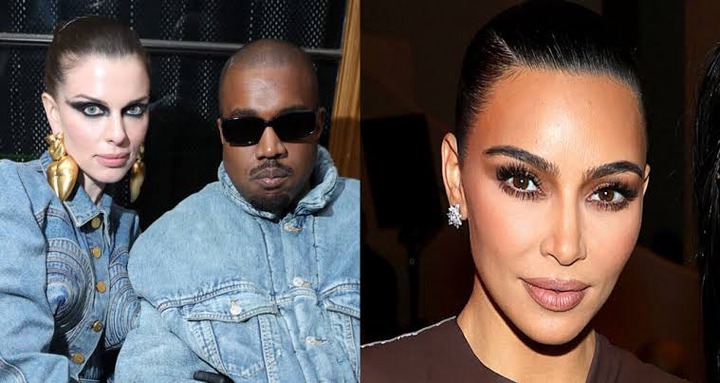 This seems to have been confirmed after some eagle-eyed fans noticed that more snaps of them together have been removed from her Instagram page. Is there a more obvious sign that there may be a breakup? And to make matters worse, instead of perhaps a Valentine's Day post about Julia, Kanye opted for a full-on rant about Kim. Some social media users also noticed that Julia might have "weighed in" on the Kimye drama after liking, then unliking a photo dump of selfies which Kim shared on Instagram, leading many to think that perhaps, Julia is Team Kim, following her alleged split from Ye.
It definitely seems like something is up, after Julia took to social media to set the record straight after a DailyMail article was released claiming she was crying amid this rumoured split. She uploaded a screenshot of the headline to her IG, which said she was "tearfully" jetting out of LAX alone amid the breakup, to which she responded, "Tearfully? I haven't cried since 1997 and I especially wouldn't cry over this!"
Read: What it took for A$AP Rocky to finally win Rihanna's heart.
Julia then went on to explain that the only reason she may have looked a bit frazzled in the pics was because she was late catching her plane to go and see, "the only men that matter which is my son and my dad." It looks like all signs are pointing to a split between her and Ye. I mean, "the only men that matter" is definitely saying something!
She later shared a video of her walking through an airport to her IG Stories with the caption, "crying where, dailymail?" And over the weekend, an insider told People that distance might be to blame for their romance fizzling out, with the source revealing, "Kanye and Julia both have separate busy lives. Julia lives in New York City and Kanye has been in Los Angeles. The distance makes it hard."
Source: Newsblenda.com