Rihanna has spent years building the empire she now has, but starting a family with A$AP Rocky leaves some of us wondering where their relationship started. It may be hard to believe now but Rihanna was first linked to A$AP Rocky 10 years ago, back in 2012.
The two collaborated on the remix to her song 'Cockiness.' With the song suggestive lyrics, it wouldn't be shocking if fans thought their romantic relationship started in 2012 as well. But even amongst dating rumors at the time, the two had been pretty platonic since working together. You just couldn't tell that by looking at their 2012 VMA performance they did together. Saying that the two of them had insane chemistry would be a huge understatement.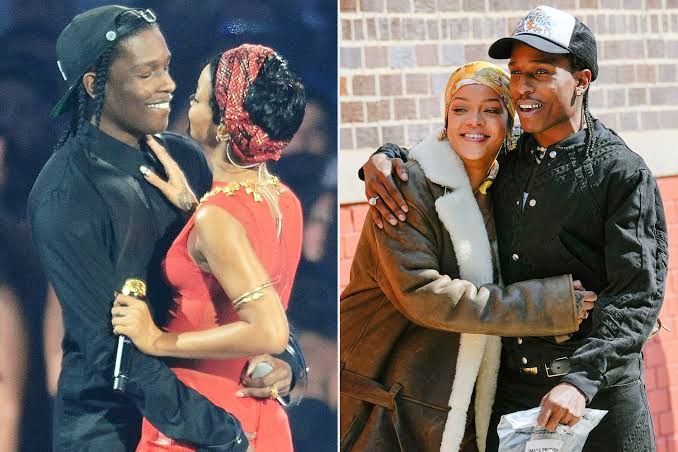 They may have had a platonic friendship following their remix collab, but that doesn't mean that there weren't sparks that were flying between them. In fact the very next year it was announced that Rihanna and A$AP would be going on tour. According to a 2013 radio interview with A$AP at Power 106 Los Angeles, Rihanna's team called him to join the tour as a special request to Rihanna herself. At that point, Riri was already a huge powerhouse in the music industry and had collaborated with a ton of other Hollywood a-listers. As big of a name that Rihanna was in music in 2013 and obviously still is today, being called to go on tour with her as a special request would be the opportunity of a lifetime.
As if their VMA performance or Rihanna's request to go on tour with A$AP wasn't enough to keep fans wondering what was going on between them, they collaborated yet again for one of A$AP's music videos. Though Rihanna wasn't singing on the song herself, she appears in the video. In fact, she played A$AP's girlfriend and the two were seen cozying up with each other and going on a giant shopping spree in New York City.
We thought they had great chemistry before, but the video really sells their relationship. But even then, A$AP and Rihanna consistently denied that there was anything serious between them. it actually checks out seeing as how asap was in another relationship at the time. but fans couldn't deny what they saw on screen.
Even though the two had a seemingly close bond with each other, they decided to stay friends instead. In the meantime, Riri decided to find love elsewhere. She briefly reconnected with her ex Chris Brown who she famously dated back in the mid-2000s. She also had a somewhat complicated on-again off-again relationship with Drake and eventually dated Saudi businessman Hassan Jameel for nearly three years up until 2020. But that doesn't mean A$AP was lonely either. Since collaborating with Rihanna for the first time, he had been tied to Kendall Jenner, Rita Ora and love in hip-hop star Terry Jose. But as we now know, that didn't keep the two of them from later reconnecting.
The two may still not have been dating at the time, but from 2018 onward, fans couldn't help but notice that the rapper and beauty mogul had been seen together on more than a few occasions. They attended a fashion show together at Paris Fashion Week in 2018 and later that year Rihanna invited A$AP to her annual Diamond Ball event. He was invited again the following year in 2019 and later that year they attended the fashion awards together in London.
Now it may have just been a series of coincidences that these two were making so many appearances together, but seeing as how they are way beyond just being cuddled up now, we know that wasn't the case. Rumors were already beginning to swirl in 2020 that Riri and Rocky were an item especially after her relationship with Hassan Jameel came to an end. But nothing had been confirmed yet and as we know, Rihanna has preferred to stay tight-lipped about her romantic interests in the recent years. But then, they collaborated yet again to promote the launch of Fenty Skin.
Related: Is Rihanna quitting music?
They appeared in promotional photos together and even collaborated in a GQ video together where A$AP got to answer a number of questions asked by Rihanna and we're not gonna lie, it was totally heartwarming to see the two of them joking around. They literally couldn't stop laughing at each other's jokes. After all the mess that the year 2020 brought with it, that video was definitely a highlight. This didn't come as too much of a surprise seeing that fans had been speculating that they were dating back in 2019 when they attended the fashion awards together.
But in December of 2020, a source confirmed to People that the two were in fact dating. Another source confirmed their relationship to US Weekly stating that A$AP has been very into Rihanna for years and was always the instigator when it came to flirtatious advances and looking back at their old videos and appearances together, we could definitely see that. But we're not mad at it because it seems that everything worked out exactly like they had hoped.
Confirming a relationship together is one thing, going on a Christmas getaway with the family of one of the most successful musicians and business women to date is on a different level entirely. But that is exactly what happened in December of 2020 when A$AP Rocky joined Rihanna and her family for a holiday vacation in Barbados. Their friendship lasted years beforehand, so we are sure the trip felt natural. A source even told Entertainment Tonight that they have known each other for so long as friends and in a work setting which makes it so easy for them to get along, travel together and be involved in each other's lives.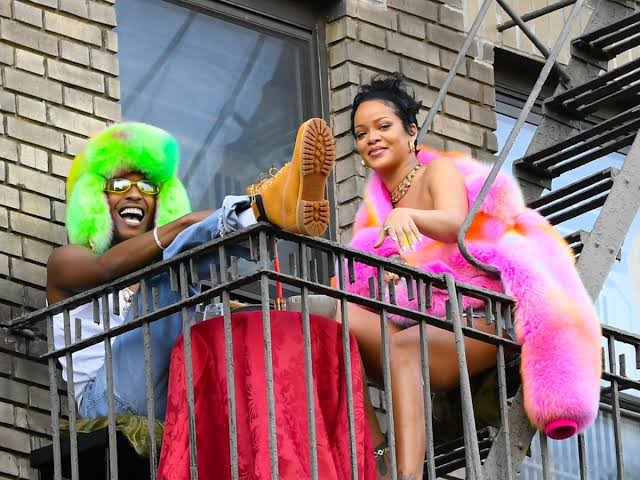 In a 2021 interview with GQ A$AP Rocky opened up about his new relationship with Riri and couldn't help but gush over her and we loved every bit of it. When talking about his experience being with Rihanna, he stated: "So much better when you got the one. She amounts to probably like a million of the other ones. I think when you know, you know she's the one." After going through complicated relationships with other people, we love that the two of them found love in what probably used to appear to be a hopeless place.
The longer their relationship goes on, the more we seem to hear about how much Riri and Rocky really do love each other. A source told People this romance evolved: "Since they were friends first, they already knew and respected each other and it has just grown from there. They love to laugh and have a blast together before they even dated."
All of that makes for a solid romance now and we have to agree it's not too uncommon for celebrities in Hollywood to start new relationships just for the sake of publicity. But in this case, that didn't have to happen because the feelings they have for each other came naturally with time. A second source even told the outlet they are crazy about each other and have everything for the long term.
Met Gala is already one of the most iconic fashion events of the year. Fans usually anticipate what their favourite celebrities will wear for the event. But in 2021, all eyes were on A$AP and Rihanna. We are already aware that Rihanna knows how to shut down a red carpet and with A$AP by her side, there were even more great moments to capture. The two of them looked completely in love while posing for photos on the red carpet. Even though Rihanna likes to keep the comments she makes about her love life to a minimum, she didn't have to say anything for people to notice how much she cared for him.
In 2021, the two were seen packing on the PDA while filming a video in New York City. We already know that A$AP has had feelings for Rihanna for years. So the opportunity to finally be with the one you love has got to be a great feeling. Some fans may have been wondering if the two of them had any intentions of starting a family, but before she and A$AP even started dating, Rihanna already planned on having kids of her own whether she had a partner to have them with or not.
In a 2020 cover story for British Vogue, the self-made billionaire opened up about not needing someone special in her life to start a family. She stated: "I feel like society makes me want to feel like oh you got it wrong. They diminish you as a mother if there's not a dad in your kids lives, but the only thing that matters is happiness. That's the only thing that can raise a child."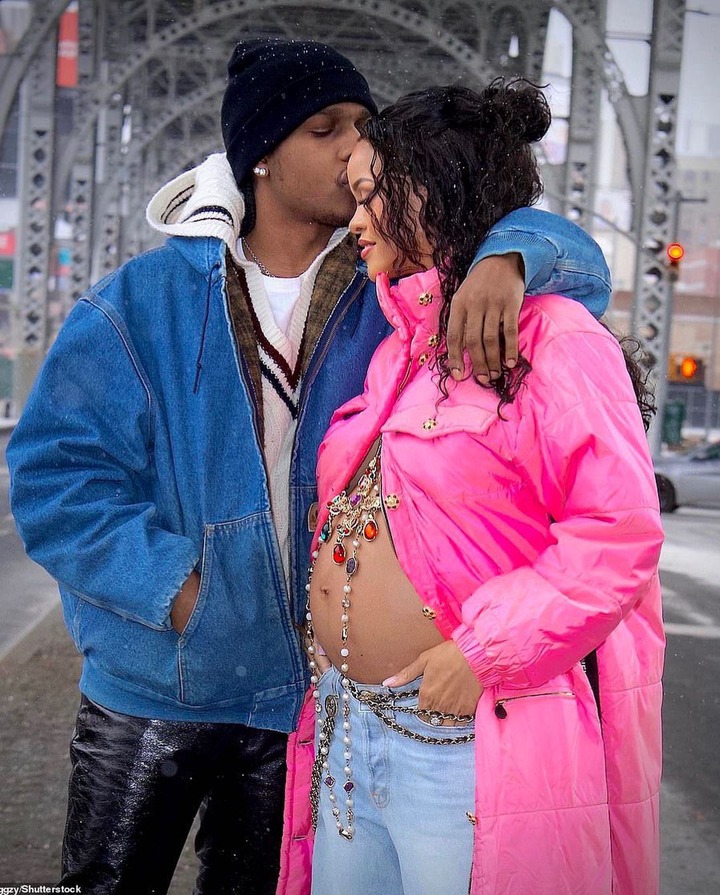 After years of friendship and a couple more years of blissful dating, it was finally announced at the end of January of this year that Rihanna and A$AP would be expecting their first child together. The two were photographed by people in Harlem and we're not exaggerating when we say that this news broke the internet entirely. While most of her biggest fans are beyond excited for Rihanna and A$AP to have their first child, we can acknowledge that it can't always be easy when you're a new parent. But even though their bundle of joy hasn't made their appearance yet, Rihanna seems to be happier than ever.