Although we may have outgrown animated films, but some of our favourite celebrities have made us run to the box office to see their cartoon characters, even if we could only recognize their voices. We'll let you in to the famous voices behind 10 popular animation characters.
Ariana Grande:
Ari is a woman of many talents. From starring on broadway as a child to her role as Cat in Nickelodeon's 'Victorious' and to being an absolute pop icon. There is no surprise that she has voice acting under her belt. In 2011, Nickelodeon revealed that Ariana was going to voice a character in the Nickelodeon cartoon series 'Winxs Club.' The thank you next singer played the role of Princess Deespero. Ariana's Victorious co-star Elizabeth Gillies also starred in the animated series as the voice of Daphne.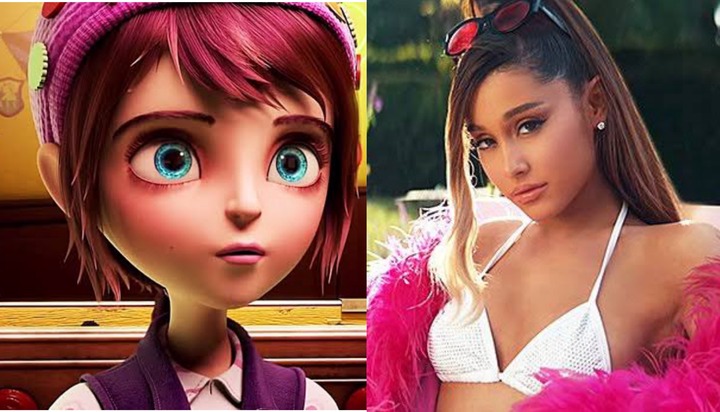 Ariana also starred as Laura in the 2013 film, Underdog. Her character was the love interest of the main character Jake. We all know her everyday voice is much deeper than her high-pitched note in the movie, but she definitely didn't keep her real-life voice for the role. She kept a higher tone for this role much like when she played Cat in Victorious.
Beyoncé:
There's only one person that can play the queen of the jungle and that is Queen Bey. Beyoncé scored the role as Nala in the 2019 remake of Disney's the Lion King. She co-starred with Donald Glover who voiced Simba – Nala's love interest. Everyone was so excited for the live-action remake that over 224 million people watched the Lion King trailer in the first 24 hours it was posted on YouTube.
Beyoncé revealed that she was shocked when she landed the role because she grew up loving the Lion King as a kid and it was the first movie to bring tears to her eyes. She was deeply involved for the soundtrack of the movie and even sang original songs like her hit single 'Spirit.' Beyoncé called the soundtrack "A love letter to Africa" and she brought an authentic African musical talent to the soundtrack.
Rihanna:
In 2015, Rihanna voiced the main character 'Tip' in the film, 'Home.'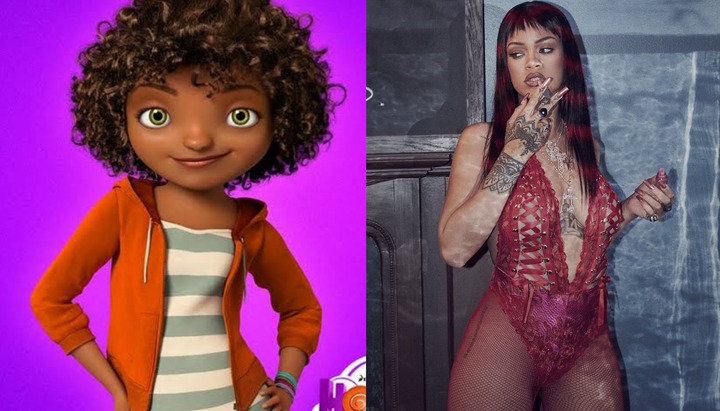 Her character was a young girl who recently moved to New York with her mom. Funny enough in the movie, they relocated from Barbados which is actually Rihanna's home country in real life.
Her character makes friends with an alien named Oh, but they don't initially start their friendship off on the right foot as neither one trusted the other. The movie was filled with music, which makes sense why they cast her for the part.
Selena Gomez:
Selena starred in the 2012 monster-filled movie 'Hotel Transylvania.' She voiced Mavis who is the daughter of Count Dracula played by Adam Sandler. The film revolves around monsters who go to Count Dracula's resort Hotel Transylvania when they want to get away from the human race and be surrounded by fellow monsters. However, things got tricky when a human accidentally made his way into the resort and ultimately falls in love with Selena's character.
We guess he listened to Nicki Minaj and kept an eye out for Selena. The movie performed so well that they made a total of four movies following the lives of the creepy characters. The Hotel Transylvania was such a hit that the franchise won many awards. On top of being nominated for a Golden Globe, the movies took home a People's Choice award and Kids Choice award just to name a few. In 2019, Selena Gomez took home a Kids Choice Award for Favourite Female Voice in an animated movie and her co-star Adam Sandler also won the same award for Favourite Male Voice.
Jennifer Lopez:
Jenny from the block voiced the sabertooth cat Shira in two of the Ice Age movies. Her character first appeared in Ice Age Continental Drift up until ice age collision course. Her feline character is a fearless pirate that successfully helped keep the world from ending all so that she can be with her love Diego. Shira is extremely sassy especially when other animals call her kitty.
In an interview, Jlo said her favourite part about playing Shira is that she gets to embrace her sassy side that she doesn't get to show in real life. She also voiced Lucy in the movie 'Home.' Lucy is the mother of Tip who is voiced by Riri. Can you imagine if they were mother and daughter in real life!
Taylor Swift:
Taylor played the creative and unique character of Audrey in 'The Lorax' that premiered in 2012. Her teen character played the girlfriend of the character Ted Wiggins, living in her own enchanted love story. In an interview T-Swift called voicing the character an unbelievable experience. She shared that she was first introduced to poetry by Dr Seuss's books.
Read: 5 Nigerians who won a Grammy award before Wizkid and Burna Boy.
She said in an interview it sounds like that was the beginning of her successful music career. Since then, she has turned out to be one of the biggest female artists in the world. On behalf of all of the Swifties out there, thank you Dr Seuss for inspiring young Taylor Swift and giving us all of her countless hits.
Katy Perry:
This California girl scored the role of Smurfette in the 2011 film 'The Smurfs.' The movie received a ton of praise which led them to make a total of three films. However, Demi Lovato replaced her as Smurfette in the third film.
The director of the film Raja Gosnell saw an interview of Katy and loved her voice so much that he asked her to voice the role of Smurfette. Her character referenced her in multiple scenes throughout the film, paying homage to the singer. Her Smurf character also referenced Katy Perry's debut single 'I kissed a girl' by saying 'kissed a Smurf.' Katy said Smurfette came into her teen years which makes her character really live a teenage dream.
Kim Kardashian:
To everyone who said Kim is famous for having zero talent, mommy has so many talents and I can't even begin to name them. The Keeping Up With The Kardashians star voiced the Posh Poodle Dolores in the animated film Paw Patrol – a movie from the hit Nickelodeon show. Even adults know this movie since it's on repeat from every kid's movie list. Her furry character's personality wasn't that opposite from her OG persona.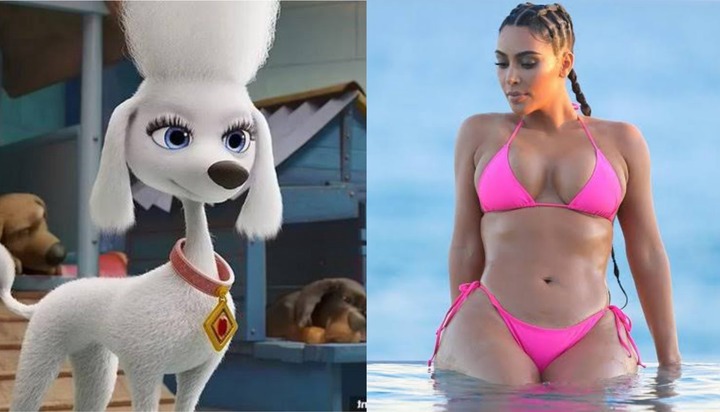 Kim described her pup as a sassy valley girl which she definitely is. So she probably had no problem getting into character. Her role in the film definitely proved that she's not a regular mom, she's a cool mom. North, Saint, Chicago and Psalm now get to say that their mom is a character in one of their favourite movies. Kim's kids love the show so much that Kim rented out a movie theater and threw a private screening of the film for her friends and family. The little ones got to take home Paw Patrol toys and large stuffed animals of Kim's Poodle Dolores.
Halsey:
Singer Halsey debuted in her first voice acting role in the 'Teen Titans Go!' movie in 2018. She played Wonder Woman in the comic book-based animated movie. In an interview, Halsey gushed at how happy she was to be a part of the film and claimed to be a huge comic book fan. Halsey also voiced the arctic gray wolf Porsche in 'Sing 2' and she is the ultimate material girl given that the movie is literally called 'Sing.' Halsey used her raspy vocal cords during her role. She even covered Alicia Key's song 'Girl On Fire' in the film.
Bruno Mars:
The Silk Sonic singer voiced the ever so handsome bird Roberto in Rio 2. He played a charming bird with the voice of a god and a chest of steel. In an interview, Bruno admitted to being an animated film junkie. So he eagerly said yes to voicing Roberto in the film. He was the lead in the film's hit welcome back song where we got to hear even more of his angelic voice.