Kim Kardashian and Pete Davidson are getting pretty serious with their relationship, but how did we get here? Let's go all the way back to the beginning. The first record we have of Kim Kardashian and Pete Davidson meeting was in January of 2019 at Kid Cudi's birthday party. If you're doing the math in your head you're right, Kim and Kanye were together at the time and Pete was super chill about it. He even said after the ranger that Kim and Kanye were the cutest couple.
The next time they reconnected was on the set of SNL in 2021, that's approximately eight months after Kim filed for divorce from Kanye. Apparently, Pete has some game because they were seen on several dates including an October date. Less than a month later, Kim all but confirmed their relationship and it got everyone wondering just how serious the couple was and finally we find ourselves here with Pete Davidson so committed to this relationship that he literally branded Kim's name on his chest (not a tattoo though).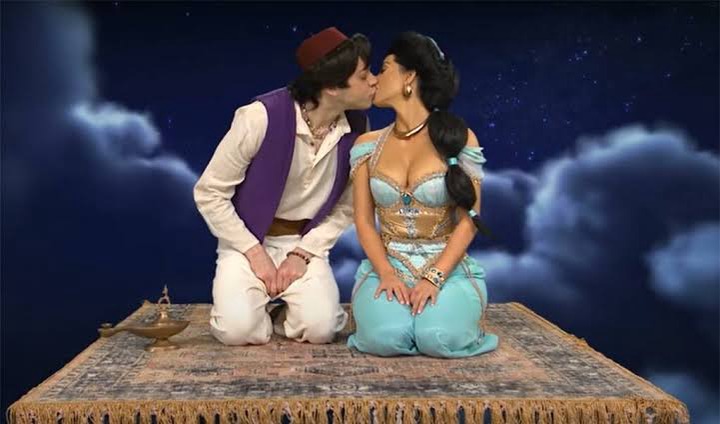 Instead of a tattoo gun, we're talking about a hot cattle prod and Kimberly Kardashian has a lot of letters in it so bless this man's heart. Clearly it's getting serious enough for Kim to even consider bringing Pete home to meet the kids. But at this point, Pete hasn't yet met Kim's four children North, Saint Chicago and Psalm. However, in that now infamous text exchange with Ye, he said he'd want to and we know how that turned out.
Pete's past dating history is as colorful and varied as his many tattoos. From Carly Aquilino in 2015 to Larry David's daughter Cazzie David in 2016 and most famously, the legendary relationship between Pete and Ariana Grande where he proved that marriage is never off the table. From then on out, Pete's dating life has gotten an incredible amount of attention. He was next seen with mega stars like Kate Beckinsale, Kaia Gerber and even Bridgerton breakout star Phoebe Dynevor was linked to Davidson for a spell.
How did this guy have so much free time, where does it come from? We can't mention dating histories without bringing up the empire state of mind-sized elephant in the room – the artist formerly known as Kanye West. Kanye has certainly had a lot to say about the relationship getting more and more intense.
Why did Kim Kardashian decide not to drop "West" from her last name? FIND OUT.
Kim on the other hand is living her absolute best life right now. Fellow celebs like Ellen Degeneres have pointed out that Kim seems at ease now and girl we absolutely love to see it. She said on Ellen that she went for it. She said: "You know what, I'm in my 40s find your happiness…I found it and it feels so good I want to hold on to that forever thriving."
There's been so much heat and drama and chaos rolling around this couple, but from my vantage point they look ready to chill out, settle down and mine the dang business. once again that is a whole mood so let's recap if pete and kim can teach us three lessons it's one aj nothing but a thing go ahead and do your thing this 40-something two ignore the haters and find your happiness and three research the difference between getting a tattoo and getting branded i'm eric myrick with the things leave your guesses for when the next big kim and pete news marriage will break the internet [Music]