Have you ever taken time to examine your favourite club's badge to see what components make it up?
Manchester United fans, do you know that there's a ship in your club's badge? Or have you only always paid attention to the Red Devil and his fork? Manchester City fans, do you know that your club also has a ship in its badge? Yours is a little more obvious so you must have noticed. Well, if you didn't know that these Manchester clubs had ships in their badges, look closely.
So now, the question; is why are those ships there? What have ships got to do with football? Well, the ships have got nothing to do with football, but they've got everything to do with the city of Manchester, the home of these two giant football clubs. Back in the day, Manchester was a landlocked city. But in 1894, a ship canal was constructed. It was 35 miles long and served as a very vital connection between the city of Manchester and the sea. That alone transformed Manchester into a significant seaport, and as a result, an industrial powerhouse.
Cotton, petroleum, oil, tea, frozen cattle, and a lot more all came into the city through this port. They were also able to export cars, textiles, machinery, and all sorts through this very same port. So, you can see how important this port was to the people of Manchester. The dock alone employed up to 5,000 Mancunians. The port grew to become a very, very busy one. The third busiest in the entire UK at its height.
Unfortunately, the port was closed in 1982 due to the swift decline it started experiencing back in the 70s. And most of the decline could be traced to the growth of container shipping. Basically, containers became too big to pass through the Manchester ship canal, so use for it began to drop drastically. In the early 70s, workers at the dock began to strike pretty often, then thousands of people started to lose their jobs. Then in 1982, it just seemed that the best thing to do was to close down the port. But it was not to remain useless.
The following year, about 220 acres of the dock was acquired by Salford City Council. It was quickly rebranded to what is now known as the Salford Quays, and redevelopment swiftly began in 1985. From 1986 to 1990, the dock went through some serious modification, and that led to the birth of an internal waterway network. A lot more was done to modernize it. Offices, a hotel, housing, a cinema were all constructed there.
All these we have said are just to show you just how important the port and as an extension, the ship is to the people of Manchester. As a matter of fact, most of the early Man United supporters were workers on the Manchester Docks. You know, what is now referred to as the Salford Quays. In addition to that, the club's stadium gets its name from the area, Old Trafford, which is a section in the Salford Quays. The connection between that port and the Manchester people cannot be overstated. And through the decades, the Manchester clubs have had a ship on their badges to show that deep connection.
Man City first included the ship in their badge in 1945, while United first included it in 1960. And since then, it has not left either of their badges even though the badges have been changed a number of times over the decades. But you know one thing that must never change? The direction towards which the ship is traveling. The ship must always be facing left. Always. If you go through the evolution of the badges, you'll see that the ship has always faced left. But the Chinese got it wrong once, though.
Visit Newsblenda.com for more updates.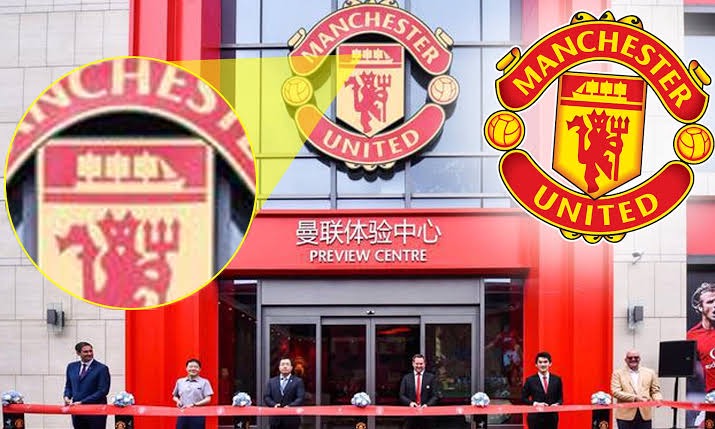 Man United fans over in China opened a preview center in Beijing some years back, but in their Man United badge, the ship was facing right instead of left. The internet really had a field day when the mistake was discovered. Some said that it was accurate because it represents how the club has been moving in the wrong direction in recent times. Some others joked about how it reflects how committed the club is to finding a right winger. And if you're one who believes in superstitions, you may begin to question if that ship facing the wrong direction has anything to do with how poor Manchester United have been over the years.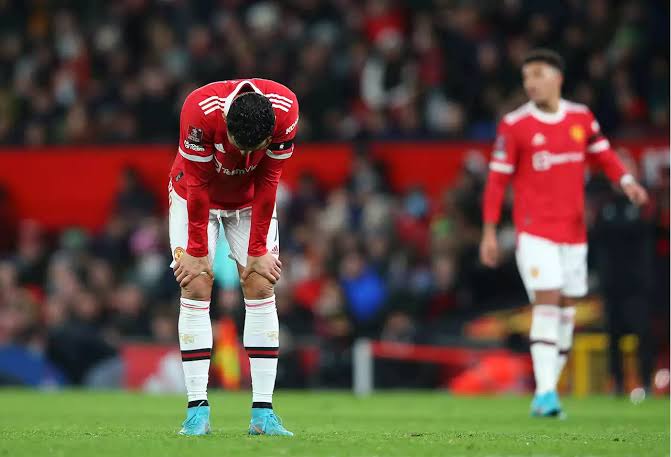 5 years without a trophy now, could it just be that the United fans in China have a hand in this? And when you consider that Man City, who have always had their ship facing in the right direction, have been experiencing really good times recently. Could it just be? Anyway, that's it. That's why the Manchester clubs have ships in their badges, and the way it looks, those ships will never leave those badges.
Are there any other pretty out-of-place characters you have noticed in the badges of your favourite football clubs? Let us know in the comments, maybe we could talk about them, too. Speaking of, have you ever wondered why Barcelona has the England flag in their own badge? READ WHY.