Reality TV star Maria Chile Benjamin has vowed to go to jail for murder the day a man would lay his hand on her. She made this known on Twitter while tackling someone who tried to insinuate that she suffers domestic violence.
Maria tried to engage her fans online by sharing a post having the caption: "Where are my Heartbeats??" An online troll seized the opportunity to drag her over her relationship with Kelvin. He wrote: "Did kelvin ponch you today? How's the black eye he gave you?"(In case you don't know who Kelvin is, READ THIS).
While correcting his grammatical errors, Maria made it crystal clear that she will go to jail for murder the day any man throws a 'punch' at her. She wrote:
Visit NEWSBLENDA.COM for more updates.
"The word you tried to type is "punch." And if there's nothing you know about me let me school you,the day a man touches me in that manner is the day I go to jail for murder,now run back to your parents and get them to love you differently,so you can have peace within! Stay blessed."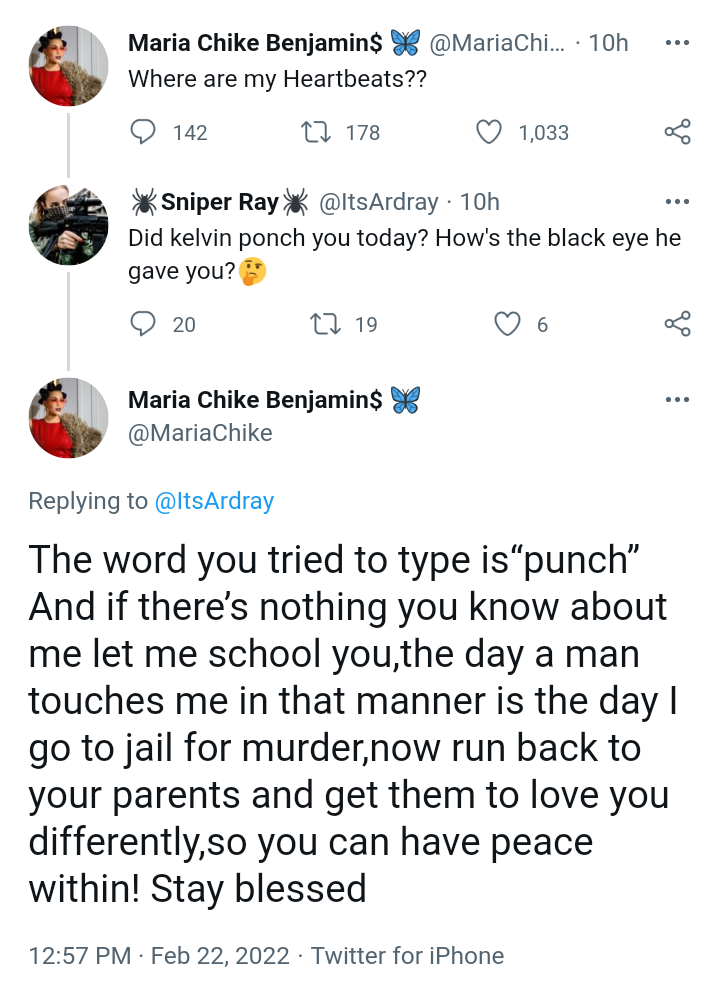 The guy probably felt Maria was experience domestic violence after a picture of her with swollen lower lip surfaced online few months ago. See image below: