As it turns out, celebrity couples are well connected in Hollywood so much that there are quite a good number of A-listers who have dated their friend's exes. This article will discuss 8 celebrities who dated their friend's exes.
Kim Kardashian, Pete Davidson and Ariana Grande:
A lot of Ariana's fans were ecstatic when they saw that she and Pete were an item back in 2018. When news broke that the two were engaged in June of that same year, we couldn't hold back our excitement. But the two called off their engagement just a few months later in October and left a lot of fans confused.
Fast forward to November of 2021 when Pete and Kim Kardashian confirmed the dating rumors that had been circulating since their SNL performance. Some fans believed that Kim was being shady when she later gave away makeup products from Ariana's beauty line to her daughter North to play with instead of using the products herself. But seeing as how North is a huge Ari fan and Ariana is happily married to real estate agent Dalton Gomez, she couldn't be less concerned by Pete's new romance.
Shawn Mendes, Hailey Baldwin and Justin Bieber: It's safe to say that Shawn Mendes is a big fan of Justin Bieber. He has even mentioned that Justin was one of his inspirations when he started his singing career. But the two have more in common than just their love of music. Justin and Hailey actually started dating back in 2015 before ending things after a few months. But in 2017, she became linked with Shawn when she accompanied him to that year's Met Gala.
Related: Celeb pregnancy announcements that left fans in utter surprise.
In 2018, Justin and Hailey rekindled their romantic relationship and were even married later that year. But seeing as how Shawn and Justin later collaborated on the song 'Monster' together, we would say they probably don't have any ill feelings towards each other.
Kylie Jenner, Gigi Hadid and Cody Simpson: Once upon a time, long before he and Miley Cyrus were together, Cody had eyes for a few other famous celebrity women in Hollywood including Kylie Jenner herself. Daily Mail alleged that the two dated back in 2011 before she became the internationally known reality TV star and beauty mogul that she is today. But a few years later in 2013, Cody found himself falling for another beauty icon Gigi Hadid.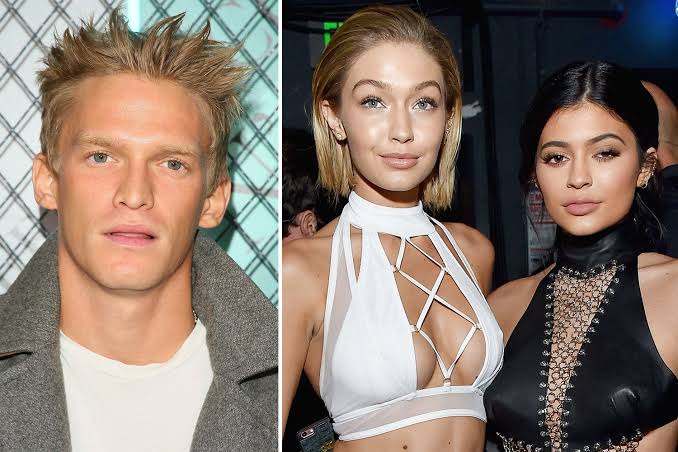 (Photo credit: Who Magazine)
The two were in an on and off relationship until things ended amicably in 2015. While it may not have worked out, Gigi, Kylie and Cody have all clearly moved on with their respective lives and careers.
Taylor Swift, Kendall Jenner and Harry Styles: Though his relationships with both of these celebs were short-lived, Harry definitely proved himself to be quite the ladies man a few years ago. He was linked to Taylor back in 2012, but the two only dated for a few short weeks. In November of 2013, he was also linked with Kendall Jenner but their relationship like most of Kendall's relationships was pretty private.
Bella Hadid, Selena Gomez and The Weeknd: It's no surprise that The Weeknd has been known to make great music with compelling lyrics that may have been inspired by two relatively publicised relationships starting with Bella Hadid. Their dating rumors started in 2015 when they were spotted together at Coachella, but due to their busy schedules that rarely allowed them to see each other, they went their separate ways in late 2016. But by January 2017, he moved on to Selena Gomez.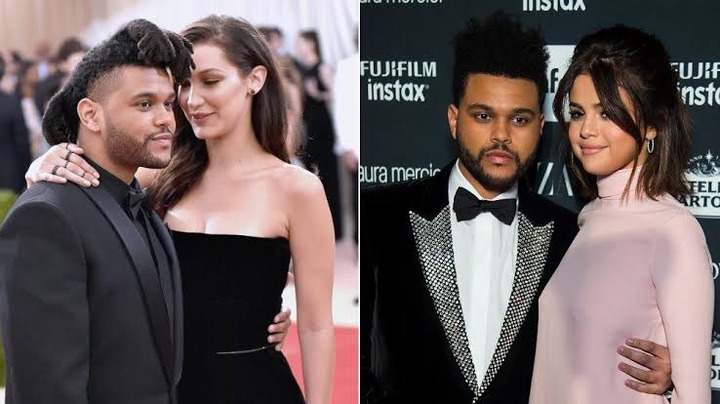 The two musicians even moved in together for a short while only to break up just a few months later in October of that year. Fast forward to May of 2018 when he tried his luck again with Bella, things seemed to be going great but eventually their second attempt at a relationship came to an end in August of 2019.
Selena Gomez, Taylor Swift and Taylor Lautner: The Twilight Saga seemed to take over the world as well as the hearts of most teenage girls back then. But Taylor also drew the attention of two huge voices in music. He and Selena met in 2009 and went on a few dates, but it only ended in disappointment for Selena when he ghosted her. Later, it was reported that his father thought it would be better for his career if he stayed single. But then, he and Taylor Swift dated only a few months after being with Selena.
That relationship didn't last very long either as the two split after a few short months. But seeing as how Selena and Taylor are still friends to this day, Lautner clearly didn't get between them.
Katy Perry, Taylor Swift and John Mayer: Taylor Swift shared exes with quite a few other celebrities and of them was Katy Perry. Taylor dated John for a few months between 2009 and 2010. But when he and Katy got together in 2012, their friendship got a little rocky. Eventually Katy and John ended their relationship in 2015 and she and Taylor have since let the past live in the past.
Selena Gomez, Miley Cyrus and Nick Jonas: Apparently Joe isn't the only Jonas with a knack for pulling at the heartstrings of big names in Hollywood. Miley and Nick first started dating in 2006 when they were both still young Disney channel stars, but ended things two years later in 2008. Then came Selena who dated Nick later that same year.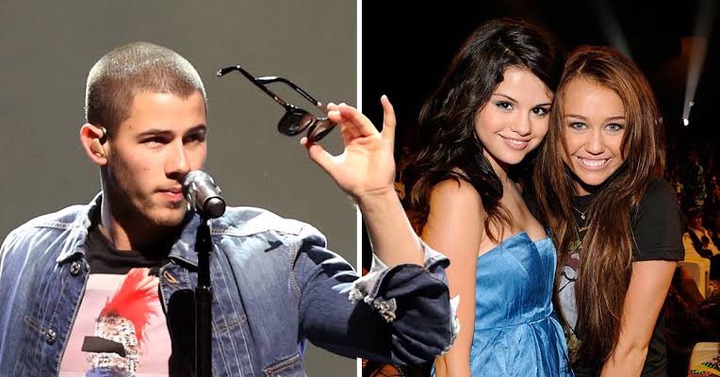 The two dated for a few months then ended things in 2009 only to rekindle their relationship in 2010 before breaking up again.