Celebrities who broke Met Gala rules
They say that some rules are meant to be broken. Well, am not quite sure how valid that saying is, because you can get in varying degrees of trouble for rule breaking, but I guess when it comes to the rules at the Met Gala, most people don't really care about following those rules.
There is a list of things that you can and cannot do when you're there but apparently there's a lot of celebrities who completely disregard that every year and just do what they want. Let's go through a list of some celebrities who broke the Met Gala rules.
Dakota Johnson and Friends
In most establishments there is a rule against smoking. These days, smoking and vaping is not allowed indoors and there are designated areas for people to do that outside. This really isn't anything new, but there are still those select few who choose to disregard those rules and guidelines and do it anyway.
This is how a scandal was caused at the Met Gala in 2017, a handful of celebrities who attended the Gala that year were caught smoking in the venue's bathroom and they broke one of the Gala's scent rules against smoking in the venue.
Every year, the Met Gala is held at the metropolitan museum and since it's in New York, the city health department has a rule against smoking in specific areas as per one of their health acts. But it seems that although this rule was still in effect at the time of the Gala, some celebrities were like nah and had a couple cigarettes inside.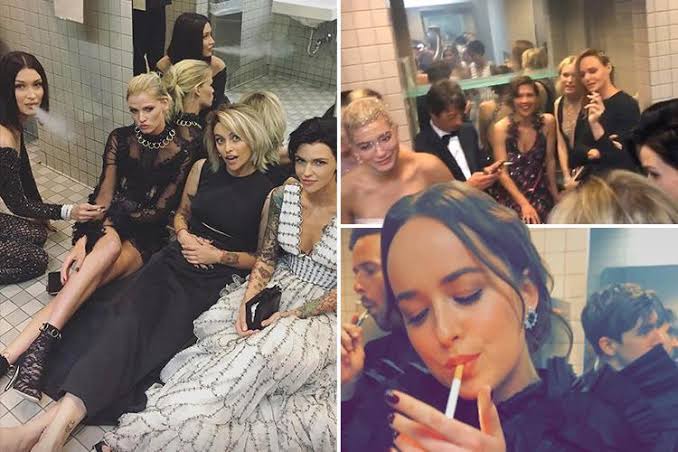 Stars like Dakota Johnson, Bella Hadid, Rami Malek and others were posting their little rendezvous on social media which is how they got caught and got into some trouble for it as well. As a result of their rule breaking, the Gala as well as the health department put measures in place to make sure that this kind of thing never happened again so that no one would get fined. It happened again anyways.
Alex Rodriguez and Jennifer Lopez
There is a pretty strict rule that the Met Gala has put in place that says that you cannot post pictures from inside the event and that means no selfies. There's also a rule against cell phones at the event as well, almost to ensure that no one can take selfies even if they wanted to.
Well, a lot of people as you will see have broken those rules on several occasions and we're going to start with Alex Rodriguez and Jennifer Lopez who broke the no selfie rule at the Met Gala in 2019. A-rod and J-lo took a number of selfies that night.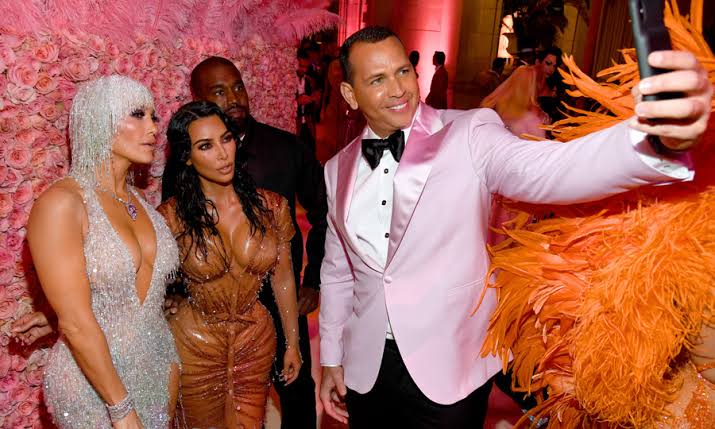 First they took a photo with their friends Kim Kardashian and Kanye West and A-rod posted that photo on his Instagram. Later on, he posted a selfie of him and J-lo to his instagram story and yet another Insta story post this time with Jimmy Fallon. Really A-rod was the one who broke the rule because every picture was posted on his account. But J-lo was kind of his accomplice.
Kiki Palmer
There were seemingly two rules that were broken but not necessarily by the same person at this year's Met Gala. Kiki Palmer was in attendance and being the real one that she is, she wanted to show her followers what things were really like for celebrities who went to the event.
No one really knows what goes on at the event once everyone goes inside, but Kiki wanted to at least give her followers a look at what the dining experience was like and it's not the most flattering thing ever. Kiki broke the no photos rule by taking a picture of her plate of food at the event and posting it to her Instagram story.
The response was pretty negative because a lot of people figured that for a 30,000 ticket, the food should have been at least a little more impressive but as already stated, another rule was also broken with that photo and Chef Marcus Samuelson was the one to sort of break it.
On top of all the other Met Gala rules like no smoking, no publicist, everyone being obliged to mingle and so on, there's also a rule that the food being served must be "attractive."
Judging by Kiki's photo of the food, the argument could be made that the chef broke the attractive food rule. No one has said anything about the chef getting in trouble for what Kiki posted about his plating.
Laura Harrier
Here's another celebrity who broke the no selfie rule. At the Met Gala in 2019, actress and model Laura Harrier was attending the event and she seemed to have run into her spider-man homecoming castmate Zendaya. Obviously, they had to snap a photo together and Laura posted a couple of selfies with her to her Instagram story.
Related: Celebrities who might never be invited to the Met Gala.
Again this broke the no selfie rule as well as a no cell phone rule, but honestly at this point I kind of have to ask myself if these rules are really even all that enforced, because clearly there are a lot of celebrities going around and posing and posting and no one's heard anything about people really facing any consequences for it.
Do you think that these rules are actually real or do you think that they're made up to make the event seem more strict and elite?
Luka Sabbat and Cole Sprouse
Here's a couple of bad boys breaking a couple of rules. At the 2019 Met Gala, Luka Sabbat and Cole Sprouse were caught breaking several rules all at once and that is a big no-no. Not only did they break the no selfies rule being that they were caught doing a mirror selfie but, they also broke the rule against having phones at the event, because they took a selfie on a phone and the phone was featured in the mirror selfie.
Most importantly though, they broke the no smoking rule. These two were caught having a quick smoke in the bathroom at the Met and as we all know, you cannot smoke inside especially at an event like this. What's funny about the picture too is the fact that there was a no smoking sign in the shot.
They just decided to ignore it but even after this one instance of rule breaking, Luka continued to be rebellious at the event, going around taking pictures of other celebrities not necessarily selfies, but just other photos of celebrities like Gwen Stefani, Katy Perry, Ezra Miller and Kendall Jenner.
Serena Williams and Ciara
Famous tennis players Serena Williams and singer Ciara broke Met Gala no selfie rule back in 2019 when they decided to sneak a cheeky little mirror selfie together. Unlike many other selfie rule breakers, they only took one photo and just left it at that. But at this point, with so many celebrities breaking the same rule, I just have to think that maybe they should just get rid of the rule altogether.
Serena snapped this photo and posted it to her Instagram showing off their dresses which didn't actually break the rules because they totally matched the theme.
Kim Kardashian
Kim K has tried to bring the thunder for every Met Gala she's attended. This year's look was a little debatable because she kind of just looked like someone's sleep paralysis demon, but whatever.
Anyways Kim has been trying to serve looks at every event but in 2013, not only did she not serve but she totally missed the mark and completely broke the rules. The theme of the Met Gala that year was Punk Chaos and Couture and so a lot of people showed up wearing some kind of take on edgy fashion.
There was a lot of variations on punk style and aesthetic, but Kim totally dropped the ball when she showed up to the event wearing a floor-length floral dress. The look just didn't match with the theme at all and the tone of her outfit was much softer and brighter than the looks of most other celebrities in attendance.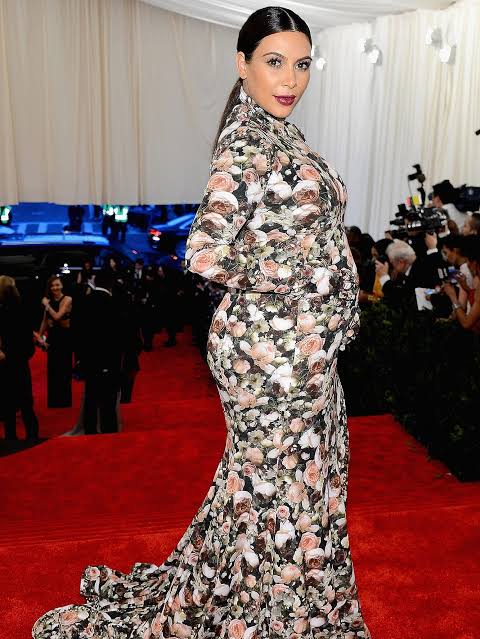 She totally broke the rule for not following the theme and that probably didn't help her case with Anna Wintour, one of the people who runs the event. But up until the point that Kim got with Kanye, Anna disliked the Kardashians and never invited them to the event.
Lizzo
Lizzo broke the Met Gala no selfie rule several times in 2019 because she had a field day taking photos with a bunch of celebrities at the event. This was her first Met Gala and she was excited to be there but she broke the rules nonetheless. Over the course of the evening, the singer took selfies with J-lo, Sarah Paulson, Tracee Ellis Ross, Billy Porter and Dua Lipa.
All of her selfies were posted on her Instagram story and it was pretty fun to watch her having so much fun at the event.
Demi Lovato
Back in 2016 Demi Lovato attended the Met Gala and the theme for that night was Manus X Machina fashioned in an age of technology. Though the dress that they wore to the event that night was very nice and bold, a lot of people found that the look just wasn't fitting the Gala's theme, therefore breaking one of the event's rules.
When backlash started to ensue, the designer of the dress in question came out to clarify things saying that the dress wasn't even designed to fit the theme in the first place. The designer Jeremy Scott told sources that he doesn't design outfits for the event with a theme in mind.
Karlie Kloss
The Met Gala is all about fashion and there's that rule that says that those who attend the event must try and coordinate their looks to fit the theme set for that night. There have been many extravagant looks and other more simplistic ones, but the whole point is just to go along with the overall energy of the event regardless.
One person who actually faced backlash and broke the rules for not meeting the event's standards was Karlie Kloss. Karlie showed up to the Met Gala in 2019 whose event was camp themed and she was looking a little too simple for the event, wearing a black and gold dress with simple jewelry, natural makeup and a simple hairstyle.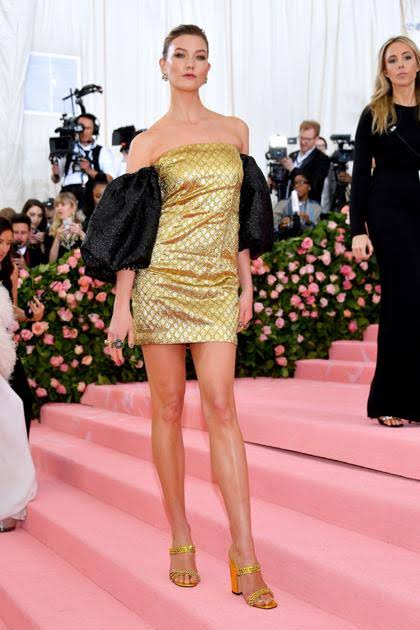 A lot of fans were seriously let down by her outfit that evening especially after she tweeted about her look hyping it up and saying "looking camp." She didn't necessarily get in that much trouble with people who organized the event, but Karlie's fans got pretty upset that she didn't follow the Met Gala's theme and she faced a pretty decent amount of criticism.
She had to make an apology for her look shortly after the event and she posted a video to her YouTube channel addressing the situation, saying that she should have just tried harder.
Latest posts by Law Blessing
(see all)