WhatsApp messenger service is now the second most popular app in the world with over 2 billion users. And that is no surprise because chatting via smartphone is now the easiest, most versatile and cheapest way to communicate with friends, family, acquaintances, colleagues and even business partners. With hundreds of millions of WhatsApp messages being sent every day, it's no wonder that chats that go viral are always being leaked to the public.
This article will show you 7 real WhatsApp chats that went viral on the Internet. Included are creative flirts, celebrities exchanging private messages and some scams that were solved with the help of WhatsApp and other messengers.
A chat that was published on Facebook by an American woman, named Crystal Reynolds Fisher.
In 2018, the mother from Michigan published a conversation with her boss, who is working as a manager at the supermarket chain, Food Mart. In the chat, she told her boss that she may not be able to start some of the next few days at work because her son was in the hospital, being kept alive artificially due to an illness. She did not want to start working again until he was out of danger.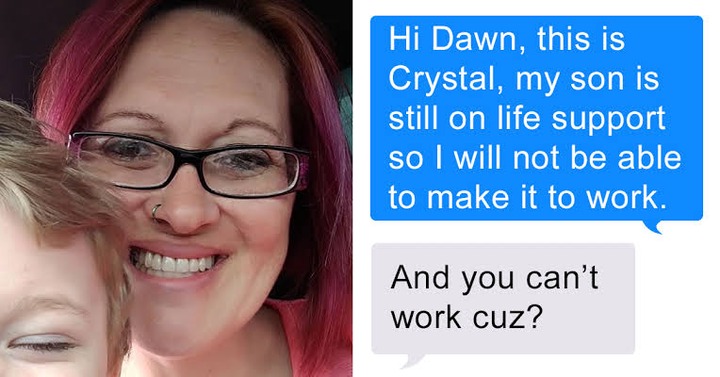 Instead of responding with understanding and wishing her son a speedy recovery, her boss made a big mistake: he simply wrote: "That's not how it works for me. So I assume that you are quitting". Two messages later, he wrote her again that she would lose her job if she didn't show up for work. After Crystal Reynolds Fischer made the post public, her employer Food Mart then stepped in. The company said that they did not agree with the manager's behaviour and therefore fired him. They also granted the employee to take a leave of absence until her son recovers.
A WhatsApp chat that ruined a relationship.
The chat began when a girl named Sarah texted an unknown number she had received the night before, while partying. It turned out that the young man she was texting with also vaguely remembered her. The two exchanged pictures and flirted via some messages. Finally, the young man asked Sarah if she wanted to "meet" him. She agreed to the date, but said that it had to be kept a secret because she had a boyfriend who would otherwise kick her out.
At this point in the chat, the young man revealed that he was not actually interested in her, but was a friend of her boyfriend. So Sarah's boyfriend set him on her to find out if Sarah would cheat on him. When it turned out that she actually fell for the cheap bait and would cheat on her boyfriend, the chat was published and went viral. By the way, the young man Sarah was chatting with, put a lot of pressure on Sarah in the chat. He told her that if she didn't call her boyfriend by 4pm to confess that she was about to cheat on him, he would tell him.
A chat between two absolute mega stars.
It is between singer-songwriter Ed Sheeran and the pop icon Taylor Swift. On her Instagram account, the pop queen posted a short snippet of a chat in which she wrote to Ed Sheeran that she was going to sleep and the two of them would write again sometime else. Ed Sheeran then wrote, "In a bizzle, swizzle," which Taylor Swift replied with, "like you said, Ed." He wrote again "that's okay, Tay."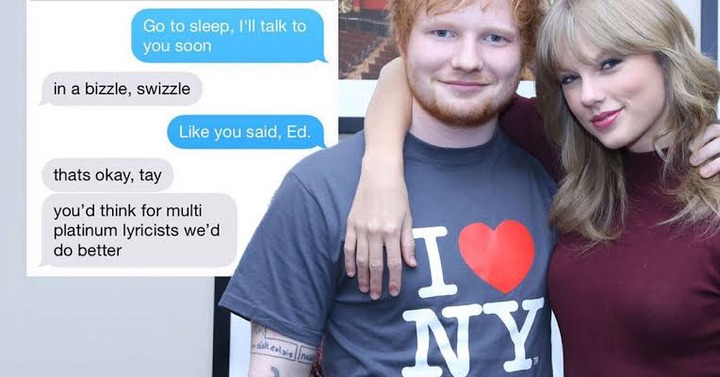 At the end of the chat, Ed Sheeran then remarked that you might well suspect that the two have better lyrical skills, as they have both written several song lyrics that went Platinum. By the way, this little glimpse into the private conversations of two world stars pleased the Instagram audience so much that the screenshot quickly got over a million likes.
A chat that exposed a scammer.
A British man received some dirty pictures from his girlfriend Jackie via SMS. His girlfriend had been on a business trip for a day at the time and was about to take a shower in a hotel room. However, in one of the lewd pictures, her boyfriend recognized a piece o baggage that he was sure did not belong to his girlfriend. So he asked her if she was alone.
Read: 12 skills you need if you want to be a model.
She said: "Of course, I don't know anyone in Atlanta." But he still asked for her room number, just to be sure. After she gave him her room number, however, he didn't call her hotel room directly, but called the front desk and asked who was staying in room 1422. It turned out that the room was booked in the name of her boss. Accordingly, Jackie's boyfriend immediately knew that she had not only cheated him, but also lied to him.
He still uncompromisingly wrote to her that her things would be waiting for her in garbage bags at the front door when she returns back at home. Moreover, another surprise was waiting for her: the chat with her then ex-boyfriend went viral, along with the pictures she sent along.
A chat posted by the American songwriter, composer and actor Lin-Manuel Miranda.
Lin-Manuel Miranda became known for writing the soundtracks for some Disney movies, such as Vaiana, and also for the musical Hamilton. So although he is responsible for these works, according to him, his own children didn't know anything about it, so not to destroy the magic of the films and songs. Then one day Lin-Manuel Miranda was riding on a public bus with one of his children. The person sitting next to him noticed who he was, but didn't address him. Instead, he wrote to a friend that he was sitting next to Lin-Manuel Miranda.
The friend was then completely euphoric and told him that he should definitely say thank you for the great soundtracks and pieces that Miranda had written. Instead of telling him this, however, Miranda's seatmate simply showed him his chat history by unobtrusively holding his cell phone up to him. This way, Miranda could continue to hide from his children that he was behind their favourite musicals. Miranda found this gesture so considerate that he posted the story on Twitter and thanked his seatmate on the bus.
A flirt that went viral.
In 2014, the then 22-year-old student Josh Avsec and the 21-year-old student Michelle Arendas matched. At first, Josh wrote to Michelle normally. However, she answered months later with the words "Hey sorry my phone died." Months later Josh answered again with "Hey sorry, was in the shower". After that, they wrote each other every few months for several years, with a brief message, apologizing for not contacting each other beforehand.
So the chat became an insider that only the two of them knew. Then in 2017, Josh shared a screenshot of this curious chat on Twitter with the words "one day I'm going to meet this girl and it's going to be epic."His tweet then went viral so much that ultimately even Tinder itself got involved. Namely, Tinder offered the two lovebirds to send them both on a free trip to Hawaii, provided it wouldn't take them years to pack their bags.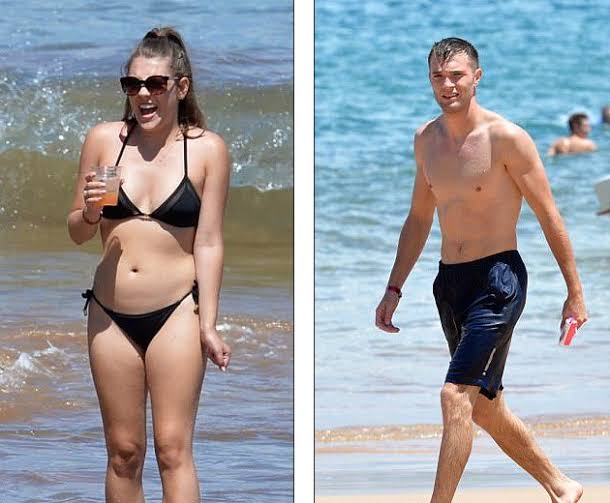 Before Josh and Michelle embarked on the trip, they were invited to the show Good Morning America, where they met for the first time in real life and seemed to be a good match for each other, but the internet has not been able to find out what happened to them.
A chat message that went viral in Malaysia, but in a slightly different way.
On a Tuesday in 2013, a man drove up to the house of a family he didn't know. He gained access to the house. His plan was to kidnap the family's one-year-old child. So he took the child and tied up the mother. He left a ransom note and then went outside with the child in his arms and drove away. Attentive neighbors of the family observed the incident and sent a message to all their contacts with the license plate number of the car, a description of the incident and a request to to be on the lookout.
It happened that a few hours later, the kidnapper received the chain message himself. He then left the child in a public place and fled away.