6 people who think they look like cartoon characters
Everyone loves to idolise their favourite celebrities or characters. We love you relate to these people whether fake or real. However, in some rare cases, very lucky people get to actually resemble some qualities of their favourite characters. Some people may even think that they look like cartoon characters as well. Let's take a look at people who think they look like cartoon characters.
Elsa: 
Anna Faith Carlson must have frozen in her boots when she realized her resemblance to queen Elsa after watching the animated movie in 2013. The also lookalike became an online sensation when she posted a picture of her on Instagram posing next to her cardboard cutout of Elsa.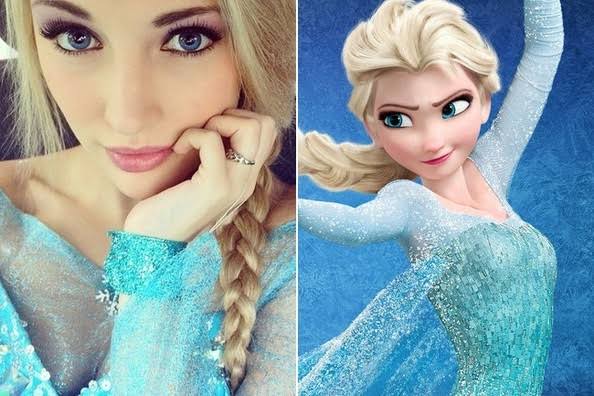 The teenager had gone to see the movie when it all started happening. At the mall, she posed with a cardboard cutout and everybody noticed the similarities. Carlson had been performing since she was in second grade, but after people caught on to the uncanny resemblance to Elsa, she is using her storybook looks for good, dressing up as the character to entertain children and to cheer up cancer patients.
Rapunzel: 
Rapunzel from the original Grimm brothers fairy tale was confined to a tower. It's common sense that if you're stuck inside a tower, you don't really have access to a hairdresser. So it goes without saying that hair is going to be really long. Russian beauty Daria Gubanova's amazing head of thick golden hair now comes down almost to her ankles.
The 31-year-old model who lives in the city of Barnaul in South Central Russia said she will not trim her impressive mane until it reaches her toes. Daria began growing her hair 14 years ago when a friend bet her that she could not grow her hair long enough to braid it. So she stopped visiting her hairdresser and let her hair grow free. Now she is hailed as a modern day Rapunzel, thanks to her incredible look.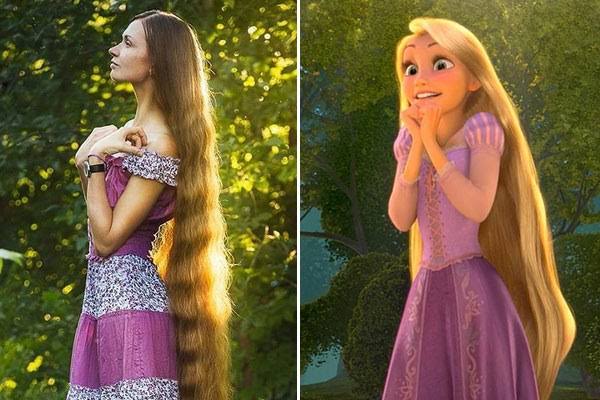 Daria who has thousands of followers on social media estimated that her hair was 1.5 meters (almost 6 feet long) and she has gained herself an army of admirers who wish to follow in her footsteps.
Tarzan: 
Tarzan was a fictional character raised by apes in the jungle. He loved running, climbing trees and living a very simple life. What if I told you that there exists a real-life Tarzan in the jungles of Hong Kong. He has the same chiseled abs and long interlaced strands of hair. In short, Tarzan from Hong Kong brought the comic characters to life.
Jason, the real-life Tarzan lives in the coastal areas of Hong Kong which is surrounded by dense forests. He boldly claims that he loves his life and has no plan to shift to the city life anytime soon. Jason lost his mother as a child and this adopted Filipino child made himself toys from wood and didn't know how it felt to play games in his childhood. Jason decided to live a life that we all dream of just being himself.
Princess Ariel: 
Many little girls dream of becoming disney princesses when they grow up, but only the luckiest ones get to live their dreams. Tracy Hines is one glamorously open-hearted little mermaid-loving girl who happens to look and sound just like Ariel.
Tracy had seen other disney princess movies and loved them, but at 4 years of age, she connected with Ariel in a way she hadn't with any other character in popular media. She admired Ariel's giant expressive eyes and bright red hair. But her singing voice was what captured Tracy's attention. Since then, the folklore about mermaids seemed magical to her and she was fascinated by them. She doesn't think of herself as a mermaid literally, though she does portray singing mermaid characters professionally.
Related: 9 women who looks like Meghan Markle.
Tracy loves the idea of being compared to a modern day siren (a girl with a voice that beckons people towards its message). She dreams of having a voice like Ariel's that captivates the listener and inspires hope and faith in the next generation.
Merida from Brave: 
In 2012, disney took the world by storm with Merida, a princess who was like any other the audience had ever seen. She became an icon with her flowing red hair and every girl wanted to be strong and independent like her. It almost felt impossible to find someone like Merida on real life until Caitlyn Boyd appeared.
The 16-year-old who won the international search for a look-alike is a dead ringer for the feisty heroine of her oscar-nominated film Brave. When she found out about becoming the real-life princess Merida from Scotland, it was all like her dreams had come true. she had always dreamt about going to a European premiere and walking on the red carpet which is what she got to do as Merida at the Brave Mirror in Edinburgh.
Maui from Moana: 
Who knew that the demigod Maui from the disney film Moana would be working at Costco. William Vaana also known as Big Will is a 33-year-old Mali resident who was discovered in a supermarket by two little girls who have since continued to come and play with him.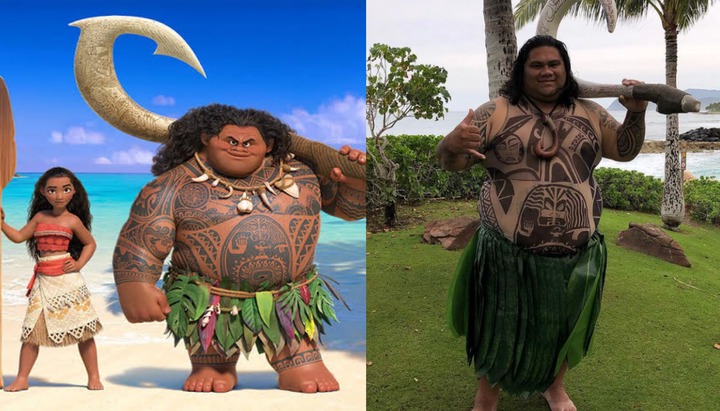 The man became a viral sensation in Instagram for his friendly nature, playful antics with children and of course his uncanny resemblance to the legendary Maui from Moana. It's like he has come to life from inside that Costco.
Latest posts by Law Blessing
(see all)