Hasbullah Magomedov, the 3 foot 3 Russian TikTok sensation got famous for mimicking MMA fighter Khabib Nurmagomedov and that earned him the nickname Mini Khabib. Looking at him you may think Hasbullah is just a little boy, but he's actually a teenager who suffers from a genetic disorder which some have reported is a growth hormone deficiency – the same thing Messi suffered from very early on in his career.
Anyway, Hasbullah is now famous all over the world, but he doesn't seem to have shown much interest in football and he pretty much called Cristiano Ronaldo 'trash.' Okay, he may not have used the word trash, but that was pretty much what he insinuated when he made some really bold statements about the Portugal national team captain in a recent interview.
"I couldn't care less about Ronaldo," he said. I am more famous than him. The only thing he does in the match is boss around the ball." Listening to this makes us believe that Hasbullah probably doesn't know who Cristiano Ronaldo is. First of all, of course Ronaldo can give a good pass, but anyone who watches him would know that he is not exactly famous for his passing ability.
Related: Meet an 18 year old TikTok star who is trapped in the body of a child.
But this guy said he's more famous than CR7, the most followed human on Instagram. How could that possibly be? You know what's interesting about all this, Hasbullah's statements may actually have little to nothing to do with Cristiano himself and everything to do with his arch nemesis mini Abdul Razik. Razik suffered from ricketts as a child and that stunted his growth. He and Hasbullah share a fierce rivalry which has been going on social media for some time now.
About a month ago, Razik met with the Manchester United squad and got a photo with some of the club stars. But the Tajikistani singer seemed to have a special preference for Cristiano Ronaldo. He rushed to his Instagram to post his picture with the Portuguese star with the caption, "Let's go champ. Dreamt my whole life to meet you bro." He had a huge smile on his face as well. So seeing that post and how happy it made Razik, it's no surprise that Hasbullah got mad about it and everyone involved.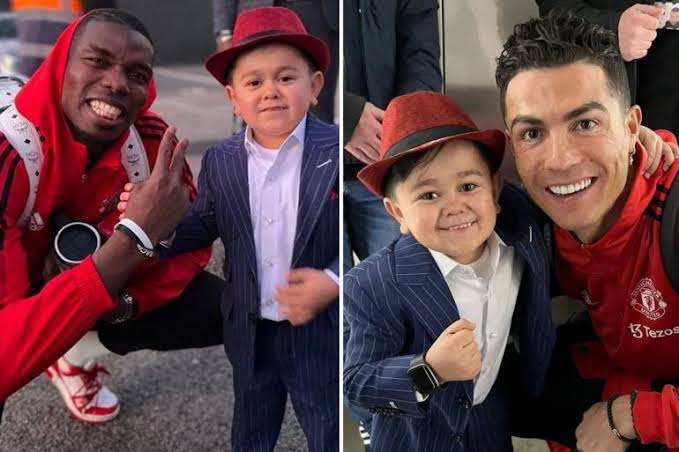 But this may have bigger consequences for Hasbulla. While Ronaldo seems very unlikely to make a comment on this or even notice any of these statements, Hasbullah's very close friend Khabib absolutely adores CR7. He has had a lot of nice things to say about the Man United star including comments of how amazed he is that Ronaldo is still able to put up great performances at the age of 37.
Read: 9 famous footballers who smoke in real life.
It would appear that it's not just an adoration from far away, Ronaldo and Khabib actually share a pretty close relationship. Both men who are in their 30s reportedly share career updates with each other every now and then including news about Ronaldo's move to Juventus before it broke to the public. Now, considering how close Khabib and Ronaldo are and also how close Khabib and Hasbullah are, could Hasbullah's comments about the Portuguese footballer end up putting a strain on the relationship between the Russian pair?
We actually want to hear your theory about how this will all end up so pop in the comments and let us know.