Gosiame Thamara Sithole, a 37-year-old woman from Gauteng, Johannesburg has allegedly broken the Guiness record, by giving birth to 10 living babies.
According to a report by IOL, Sithole was delivered of 10 babies on Monday night.
The woman was previously believed to be carrying octuplets, before giving birth to 10 babies in a hospital in Pretoria, according to her husband Teboho Tsotetsi.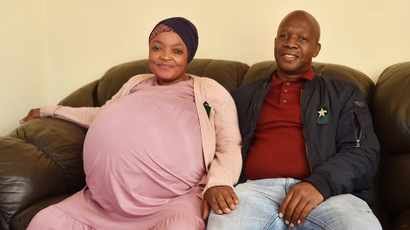 He said Sithole delivered her seven boys and three girls through the Caesarean section in just 29 weeks into her pregnancy.
"It's seven boys and three girls. She was seven months and seven days pregnant. I am happy. I am emotional. I can't talk much. Let's talk again in the morning please," Tsotetsi said.

Initial scans had shown Sithole was carrying six children, but two had not been detected as they were "inside the wrong tube".
Gosiame Thamara has now surpassed the record of a pregnant Malian woman named Halima Cisse, who allegedly gave nonuplets (nine children) in Morocco on Tuesday May 5, 2021. Read more here...