A lot of people including some celebrities have taken to social media to share a list containing the breakdown of the earnings of the Senators in Nigeria.
The summary which was derived from Channels TV, indicates that the members of the legislative body are among the highest salary earners in the country.
From the information contained in the list, a Nigerian senator earns about 29 million naira each month and over N3 billion every year, ranging from their basic salary to the motor vehicle allowances. It even included their newspaper allowance.
Check out the summary of the monthly allowances below:
1. Basic salary: N2.484,245.50
2. Hardship allowance: N1,242, 122.70
3. Constituency allowance: N4, 968, 509
4. Furniture allowance: N7, 452, 736.50
5. Newspaper allowance: N1, 242, 122.70
6. Wardrobe allowance: N621,061.37
7. Recess allowance: N248, 424.55
8. Accommodation: N4,968,500
9. Utilities: N828,081.83
10. Entertainment: N828,081.83
12. Personal assistant: N621,061.37
13. Vehicle main. allowance: N1,863,184.12
14: Leave allowance: N248,424.55
15: Severance gratuity: N1, 863,184.12
16. Motor vehicle allowance: N9, 936,982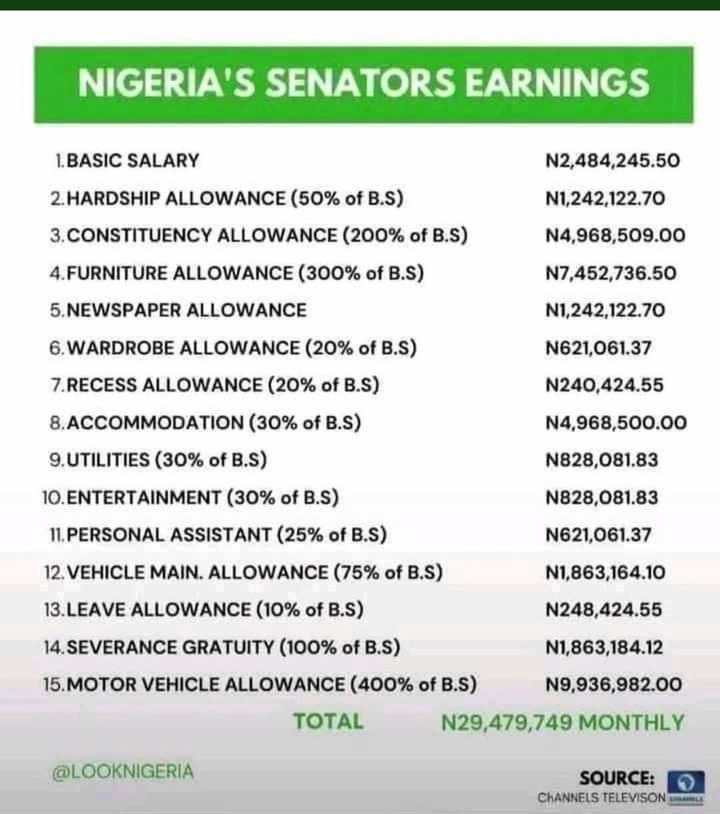 Related Article: Read peoples reaction to Orji Uzor Kalu's Presidential ambition