Photo: Job vacancy in Dubai exempts Nigerians from applying
A Dubai based job requirement firm has clearly exempted anyone that has a Nigerian origin from signing up for the application.
This was recently disclosed via the official Instagram page of Nigerian music television channel HipTV. The firm, identified as Shirley Recruitment Consultant – Dubai has it's job qualifications outlined as follows:
– Diploma or Degree in a business related course
– At least 1 to 3 years of merchandizing experience.
– Candidates with experience in perfumes will have a great advantage
– Must be very aggressive and presentable.
– Good communication and customer service skills.
– Male or female African candidate except Nigerians"
See the image below: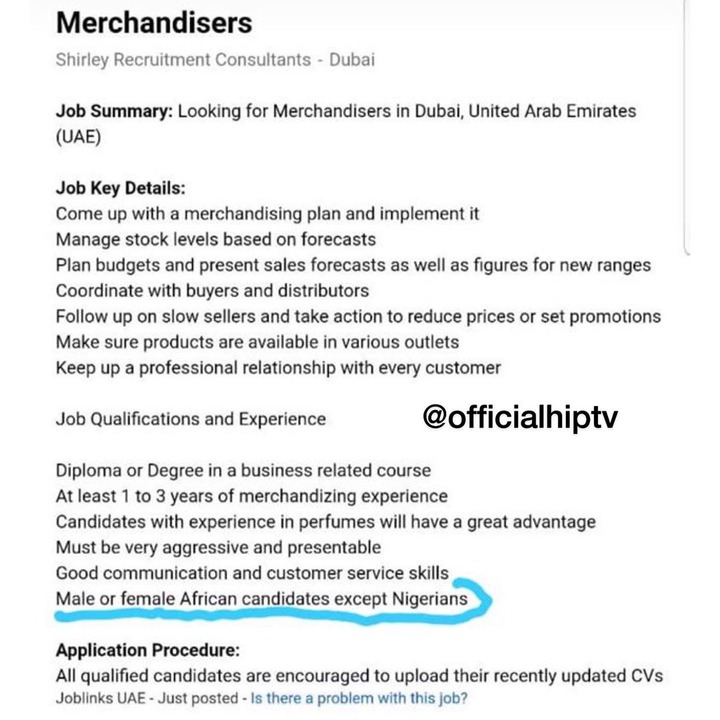 It's quite disappointing that the fraudulent activities by unscrupulous Nigerians both home and abroad is having a negative impact on the country's image.
Nigeria as a country is now having a growing international reputation as a place where crime and corruption flourish unchecked.
What can the law-abiding Nigerians do to avoid being dragged into this mess?
Share your comment below:
Law Blessing is a skilled writer with loads of experience in the field. Although a freelance Author, he's passionately involved in articles related to sports and entertainment.
Related