Bella Hadid recently revealed why she chose to quit drinking six months ago, and opened up about how her struggles with mental health led her to the decision. Bella has always been super candid when addressing the importance of mental health, having opened up in an Instagram post last year about her 'extreme' battle with depression and anxiety.
Earlier this month, Bella also addressed her 'excruciating' mental health struggles, in an interview with W-S-J Magazine, where she admitted that she was in such a weird place mentally, and that it was challenging for her to even get out of the house and put an outfit together. Now, Bella has opened up about one big lifestyle change she's making to improve her mental wellbeing: cutting out alcohol.
Bella got real about drinking when she sat down with InStyle to talk about her experience going sober, and revealed that she quit drinking after feeling like she wasn't in 'control' of herself. She revealed to the publication that she loved taking alcohol up to the point where she felt like she wouldn't be able to control herself. Bella then said it became "a lot harder to pick up the glass" after a doctor showed her scans revealing the effects alcohol has on the brain, some of which can include disturbances in sleep, immune system weakening, and pretty intense mood swings.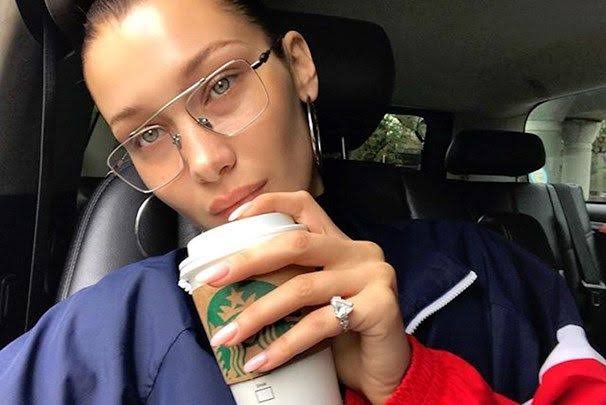 Because of this, Bella is making it crystal clear that she intends on staying sober for the foreseeable future. She went on to add that she doesn't feel the need to drink anymore because she knows how it will affect her especially early in the morning.
Related: Popular celebrities who do not drink alcohol.
Bella is certainly not the only person who has chosen to cut down on drinking, or cut it out entirely. Thankfully, it seems like Bella has no shortage of good alcohol alternatives thanks to her new brand, Kin Euphorics. Last year, Bella became co-founder and partner of Kin Euphorics, a non-alcoholic beverage that's currently at the forefront of the sober-curious movement. While Bella's reasons for going sober go way beyond her new gig, it certainly seems like the brand is a good match for Bella and her lifestyle as she continues to navigate through sobriety.
For now, we are just so happy for Bella as she continues to focus on taking care of herself and we are seriously proud of this girl for putting in the work to make some major lifestyle changes.