You've probably seen Hasbulla Magomedov on Instagram or TikTok before. He is probably the most hyped internet superstar in the world right now. His videos reach millions of clicks, he has countless followers, and on top of that he loves to hang out with martial arts superstars like Khabib Nurmagomedov in his spare time. But what many don't know is that even though the Russian teenager looks like he is 5 years old, he's actually 18.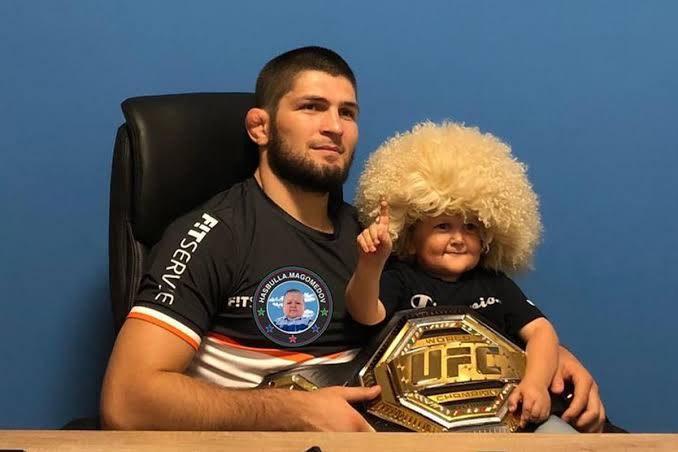 So in this article, we will to introduce you to the jaw-dropping story behind one of the most successful TikTokers in the world. You can expect exciting details about Hasbulla Magomedov's past, his luxurious private life and a brilliant truth that will leave you speechless. So let's unravel the mystery behind Hasbulla Magomedov's success.
Before we get to the question why Hasbulla is being hyped so much at the moment and has become one of Russia's most famous faces, let's first take a look at who Hasbullah actually is. Although almost nothing is known about the Internet star's past, it is now known that Hasbulla Magomedov was born in 2003 in the Russian city of Makhachkala. What sounds unspectacular at first glance turns out to be an important fact for understanding the hype surrounding Hasbullah.
Although many think that Hasbullah is still a child, he is actually already 18 years old. Why he still looks so extremely young despite his age is something we'll soon find out.
Since his childhood, the 18-year-old has been fascinated by martial arts and to this day, he regularly imitates his great idol Khabib Nurmagomedov, who is now considered probably the best MMA fighter of all time. At the age of about 17, Hasbulla began uploading short videos of himself to TikTok in which he imitated famous MMA fighters and played little tricks on other people. These videos went viral in no time, prompting Hasbulla to turn his entire life to social media.
Out of nowhere, more and more videos of him in the craziest situations started to appear and within a few weeks, he became a worldwide superstar. However, this was never Hasbulla Magomedov's original career aspiration. For some time now, he has been spending most of his day studying the Koran, as he says he would like to be an important Muslim theologian one day.
However, since he enjoys being recognized by dozens of people in his home country, his work is currently focused on Instagram and TikTok. Here, he has become an absolute megastar who now lives the lifestyle of a real celebrity. However, before we get into Hasbulla Magomedov's private life, we'll briefly explain why Hasbulla looks the way he does and why he is trapped in the body of a small child despite being 18 years old.
Although the exact medical diagnosis is not known, doctors assume that Hasbulla suffers from a so-called growth hormone shortage. This genetic disease causes the body to stop producing an important insulin-like hormone after a certain period of time, and the body stops growing after only a few years.
Related: Meet a lady who claims to be Whitemoney's girlfriend (video).
The same thing happens with the vocal cords, this is the reason why even the voice of adult people still sounds extremely high-pitched. Because growth hormone deficiency is an incurable disease that usually only affects the body, Hasbulla is only one meter tall, but he is just as mentally advanced as any other 18-year-old, which is probably why he is aiming for a spiritual career in the long term.
Now let's move on to the lifestyle Hasbulla has been enjoying since his viral clips on TikTok and Instagram. Because his Instagram profile now has over 1.5 million followers, he is not only active as an influencer, but also likes to spend his free time in expensive cars and fancy restaurants. Although his height makes it impossible for him to drive a car without assistance, he is extremely popular in his area, which is why he is always invited to race down the highway at full speed in the fastest BMW and Mercedes sports cars.
In addition to martial arts, religion and fast cars, Hasbulla has another passion that is probably the envy of many people. He is a good friend of Khabib Nurmagomedov, who is one of the best athletes in the world and by far the most famous face in Dagestan. In fact, since Hasbulla was quickly nicknamed "Mini-Khabib" due to his TikTok imitations, the undefeated UFC champion didn't miss the opportunity to meet Hasbulla in person last year. Since then, the two seem to meet regularly and maintain a pretty close friendship.
Away from the media hype and life in the spotlight, however, there is a side of Hasbulla that is virtually unknown to the public. To a large extent, the 18-year-old lives a completely normal life like most other people. Among other things, this means that despite his physical limitations, he cooks his meals, chooses his clothes and follows a daily fitness routine. It is these daily routines, among other things, that make Hasbulla so successful.
We would like to conclude by briefly discussing the reasons for Hasbulla's unique success story. Even if many people think that these are just a few funny videos that happened to go viral, Hasbulla's success is based on an inspired approach. He manages to present himself in a humorous way and pick up on topics that his fans are interested in and that are hot at the moment. The best example of this is martial arts.
For some time now, there have been rumors that he will soon be competing in an MMA fight against the Dagestani singer Abdurozik, who incidentally suffers from a growth hormone deficiency himself. For this fight, Hasbulla staged a press conference in which he used all the clichés that are usually only known from real press conferences in combat sports. Among other things, he insulted his opponent, got close to his face and even briefly made it look as if he was going to attack him.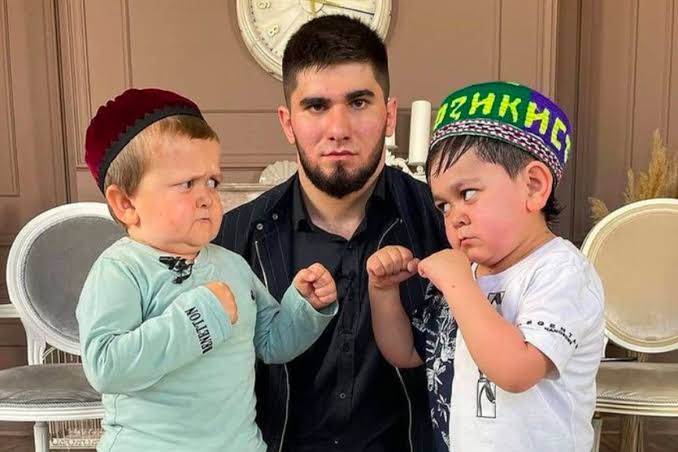 Although this press conference was also criticized by some Russian sports authorities who were concerned that such a fight would only serve to amuse the spectators. Overall, it is the perfect example of Hasbulla's brilliant recipe for success. Due to his self-ironic nature, it's not a problem for him to show up in situations where he often seems awkward, but provides funny moments in the process. He is 100 percent aware of his childish appearance and with this knowledge, he manages to make videos that are extremely likely to go viral.
Of course, in the end, everyone can think what they want about it, but Hasbulla's self-promotion is much more than a few short videos when you take a closer look. It follows a concept that seems to work perfectly and has turned Hasbulla into a worldwide star with a luxurious private life within a very short time.