Everyone gets caught lying or fooling around sometimes. But the things the people in this article were caught doing are truly incredible. You can look forward to a completely reckless Canadian, a story that creates nightmares and a woman who was stunned by what was going on in her apartment. Let's find out who they are.
An American who tried to sue the Metro Company of the City of Washington for 15,000 US dollars in damages. Obviously, he was inspired by a cartoon to make money in an easy way. He accused the company of being responsible for an injury to him: The reason was that he slipped on a banana peel that was lying in an elevator of a Metro station. Unfortunately for him, a surveillance camera recorded what really happened.
The man really did slip on a banana peel and fall to the floor when the elevator opened, but the footage also shows that the man placed the banana peel there himself beforehand. Instead of getting a compensation payment, he then had to pay a fine for attempted insurance fraud.
A Chinese streamer named Your Highness Qiao Biluo. Two years ago, she had more than 100,000 followers who admired her mainly for her beauty and regularly sent her large donations in her streams. But when she went live again and was talking to another streamer, a technical error deactivated a filter and her viewers suddenly saw her true face. What they didn't know beforehand was that the streamer had been using a beauty filter the whole time and didn't look anything like her fans thought she did.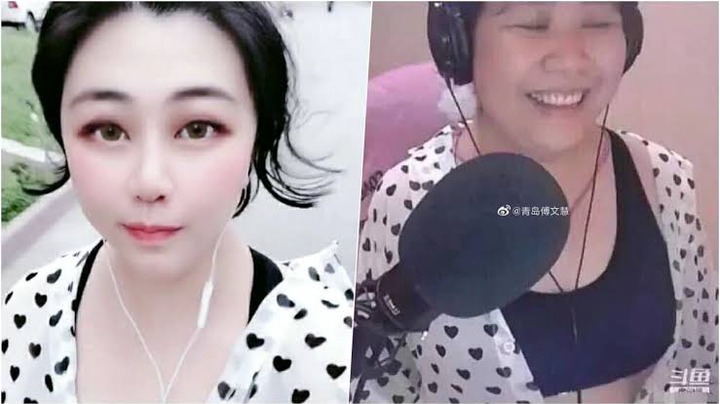 Your Highness Qiao Biluo was neither as young nor as pretty as she appeared before the filter failed. When her mostly male fans left the stream massively, the streamer realized that she had been exposed and that everyone had now realized that she was in fact a 58-year-old woman.
An unbelievable affair that was only uncovered thanks to a surveillance camera. Audrey Young, an American woman, hired a Catsitter to look after her cat in her New York apartment while she was on vacation. Her husband had installed a surveillance camera in the apartment, which automatically sent Audrey pictures by e-mail as soon as anything moved in the apartment. Instead of videos of her cat or her Catsitter, who takes care of it, the New Yorker suddenly received material she had not expected at all.
The videos showed how her Catsitter brought a strange woman into the apartment and then had a lot of fun with her in the whole apartment. Because Audrey was shocked by the footage, which even showed the couple unclothed, she wrote angry messages to her Catsitter, but he did not respond. Finally, Audrey sent a friend with a spare key to the apartment, who put an end to the wild party and threw out the embarrassed Catsitter, and even sent his girlfriend out into the street without her pants on.
A prank that turned out quite differently than expected. Two years ago, the YouTubers from Vlog Creations decided to confuse people and record their reactions on video. For this purpose, they simply hung up toilet signs on random doors and had a great time when people were standing in front of a workshop or parking lot, even though they were actually just looking for a quiet place to go. After some time, the unbelievable happened: A man actually wanted to go to the toilet, but the prank opened the door to the storeroom of a store.
Instead of turning around like everyone else before, he closed the door behind him and stayed in the room. Several minutes passed and the Youtubers wondered where the man had gone until the door opened again at some point and the man came out. In the process, he shook his fly, which aroused a blatant suspicion. The YouTubers then searched the camp and found the unbelievable: the man had actually simply done his business in a corner of the camp instead of continuing to look for a proper toilet.
A really creepy thing that happened 9 years ago in the USA. Tracy, a single mother of five, was lying in bed when she suddenly heard rumbling noises from the attic above her. But that wasn't all, even individual nails were coming loose from the ceiling and so Tracy thought that a ghost was up to mischief in her attic. Terrified, Tracy called her grown sons and nephew and together they went upstairs to see what was making the noise. Once upstairs, they found a large sleeping man who immediately fled when caught.
This was Tracy's ex-boyfriend, whom she had broken up with 12 years ago, and who had just recently been released from prison. It turned out that he had been living unnoticed in the attic for about 2 weeks, collecting his feces in cups. He had also widened the vents and so had been secretly watching his ex from above the whole time.
The question of whether people are even aware of the fact that they are usually filmed by surveillance cameras in elevators. A woman, for example, used the elevator ride not only to adjust her clothes and put on lipstick, but also to quickly remove her panties and put them in her handbag. The fact that one feels safe alone in the elevator was then exploited by a television manufacturer 9 years ago for an advertisement.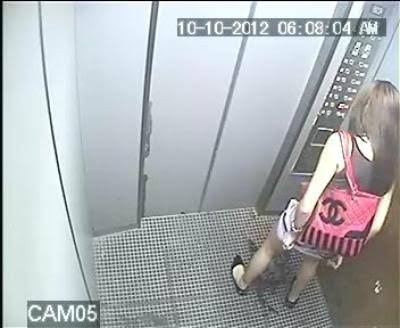 The company's goal was to catch the people who used the elevator cold and to use this action as advertising. And exactly that succeeded in the end. The company replaced the floor panels with ultra-high resolution screens. During the ride, it looked to the visitors as if the floor panels would suddenly break away, giving them a good scare. For the TV company, the coup was successful – after all, they had proven that the quality of their screens looked so real that it was scary.
Read: Lady fights nak£d over a man on Valentine's Day.
An unbelievable thing where Sierra, an American woman, caught a man at her front door. She had namely installed a surveillance camera that filmed her entrance area, where there were many Christmas decorations and a Christmas tree. Unfortunately, there had been a heavy storm during the night and so the festive decorations were strewn around on the floor. On the records, she then saw how a delivery man from Amazon came to bring her a package. Instead of just putting the package down, he began to clean up the mess and rearrange her decorations piece by piece.
Sierra was absolutely thrilled by so much kindness and contacted Amazon to thank the man. Actually catching someone doing something doesn't always have to be a negative thing.
A more than reckless action in which a man was caught in Alaska – live in front of thousands of viewers on the Internet. The rangers of Katmai National Park have installed several live cameras in nature, so that people from home can enjoy the beauty of nature and its inhabitants. In 2018, one of the live cams showing the Brooks River caught this incredible behaviour: a man apparently tried to get as close as possible to a group of wild bears for a few particularly good photos.
To do so, he entered the river and recklessly waded to within a few feet of the bears. By the way, according to the park rangers, a safe distance to the predators is at least 50 meters – after all, bears are not exactly harmless. Fortunately, this incredible action went out smoothly.
Source: Newsblenda.com