Nigeria Covid-19 Cases Getting Out Of Hand After 51 New Virus Reported On Late Friday Bringing The Country's Virus Cases To 493
Nigeria confirms fifty one new cases of the Coronavirus, bringing the total number of infections in the country to 493.
The center for disease control (NCDC) announced late Friday night.
Out of the fifty one new cases reported in Nigeria; 32 in Lagos, 2 in the FCT, 6 in Kano 5 in Kwara, 2 in Oyo, 2 in Kastina, 1 in Ogun and 1 in Ekiti State.
158 out of the 493 confirmed cases reported in Nigeria has been Discharged with the numbers of fatalities now 17.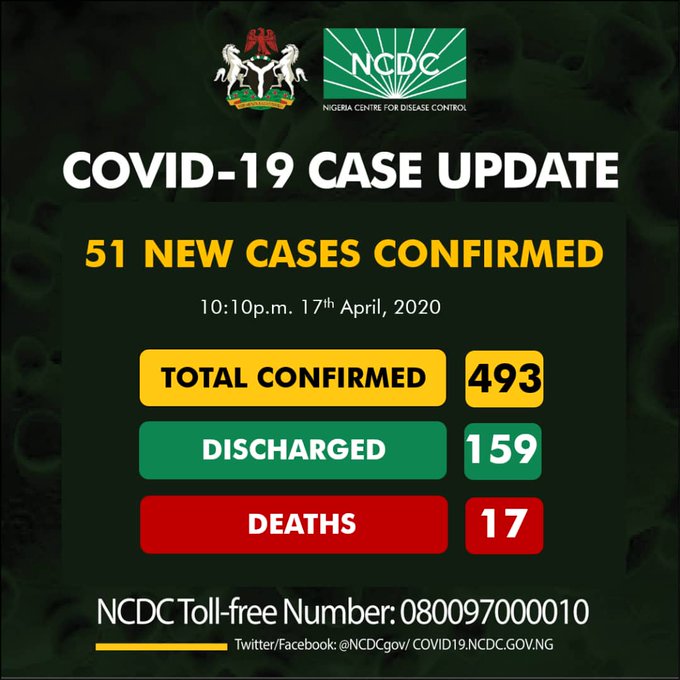 Currently Lagos has the highest numbers of confirmed cases with 283 FCT- 69 Kano- 27 Osun- 20 Edo- 15 Oyo- 15 Ogun- 10 Kwara- 9 Katsina- 9 Bauchi- 6 Kaduna- 6 Akwa Ibom- 6 Delta- 4 Ondo- 3 Ekiti- 3 Enugu- 2 Rivers-2 Niger- 2 Benue- 1 Anambra- 1.
The virus which emerged from Wuhan China has since spread to over 210 countries of the world and territories with an active cases of more than 2,190,010 and 147,010 deaths.
Author's Profile
Wisdom Iwu can be found writing, designing and developing all sorts of great content. A freelance writer, thinker and lifelong learner with an ongoing curiosity to learn new things. Check out his social media accounts below: