On the 29th of May 2021, Pep Guardiola's Manchester City lost to Thomas Tuchel's Chelsea in the Champions League final after one of Pep's most bizarre tactical decisions of all time. The Spanish mastermind decided to start the game without a defensive midfielder, the first time he did that throughout the entire season.
While we cannot attribute Man City's failure to this one decision, this isn't the first time we've seen Pep fail tactically in the Champions league. But again, he has been accused of tinkering too much in big games. His decisions often prove fatal for his team's ambitions especially in big games. But one has to ask why does this happen even with an illustrious team and all the money at his disposal. Why has Pep failed to win the Champions League at Man City?
Domestically, he has been totally dominant, winning three premier league titles in four years, but in the Champions League, it just keeps falling short. But why? The answer to this question might just be with Yaya Toure's agent Dimitri Seluk. So what does Yaya Toure's agent have to do with Pep's Champions League failure? To answer that, we have to go back to when Yaya Toure was dominating the Premier League.
Long before Pep arrived in the 2013-14 season, Yaya Toure played 35 games in which he backed 20 goals and 13 assists. When he realised that he did this playing as a box-to-box midfielder, when asked about how he achieved it Toure always gives the praise to the coach of Man City at the time (Manuel Pellegrini) who helped him find his best position. The next few seasons for Yaya were not as incredible. However, he was still a special player and a key part of Manchester City's success.
It was a shock to him when he found himself out of favour after the arrival of Guardiola. Pep likes his players lean. Recall that former city defender Clichy once said that Guardiola stopped all overweight players from training with the first team. In just his first few weeks of the job, foods like pizza and fizzy drinks were banned in the club's cafeteria. All the players were handed their ideal weight and if they weren't able to get within that weight, they simply didn't get a look in.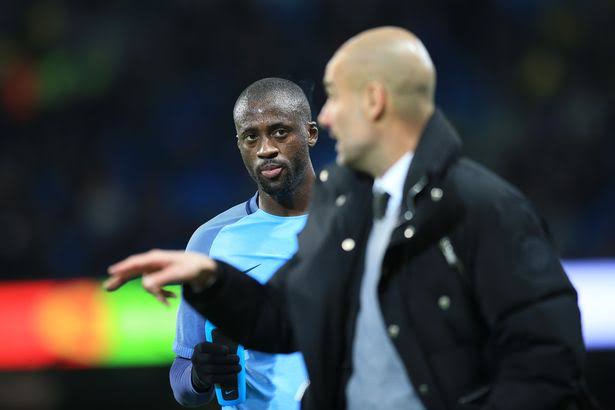 As we all know Toure is a big guy. As much as he is technically gifted, physicality is also a huge part of his game and he needs to be big for that. But Guardiola did not agree with that sentiment and so Yaya was relegated to the background. As the years went by, things became progressively worse until 2018 when Yaya Toure was done with it. Yaya had made his decision to leave the citizens out of frustration of not being a starter anymore.
His agent Dmitry Seluk didn't hold back his thoughts about Pep Guardiola: "Turned all Africa against himself. Many African fans turned away from Manchester City and I'm sure that many African shamans in the future will not allow Guardiola to win the champions league. This will be for Guardiola an African curse. Life will show whether I'm right or not."
If we are to believe what Seluk said, then Pep Guardiola has been cursed to never win the Champions League again. While it might be easy to just laugh this off as a mere superstition, a closer look at the manner in which City lose matches in the Champions League might make you want to have a little rethink. In the 2017-18 season, City were humbled 5-1 home and away by league rivals Liverpool, a team that man city thrashed 5-0 earlier on in the season.
In the 2018-19 season, they lost to another English team Tottenham. Mind you, this was in a season where Man City defeated Spurs home and away in the Premier League. In the 2019-20 season, they lost dramatically to Lyon 3-1 with an incredibly bizarre open net miss from Raheem Sterling and then of course we all remember Kai Havertz putting the ball over Ederson in the 2020-21 Champions League final in Porto.
If you take a closer look at all these losses they seem bizarre and abnormal. Think about it, when faced with PSG last season, they passed through them with ease only to record just one shot on target in the final against Chelsea. It just doesn't make any sense. This leaves us with the conclusion that maybe he is indeed cursed.
Read More: Why does Philippe Coutinho always wear a red ribbon around his wrist?