If you knew before now that Lionel Messi goes by the nickname La Pulga, then you are a person of culture. But if you didn't, you need to go back and be re-cultured. Now, for those who have always known him as La Pulga, did you know why he was given that nickname? Well, it's okay if you don't and we're here to tell you the story behind why Messi is called La Pulga.
Apparently, the full nickname is La Pulga Atomica which is a Spanish name for the atomic flea. Wait a minute, "flea!" Why is one of the greatest footballers of all time being likened to a parasitic insect? Well, first of all, the name was given to Messi long long before he established himself as the greatest. He was just a child when he earned a nickname and it just happened to have stuck through all his career.
Messi started playing football at a very tender age back in Argentina and everyone who got to watch him play already knew he was a phenomenon. But when he was just 11, he was diagnosed with GHD (Growth Hormone Deficiency) and that meant that he was going to have a slow growth or maybe even a total absence of growth. The growth hormone treatment which Leo required was going to cost a thousand dollars every month and his father's health insurance was enough to cover the treatment for only two years.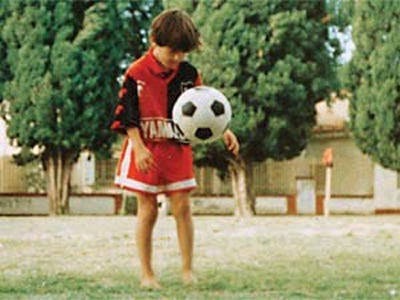 So Messi's club at the time Newell's Old Boys agreed to support financially, but then failed to keep their promise. River Plate over were interested in signing him, but the economic collapse in Argentina that period meant that they couldn't afford to pay for his treatment at this point. The Messi family had to start looking outside Argentina and outside South America for that matter. They had family over in Catalonia, so they decided to try and arrange a trial for Leo with a certain Catalonian club back in 2000.
Visit Newsblenda.com for more updates.
Carles Rexac, the Barcelona's first team director at the time wanted to sign Messi immediately, but there was a delay from the board. It was a completely different time back then. It was so unusual for big clubs in Europe to sign players that young from a different country, let alone a different continent. But when Barcelona were given an ultimatum to sign Messi, Rexac who really wanted him went ahead and made a very risky decision, but one that the entire world of football and particularly Barcelona ended up being more than grateful for.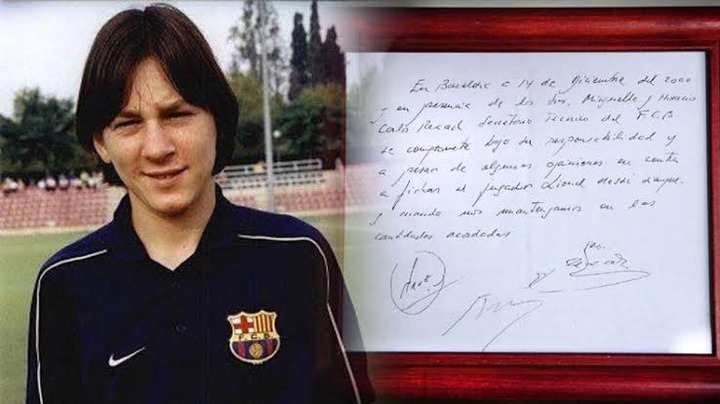 Rexac offered little Messi a contract with Barcelona on a paper napkin as there was no actual paper anywhere around. As part of the contract, Barcelona agreed to take care of the payment for his growth hormone treatment. In spite of the treatment he was getting, Messi was still small and it was certain that he was gonna end up being small. Though not as small as he would have been without the treatment and that was one of the reasons he was given the nickname La Pulga in the first place.
How Lionel Messi's photo saved a Journalist's life in Ukraine (READ).
He was so small and so fast and he knew just how to quickly get out of tight spaces and get past anybody and everybody, just like a flea. Rumors have it that it was his brothers who gave him the nickname when he was still very little. They first used to call him Poquita which meant little flea, but as he grew a little and became a lot better with a ball at his feet they changed it to La Pulga Atomica (the atomic flea). 'Atomic' because of how fast he was. But what stuck was simply La Pulga.
The spanish press even tried to change it back in 2017. They started to call him Herculio, a combination of his name Leo and the name of the Greek god Hercules. But that didn't stick either. You either call him by his name or call him La Pulga and there's no two ways about it.