When Cristiano Ronaldo threw his captain's armband on the floor a year ago in a World Cup qualifier against Serbia, we're pretty sure he had no intention to save someone's life with that act.
He felt cheated for having his goal chopped off and was only expressing his frustration and that frustration went very much understood. That goal which wasn't credited to Ronaldo cost Portugal a win in that game and a top spot in their World Cup qualifier group.
Because of that, Portugal risked missing out in the 2022 world cup and had to go through two extra games at the playoffs to secure a spot. One moment led to the other and it all led up to one incredible good and you know what's great, it left no victims. Everybody came out the event extremely happy. First of all, yes portugal had to take the longer route to the World Cup, but they eventually qualified beating Turkey and North Macedonia at the playoffs and earning a spot in a World Cup group with Uruguay, Ghana and South Korea.
But the biggest beneficiary in all of this was Gavrilo Djurdjevic, a little Serbian child who was just six months old at the time. The hero of this story Serbian firefighter Djordje Vukicevic was on duty at the game that day and after full time. While the world was focusing on the goal Ronaldo had just been denied and a possibility of CR7 and the star-studded Portugal team missing out on the World Cup, he had his eyes on just one thing – the Portugal captain's armband.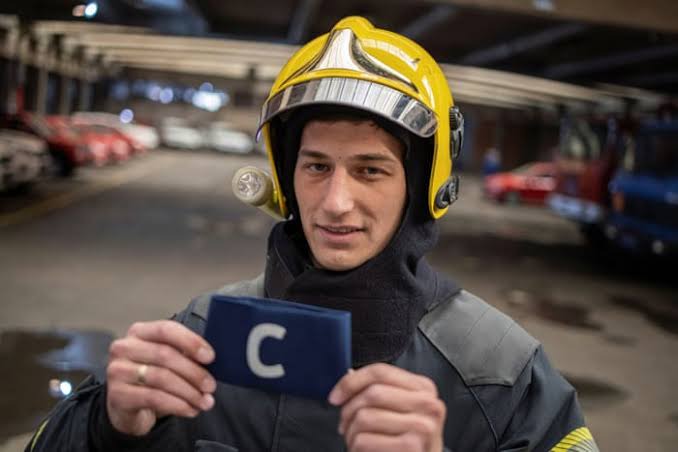 The whole drama came very late in the game and when Ronaldo saw that the referee had no intention of awarding the goal, he first went to protest, but all he got out of that was a booking for descent. So he took off his armband threw it on the ground in annoyance and stormed off the pitch even before the final whistle was blown. The gesture the Man United man made while he walked off pretty much indicated that he was done with all of that.
We can't say why the five-time Ballon d'Or winner took out his frustrations on an innocent armband, but what we know is that we're happy that he did. Apparently, the armband fell right beside Djordje Vukicevic, our fire fighting hero.
Related: How Lionel Messi's photo saved a Journalist's life in Ukraine.
He really could have picked it up and kept it for himself as some sort of memorabilia or maybe even framed it and hung it in the sitting room. Having the captain's band Cristiano Ronaldo wore around his arm in that infamous game between Portugal and Serbia is really something to brag about. But Vukicevic wasn't interested in bragging rights, he took the armband and the first thing on his mind was to auction it off.
Surely, people will pay crazy sums for an armband CR7 wore. That's surely a very brilliant way to make a lot of money for yourself, only that the firefighter was also not interested in making money for himself. The only person on his mind at the time was six-month-old Gavrilo Djurdjevic who was suffering from a genetic disorder called spinal muscular atrophy.
Little Gavrilo needed surgery and the surgery was going to cost more than £2 million. That was money the child's parents could not afford.
So when Vukicevic suggested to the crew that he wanted to auction off Ronaldo's armband to raise money for little Gavrilo to have his surgery done, everybody was on board instantly and you know what really melts our hearts about this story? There was no personal relationship between Gavrilo's family and Vukicevic or anyone in his crew. They just knew that the little baby needed surgery and decided to do something to make sure he got that surgery.
Here's what Gavrilo's mother said when she found out that these guys she didn't know were raising money for her baby's surgery: "We could not believe that some people who do not even know us would take the armband, auction it and help our child and this wasn't just a one-off thing."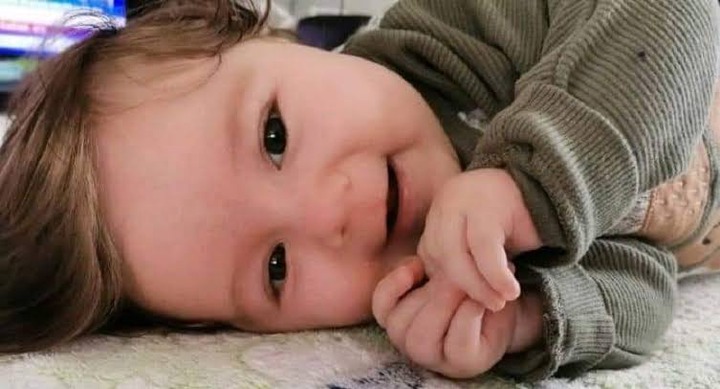 Vukicevic said he was very interested in getting his hands on all sorts of memorabilia from players and auctioning them off to help raise money for the little baby surgery. That is the very touching story of how that random action of frustration from Cristiano Ronaldo over a year ago ended up being something that would save a life.
Was not why people say things happen for a reason? If that goal wasn't chopped off and Ronaldo didn't get frustrated and throw his armband to the ground, who knows what could have happened to little Gavrilo. Wish a lot more of us could be like Vukicevic, looking out for and helping people including those not even related to us. It would really make the world a better place.
Also, maybe more players need to take off their armbands in frustration every now and then. So which captain do you suggest should go next with hurling his armband to the floor? Let us know what your nominations are in the comments.