Football fans can be really crazy especially when it has to do with their favourite player. Some can even do the unimaginable to appreciate their favourite star. In this article, we will be looking at how some really crazy fans expressed their love for their favourite players "through their tattoos!"
Laca's face as backside tattoo
This Lacazette and Arsenal fan is surely a man of his word, and you just have to respect that. In 2017, he went on Twitter and made a promise that if Laca signed with Arsenal, he would tattoo the Frenchman's face somewhere on his body. As you know, the former Lyon man made the move to the Emirates that very summer, and the fan made sure he kept his promise.
However, he chose a pretty unique place to draw the tattoo. His promise was that he would tattoo Laca's face somewhere on his body, so it could have been anywhere really. But he decided to have it done on his backside! Well, you may call it weird, but it sort of paid off. The tattoo caught Lacazette's attention on social media and he invited the young man to a derby game against West Ham.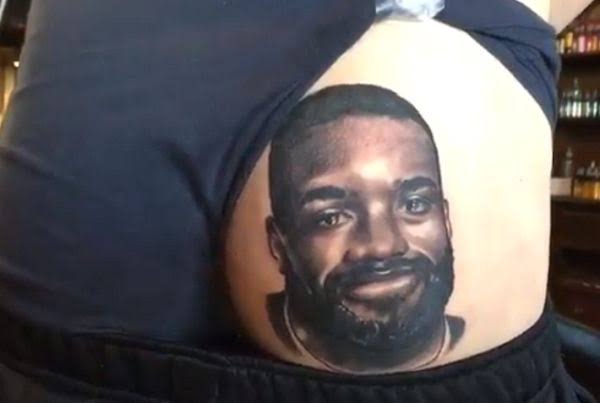 So, that crazy fan got to see his idol score 2 against their London rivals live. And on top of that, he met him personally and even got his jersey and a photo with him. Sometimes, being crazy pays off, doesn't it?
Jamie Richardson world cup tattoo
While the whole of England was just singing "it's coming home," at the 2018 World Cup in Russia (and frankly, every other tournament since 1966), a certain fan decided to go a step further. Honestly, we don't know what gave this man that much confidence, but this fan (who sort of looks like Wayne Rooney) went and got a pretty ridiculous tattoo just a few days into the 2018 tournament.
England had just beaten Panama 6-1 in their second game of the World Cup and were now sitting at the top of the table, so Jamie Richardson, a Leeds United and England fan, excitedly said he wanted to be the first person to have an 'England World Cup winners' tattoo. And well, he didn't just become the first, he became the only person. He got that tattoo in the group stage of the competition without even first consulting his girlfriend, and we all know the story: England made it to the semis but didn't go any further. So, Jamie was left with no World Cup trophy, a traumatizing tattoo, and probably no girlfriend.
Manchester City 2011 Champions
At least, the England fan waited for 2 results before getting his tattoo. All this City fan needed was an announcement that the club had been bought by an Arab billionaire, followed by a bunch of expensive signings. And what did the lad do? He went and drew a tattoo on his arm declaring Manchester City 2011 champions. And not even Champions of England, you know but of Europe!
The tattoo was a picture of the big ears, and written above and below was "Manchester City 2011 Champions League winners." Unfortunately, Manchester City ended up not even qualifying for the Champions League in 2011! And you can tell that this dude doesn't have much luck, as he very nearly had an easy cover up last year. Surely, it would have been easy to change 2011 to 2021 on his arm, but City lost the 2021 Champions League final to Chelsea. Maybe he needs to just hold on an extra decade. He just might have some luck in 2031.
Terry's face on the backside
Why are these fans obsessed with getting ink on their butts? Here, we have another fan who got a tattoo of his favourite player on his buttcheek. Apparently, he heard that former Chelsea captain, John Terry was linked to his club, Aston Villa, and he just didn't believe it for a second. So, in his disbelief, he went on Twitter and said that if JT signed with Villa, he would tattoo the former England captain's name on his rear side. And well, he did.
After spending more than 2 decades at Chelsea, John Terry left Stamford Bridge and joined Aston Villa. This fan must have been in disbelief, but that didn't stop him from keeping his word. He got a tattoo on his butt with the veteran defender's name and below it he wrote, "captain leader villain."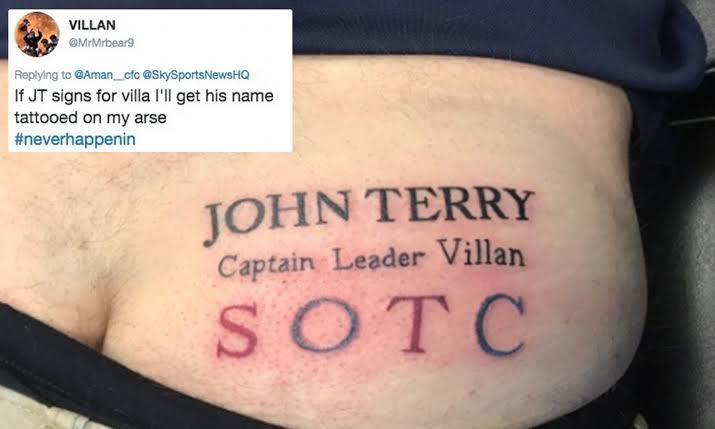 When asked about the tattoo, the Aston Villa fan said: "I really didn't think he'd sign in a million years. I thought nothing of it when I made the comment, but loads of Villa fans saved it and brought it back up as the JT story gathered pace. I'll certainly never make any promises like that again, I can assure you of that!" You can tell that he has learned his lesson about promises.
Divock 19
Maybe we finally have a fan who wouldn't regret his tattoo very much. After that unbelievable comeback Liverpool pulled off in the second leg of the Champions League semi final in 2019, an excited fan headed straight to a tattoo parlor that night to immortalise the moment. Divock Origi was one of the heroes of the night, scoring the goal that sent The Reds into the final. So, the Liverpool fan got a pretty simple tattoo which read "Divock 19." Luckily for him, there was no twist in fate.
Liverpool went on to the final and won the Champions League for the first time in 14 years. So, you may say he went overboard, but surely, when he looks at the tattoo on his belly, it will always bring him pleasant memories.
Read more: Shocking reasons why Guardiola may never win the Champions League again.
Karius is a legend
Speaking of pleasant memories, a Manchester United fan was so pleased about Liverpool's Champions League final loss in 2018, that he got a tattoo praising the villain of the night. Liverpool's goalkeeper, Loris Karius, had a horrible night. 2 of Madrid's 3 goals were as a result of errors he made, so as far as fans all over the world were concerned, he was the reason Liverpool lost. But while Liverpool fans were in pain, anger, and agony, Manchester United fans were absolutely elated, and perhaps one more than most.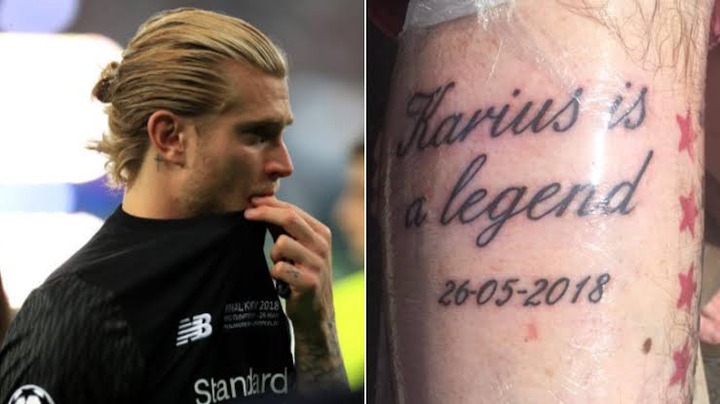 This particular United fan was so happy The Reds lost that he got a tattoo which read "Karius is a legend" followed by the date of the final. That loss meant that Liverpool ended that season trophy-less just like United, and that must have given the Red Devils so much joy. But surely, that joy was short lived as Liverpool went on to actually win the Champions League the very next year.
Wenger on a dog
This Arsenal fan was not about to book separate tattoo appointments, so he decided to find a way to put everything he loves in one tattoo. At least, that's our theory of how he ended up with this tattoo. We have Arsene Wenger riding on a dog and holding the Premier League and FA Cup trophies from Arsenal's double-winning season in 1998. But well, Wenger is smiling, the dog is smiling, and the man who got the tattoo was probably smiling, so all is well, right?
Suarez was here
A bouncer got bitten on his leg, and he decided to cover it up with a pretty clever tattoo. The bite left a scar, so around it, he wrote "Suarez was here." Of course, we all know what he was referencing. Here was the bouncer's explanation for the tattoo when he was asked: "I'm actually scarred and it looks like a permanent bruise. I had the Suarez tattoo put on, even though I'm not a Liverpool fan, as shortly after that he was done for biting. I wanted to try and draw attention away from the actual bite mark so I had something put round it so people will mainly focus on the tattoo."
Suzy Cortez tattoos of Messi
World Brazilian model and Miss Bumbum winner, Suzy Cortez, is literally obsessed with Lionel Messi, and one of the many ways she shows that obsession is through tattoos. She has a tattoo of the former Barcelona man's name along with the Barcelona badge on her award winning butt. But that wasn't enough. She also went ahead to get a tattoo of the Argentine's face on her waist, just a little above her womanly parts.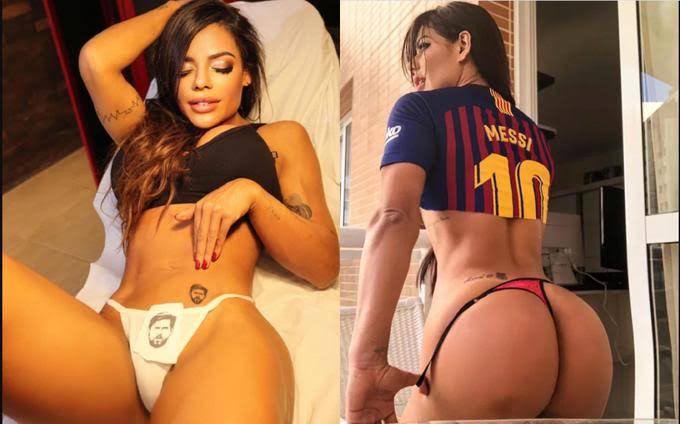 Of course, Messi, who has a wife and kids, is not very appreciative of the positioning of the tattoos, and the provocative photos she keeps tagging him to, so he has since blocked her on his Instagram.
Source: Newsblenda.com