Liverpool's latest recruit Luis Diaz has already started dazzling in England. He made his debut against Cardiff City in the FA Cup from the bench on the 6th of February 2022 and he set up Minamino to record his first assist for the Reds. It's looking like the Colombian will have a really amazing time on Merseyside. But before he begins to win the hearts of English supporters, let's get to really know him.
Here are eight things you probably didn't know about Luis Diaz.
He grew up poor
Luis Diaz was born in Barrancas, La Guajira, pretty close to Colombia's border with Venezuela and he grew up really poor. He is from the Yu ethnic group in Colombia. His people always seem to receive the least attention from the government. Luis grew up with nothing just like most other people in his community. His parents were so poor that they could not even afford three square meals. Luis would had goat for dinner almost every night and football was all the little boy had.
He nearly died of malnutrition
Children of the Yu people suffered a lot from malnutrition. As a matter of fact, statistics show that 4770 children of Yu ethnicity died of malnutrition in the eight years between 2008 and 2016. Luis himself also suffered from malnutrition too, but football saved him.
When he first started playing football, his talent was undeniable. Everybody knew what a menace he was with the ball at his feet, but his malnutrition problems made it hard for him to do well. He was so skinny and could easily be pushed around. The first club he signed with (Barranquilla FC) put him on a diet plan so he could eat healthier and also gain a few pounds.
He was discovered by Valderrama
If you don't really remember the name Carlos Valderrama, you almost certainly remember his hair. The iconic Colombian footballer with equally iconic hair was the one who discovered Luis Diaz. In 2015, Luis trialled for the Colombian team in preparation for the indigenous Copa America and Valderrama who was the coach of the Colombian side at the time just knew he had to pick him.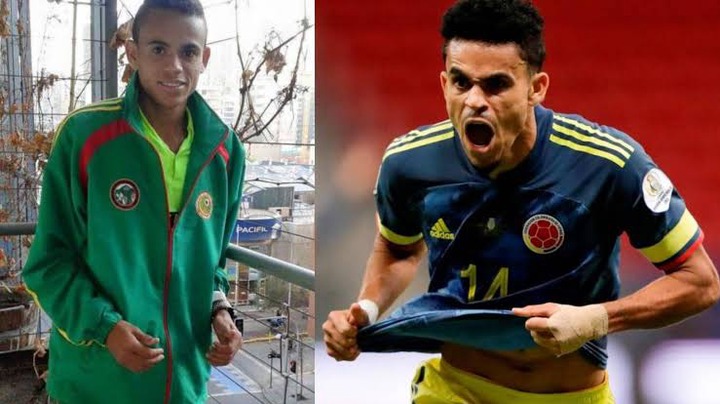 He immediately saw the potential of teenage Diaz and knew he had to be a part of his squad in spite of the fact that he was terribly underweight. Luis Diaz immediately proved to be a worthy selection as he was vital for the Colombian side in that tournament, helping them to go all the way to the final.
His nickname was Fideo
Luis Diaz was very often called Fideo when he was younger. He got that nickname because he was really really skinny. Fideo is the name of a noodle dish that is popular in South America. So people were basically telling him that he was so thin and looked like a noodle. Looking at the lad right now, would you even guess that he was ever that skinny?
His idol is Ronaldinho
This is not very surprising. Colombia and Brazil are rival footballing nations. but Ronaldinho in his prime was so good that he transcended the rivalry. Every kid in South America wanted to play like Ronaldinho. Perhaps Diaz really idolised the Brazilian because he could relate to his story. Ronaldinho too came from nothing and relied solely on his footballing talent to take him and his family out of poverty.
Related: Why are football clubs wearing jerseys with Chinese names?
Already Diaz is following the path of his idol. The question now is, will he be able to make it all the way to the apex of football just like Ronaldinho did. Those are really huge expectations, but he just completed a move to one of the biggest clubs in Europe and he still has so many years ahead. So we can't rule anything out, can we?
Colombian Cristiano Ronaldo
Just go on Google and type in Colombian Cristiano Ronaldo and see whose pictures comes up – only one man, Luis Diaz. Just watch him play a couple of times and you will see why the lad has some insane footwork like Cristiano did in his younger days. That is why he was given that nickname. Of course there are other factors that make people liken him to the five-time ballon d'Or winner, one of which is his goal sense. He will never get to score as many goals as Cristiano, but his goal scoring ability is never in doubt.
Copa America golden boot winner
Speaking of his goal-scoring ability, Luis Diaz already has awards to show for it. Colombian Cristiano Ronaldo helped his country to a third place finish in the 2021 Copa America tournament. In addition to that, Diaz ended the tournament as top scorer, sharing the golden boot with Argentina's Lionel Messi. Just imagine being compared to Cristiano while sharing a golden boot with Messi! This lad will go on to do amazing things for sure.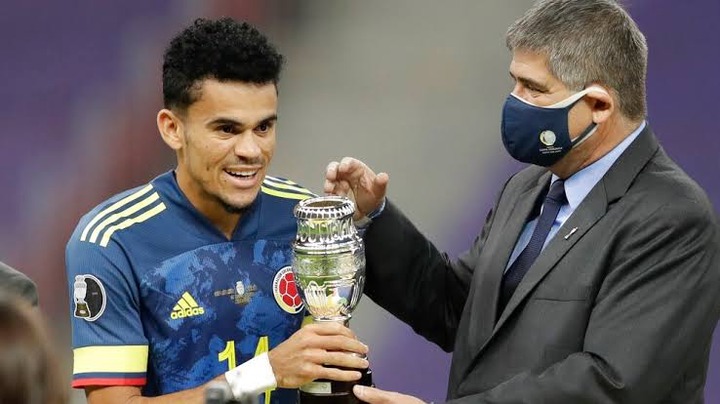 He signed a pre-contract with Cardiff City
 Diaz just made his debut for Liverpool against Cardiff City, but did you know that he very nearly joined that club a couple of years back and these weren't normal transfer rumours. The Colombian himself admitted that when he was still playing in Colombia, he had signed a pre-contract agreement with Cardiff and both clubs had agreed to make the transfer happen. Brighton and Zenith St. Petersburg were also interested in signing Diaz, but none got as close as Cardiff did.
Anyway, Porto came and in no time snatched the youngster and brought him over to Europe. Diaz was convinced to join Porto by his compatriots Falcao and James Rodriguez who had previously played for the Portuguese club. So he made that move to Europe. Surely, when he looks back now, he'll be thankful to those Colombian legends for their advice. Now that he has made the move to Liverpool, we expect to see even more from Luis Diaz.
But how far do you think the Colombian Cristiano Ronaldo can go Premier?