Yul Reveals What Pete Edochie Did To Him When He Told Him He 'Didn't Want To Go To School Anymore'
Nollywood actor and politician Yul Edochie has revealed how his father, Pete Edochie a veteran in the film Industry, gave him the beating of his life when he opted out of school.
In one of his Instagram posts, Yul revealed that his father gave him a beating that got his brain back to factory settings the day he said he 'didn't want to go to school anymore'
He wrote:
"In JS2, I told my father I didn't want to go to school anymore, he should open electrical shop for me.
"He said ok. He invited me to his room, locked the door and pulled out his belt.
"He gave me a beating that reset my brain back to factory setting.
"Look at me today. Thank you Dad!"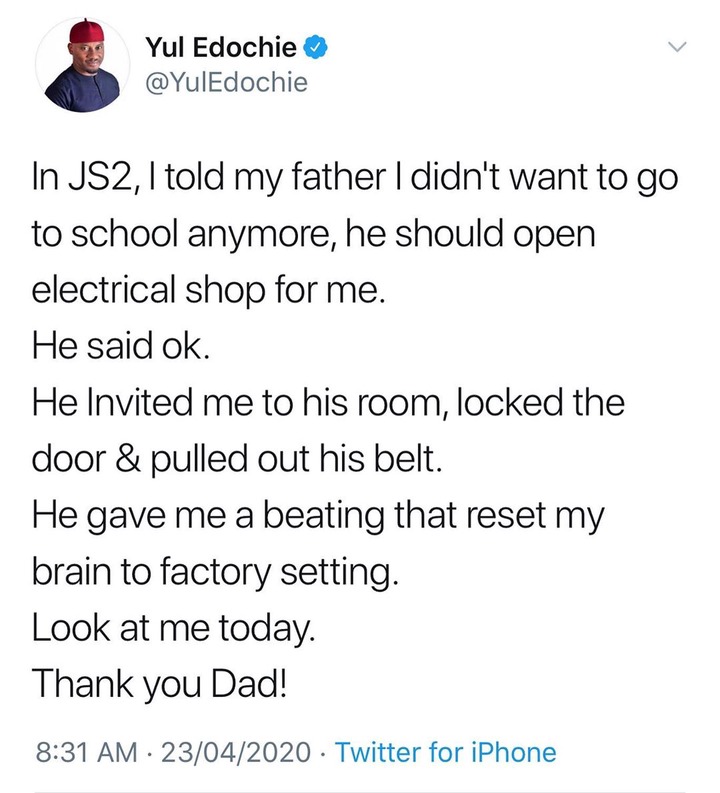 Yul Edochie, is the youngest and probably the best known child of Pete Edochie because of his fame in Nollywood industry.
Pete Edochie is one of Nigeria's most successful actors.
He got married at 22 to his lovely wife Josephine and is blessed with six children among who are Yul Edochie and Linc Edochie, both Nollywood actors. Very little is known about his other four children. Pete also has several grandchildren from his six children.