Nigerian Afrobeat singer Tobechukwu Victor Okoh popularly known as Perruzi has threatened to deal with the Twitter troll who accused him of fathering Davido's child.
Few hours ago, a die-hard fan of Wizkid, who identifies himself as @Mista_Mdee, decided to vocalise his hatred for Davido by making a senseless claim that Perruzi is the biological father of his son Ifeanyi. The insensitive young man claimed that Davido used Peruzzi's son, Ifeanyi on his album cover and that it doesn't guarantee success.
VIDEO: I Accepted Marriage Proposals From 2 Men Without Knowing They Were Brothers, Now I'm Pregnant – Lady Cries Out
The guy did not stop there; he added that Davido stained the innocent child's white with the disaster he called an album. Davido of course responded by calling the guy a dead man walking. He warned him never to mention his children's name again in such manner.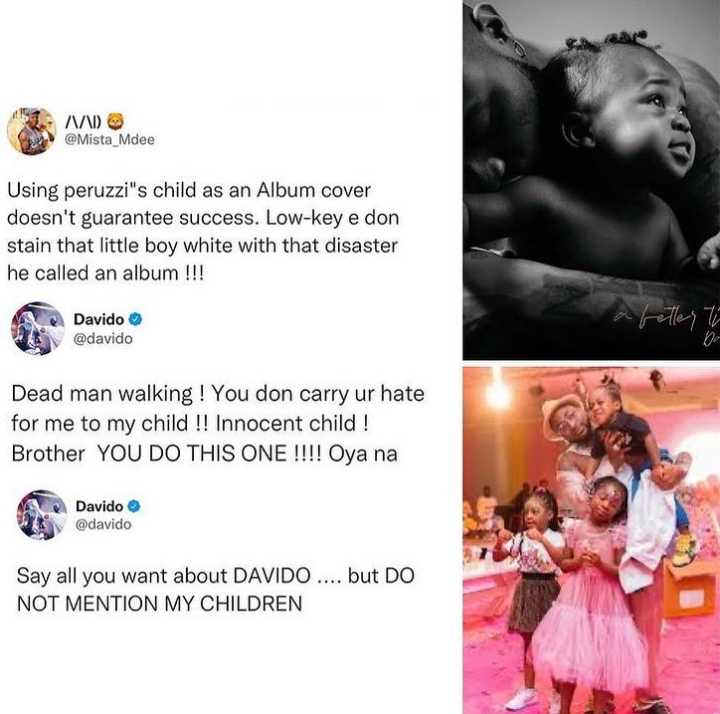 While Davido was lenient enough with him, Perruzi on the other hand, wasn't having it. He clearly told the troll that he's different from Davido and will make him pay for saying nonsense about him. Finally, Peruzzi made it clear to the guy that unless he provides a DNA result that proves he's Ifeanyi's father, he will deal with him.
Visit Newsblenda.com for more updates.