The rift between Nkechi Blessing and her ex-husband, Opeyemi Falegan is far from being over.
Opeyemi Falegan on Wednesday, April 13th 2022, disclosed the qualities of his next girlfriend. This he did in a series of posts he shared via his Instagram handle.
Read also: Nkechi Blessing, Nollywood actress, part ways with her husband, Opeyemi Falegan
According to him, his next partner will be educated, at least with a University degree.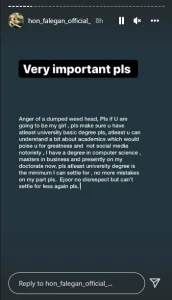 Blessing later on took to her Instagram and attacked him over his post. She said, "Even with all your degrees, you are still broke. I go employ and pay you salary for 10 years nonstop, bro. Bunmi wey get all the degrees wey you marry what happened? You need to come learn how to throw shade from me Opeyemi. You have absolutely nothing on, church rat".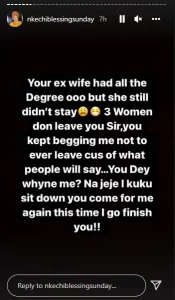 She further accused him of trying to 'milk' her, like he did to a certain Aunty Yinka in London.
Recall that Nkechi Blessing and her ex-husband, had earlier on disclosed that their marriage was over.
Visit Newsblenda.com for more intriguing news.