'In or out of uniform, we live in constant fear of men,' says Genevieve Nnaji
Nigerian actress Genevieve Nnaji has has joined a host of artist and social media influencers in calling for justice over the rape and murder of a 22 year old victim, Vera Uwaila Omozuwa and that of Tina Ezekwe, a 16-year old girl from Lagos.
Late Ms Vera Omozuwa, a first year Microbiology student of the University of Benin, was allegedly beating and raped inside a church in Benin, Edo state where she went to read. While 16-year old Tina was shot dead by a policeman at Iyana-Oworo area of Lagos.
In her latest Instagram post, Genevieve paid tribute to the deceased in a Feministic way, by describing the evil act as an abuse of power by 'men'. She also added that [women] 'live in constant fear of men'.
Read below: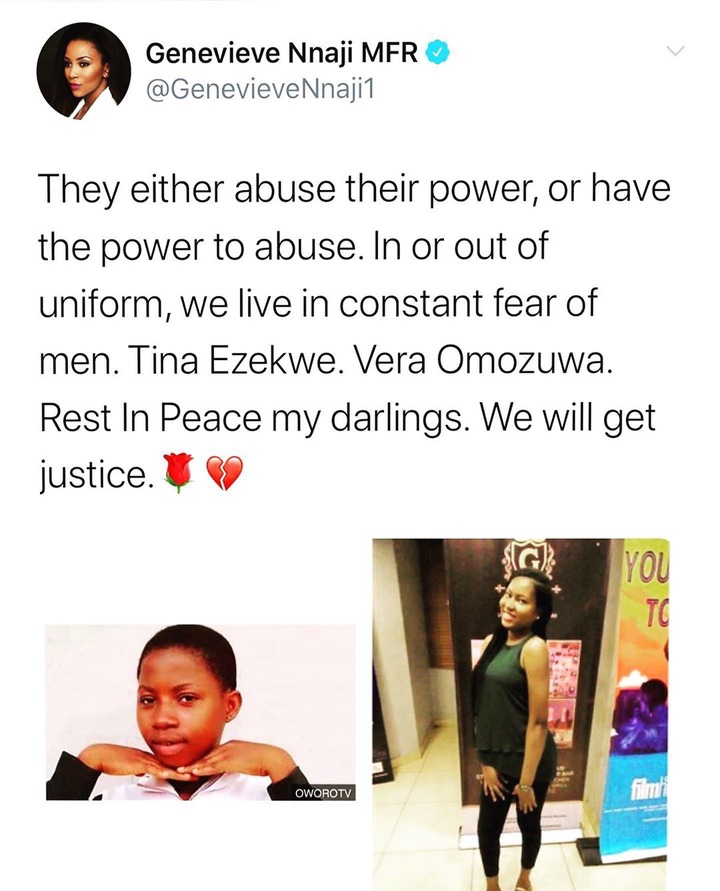 It is no secret the fact that Genevieve Nnaji is a feminist (one who support the advocacy of women's rights on the ground of the equality of the sexes).
A couple of years ago the ageless actress declared at the premiere of her movie 'Lionheart' in Toronto, that she is proud to be a feminist.
She said: "I'm a proud feminist who embraces her femininity. I feel sometimes women are made to feel self-conscious and ashamed of their womanhood. Perhaps like 'Wonder Woman', we may wake up one day to discover that it is our superpower, and then we would be unstoppable."
Although I strongly believe what these monstrous men did deserves severe punishment by the law, but should it be an avenue to take a dig at 'all men'?.
Latest posts by Law Blessing
(see all)