Erigga, Nigerian singer has incurred the wrath of Christian brothers and sisters with his tweet.
He took to Twitter earlier today to reveal that he would like to sin against one religion. Erigga's followers ignored his tweet at first, but it became serious when he talked about Jesus being a white man.
Erigga said that it was quite ridiculous that people believe a white man died for them so they can freely go to heaven, but he has to pay money for a visa to go to his country.
Read also: Portable reacts as Headies threatens to disqualify him
His tweet read, "So you believe a white man died for us so we can go to heaven free but I need a visa to go to his country?" 
Christian internet users wasted no time in dragging him for blasphemy. They further asked him to be grateful to God that he can freely speak of Christianity, but wouldn't try it with Islam. They asked him to keep his mouth shut and learn to respect people's religion.
View some comments from people: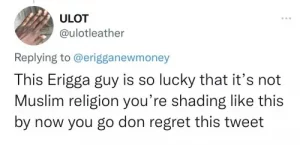 Visit Newsblenda.com for more interesting updates.