It has been reported that Flavour has made a sum of $3 million for his biopic on Amazon.
A biopic according to Wikipedia is a film that dramatises the life of a person, typically a public or historical figure.
Flavour has revealed that he has received an advance payment for his biopic on Amazon Prime Video. This means that he would be working for four years with Amazon, as stipulated by the contract he signed with the brand. This makes him the first African to be paid $3 million for a film with Amazon.
Read also: Meet Judy Austin- Yul Edochie's Second Wife
This feat also breaks the record Wizkid set today by becoming the first African artist to be paid $1 million to headline the Rolling Loud Music Festival.
Furthermore, Wizkid FC reminded Flavour's fans that while Flavour was being paid $3 million for four years, Wizkid was being paid $1 million for a day show.
View posts from Flavour's fans below: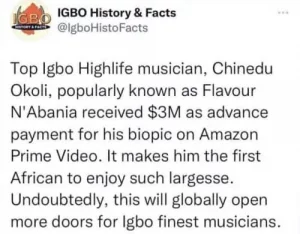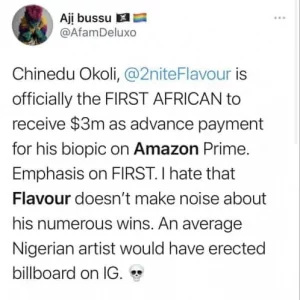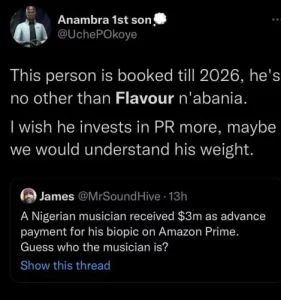 Visit Newsblenda.com for more intriguing news.