It's a well-known fact that some celebrities do not make the best decision when it comes to getting tattoos. Maybe they did it out of the heat of the moment or they got it when they were really young or worst case scenario they were blinded by love, marking themselves with their partner's names.
Whatever the case may be, we are going to talk about some celebrities who regretted their tattoos and either got it covered up or lasered it off.
Pete Davidson: 
Pete is no stranger when it comes to tattoos. In fact, he has over 100. However, he's actually in the process of removing them all. Originally, Pete thought his career was going to be done after SNL and never expected to get other opportunities to act, but life gave him another chance.
He started getting roles and realized he didn't want to come in 3 hours earlier before every shoot just to do makeup and cover up his tattoos. So he made the decision of getting them lasered out. He said it's going to take more than two years for it to be completely gone and warned people that if they are getting any tattoos, they should make sure it's something they really want.
The Game: 
In 2005, he got a small tattoo of a butterfly on the side of his face after cutting ties with G-Unit. Well, for him, this butterfly represented a new life. However Game claimed the tattoo artist didn't do it right and it looked more like a moth, so he decided to cover it with the LA Dodgers logo.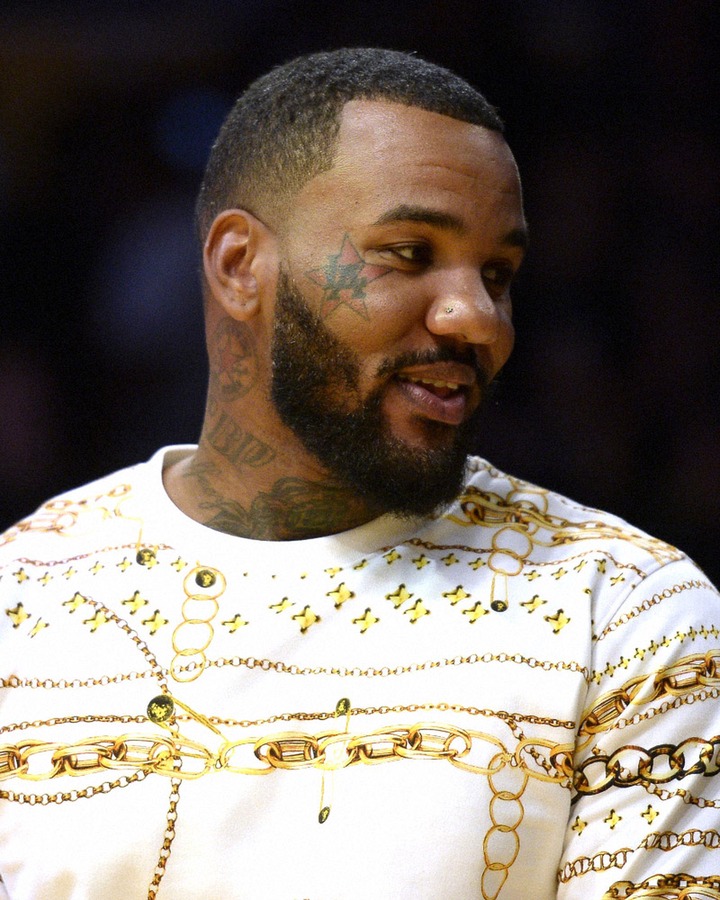 Now, that didn't go too well either cause he realized that the butterfly wasn't completely covered. Since there was no way of extending it to make the old tattoo disappear, Game decided to add a red star to it to finally cover it up for good.
Johnny Depp:
Back when Johnny was dating Winona Ryder, he got a tattoo across his shoulders saying, "Winona forever." But shortly after their split, he altered that tattoo to read, "Wino forever."
He didn't learn his lesson the first time, because when he married Amber Herd, he got her nickname "Slim" tattooed on his knuckles and much to everyone's surprise, once those two broke up, Johnny altered that tattoo to read "scum."
Not being happy with his tattoo, he ended up going to another artist and told him to add white ink all over it. They added the whites and some fillers underneath it and now he says he's happy with what he has.
Read: Why Ariana Grande always wears her signature ponytail hairstyle.
Britney Spears: 
It's no secret that Britney has been through a lot in her life and one of the biggest chapters in that book was her marriage to Kevin Federline. During that entanglement, Britney got a pair of pink dice tattooed on her left wrist. This was a matching tattoo with her now ex-husband Kelvin.
Tattoo artists always warn couples not to get matching tattoos for this very reason. In the industry, it's considered to be a curse, since there are so many people that end up regretting it. Breakups are hard enough as it is, so imagine having to see something that reminds you of your ex every day.
Rihanna: 
In 2016, Rihanna and Drake got matching camo shark tattoos to represent the special date they had in Toronto where they visited the aquarium.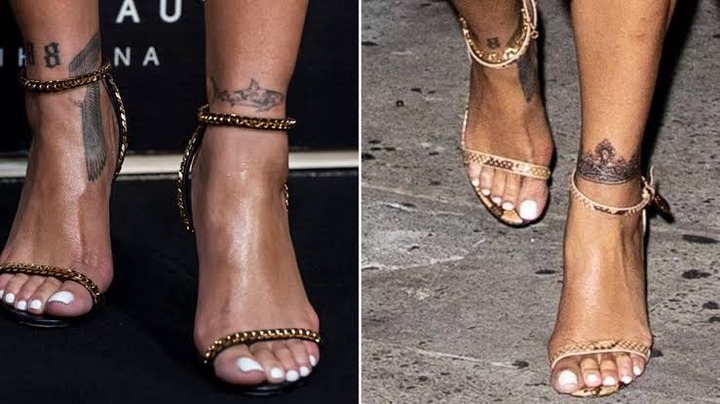 However, in recent times Rihanna's fans spotted her out one night in New York with ASAP Rocky and immediately noticed that her shark tattoo was no more. That was because Rihanna got a cover-up tattoo of a crown, putting her past behind her.
Charlie Sheen:
Charlie got married to Denise Richards in 2002. Not only did he seal the deal with a ring, but he also sealed it by getting Denise's name tattooed on his inner forearm. However, much like the situation with Johnny Depp, Charlie and Denise ended up getting a divorce. Obviously he wasn't going to walk around with his ex-wife's name tattooed on him. So he replaced it with his famous catch phrase "winning."
Khloe Kardashian: 
The loss of a loved one isn't easy for any of us and Khloe was no exception. In fact, when her father passed away, she headed towards a downward spiral, doing all sorts of crazy things like excessive partying and drinking. During that time, she also got a tattoo to commemorate her father. The ink was a cross and angel wings, along with the words: "Daddy."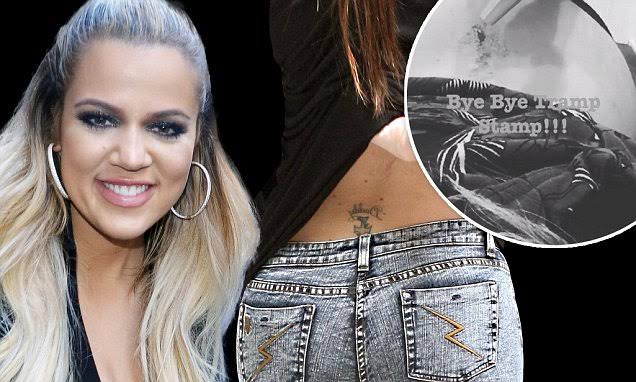 This normally wouldn't have been a problem except that the only issue was the placement. She got the tattoo on her lower back. Iinitially when she had it done, she didn't have a problem with it. Thought it was a good idea, but over time as Khloe grew older and the internet constantly mocked her for the placement, she grew fed up with the tattoo and started to remove the ink.
Nicky Jam: 
Nicky got his first tattoo when he was only 10 years old and continued getting more every year until he was covered. Among all of his tattoos, there was one that he regrets. Years ago when he was traveling to Colombia, he got a tattoo of an owl but immediately hated it. He said it was so dark that people would think he had a scarf on. People would always ask him: "Hey what do you have on your neck?"
Messi: 
This football legend has quite a lot of tattoos on him and even though he doesn't have much regrets on the pitch, he clearly has a bunch of regrets about his tattoos. His leg was previously inked with his son's name, a handprint of the number 10, cross, dagger, roses and a bunch of fillers.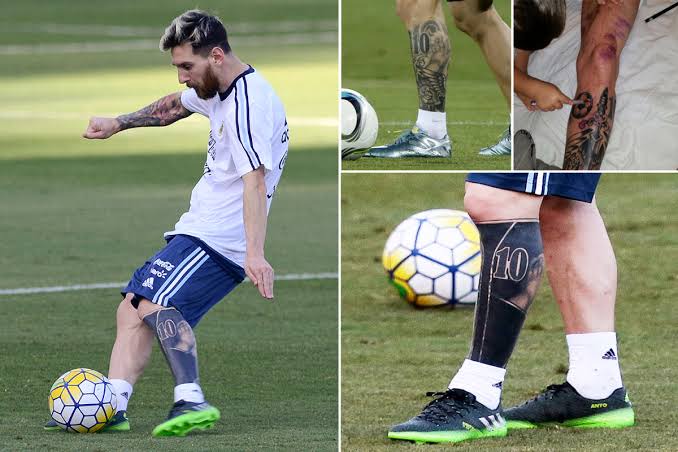 Most of them have a significant meaning, which is why fans were shocked when Messi revealed his cover-up tattoo blacking out the majority of his leg and only leaving the tattoo for his son, the number 10 and the football. However, no one really knows why Messi blacked out those tattoos because he has never talked about it in an interview.